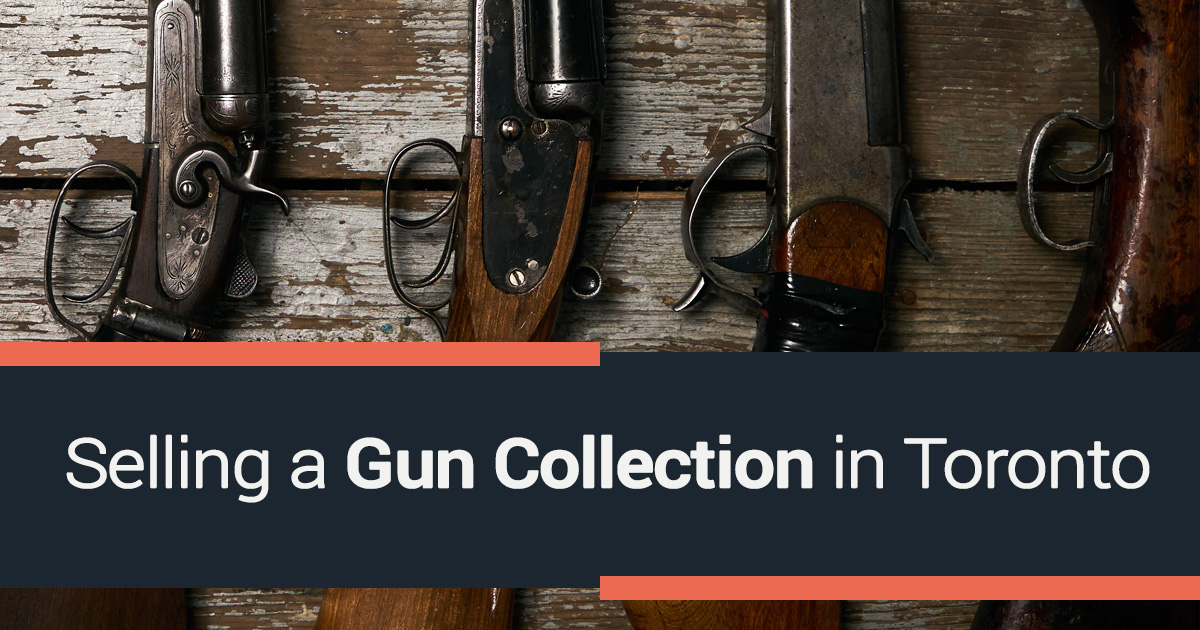 Do you have an extensive gun collection? Or maybe just a few precious firearms?
No matter if you've got five firearms in your collection or 50, if you're looking at selling individual guns or your entire gun collection in the Greater Toronto Area, then you're going to want to sell them through GTA Guns Auctions.
We take the pain out of the entire process of selling a gun in Toronto so that it's completely completely hassle-free. We also make sure that you're getting the best price possible!
The Pain of Selling a Gun Collection
As a gun collector, selling your guns in the GTA can be a real headache. From dealing with clueless buyers, to trying to find the time to meet with them, to filling out form after form, the entire process can get complicated, tedious, and, in some cases, even dangerous.
After all, there's always the responsibility that when you go through with a private sale, you're selling your gun collection to a complete stranger. Scary! This leaves you vulnerable to scams if the buyer's Possession Acquisition Licence (PAL) information turns out to be fake!
At GTA Guns Auctions, we solve all of these problems for you!
Market Value
Have you ever tried selling your gun collection at a gun store or in a private sale? Chances are you got low-balled. It can be tricky trying to figure out the real value of your firearm collection. And remember, the real market value of your gun has to do with the demand. That's how you find the true value of your gun collection; by going to the people who have the demand already.
When you use our professional appraisal and auction services here at GTA Guns, we'll get the absolute best price for you. We have access to a vast market of more than 62,000 gun enthusiasts not only from the Greater Toronto Area but also from all across North America, and they know exactly how much they want your firearms. This means that, if they want your guns, they're going to pay whatever they need to to get them into their collection. And that means more money in your pocket!
What's more, we're the biggest gun auction firm in the Greater Toronto Area, smack dab in the largest gun market in Canada. This means we attract more buyers with big, fat wallets, ready to pay out for your guns!
GTA Guns is also the only gun auction company to offer our proprietary GUNCHECK™ and CYCLECHECK™ testing methods.
Our knowledgeable and experienced team of firearms specialists perform a thorough analysis of all firearms, ammunition, and related gear that will be sold at our auctions. We call this process GUNCHECK™! It ensures that you get a professional and fair opinion of the value of your guns.
Our firearms appraisal services include:
Formal inspections and assessments of any type or class of firearm, including antiques

Providing clients with a comprehensive report of their firearms and related gear

Market value and replacement value appraisals

Legal and equitable options for selling the firearms in your possession

Secure and legal transportation and short-or long-term firearms storage services
As you can see, GTA Guns is really your one-stop-shop for selling your gun or gun collection.
We're also the only gun auction company in the GTA that offers a 3-week window for item pre-viewing before the auction.
We work hard to instill the utmost confidence in our buyers so those who are selling their guns or gun collection can be assured they will earn top dollar for each valuable piece.
Sell Your Gun Collection Today
Don't let selling your gun collection turn into a nightmare! Make the experience a positive, stress-free one by contacting GTA Guns!
Not only do we take care of all the paperwork, including verifying who the buyers and sellers are to make sure everything is legal, transparent, and fair for everyone, but we also transfer the firearm to the buyer once the sale is complete. Then, we transfer the proceeds of the sale directly into your bank account! It's a sure-fire way to get paid.
So pick up the phone and give us a shout! We're more than happy to answer any questions you might have about selling a gun collection with us or about any of our other services. Let's get the process started and get that money in your wallet today.