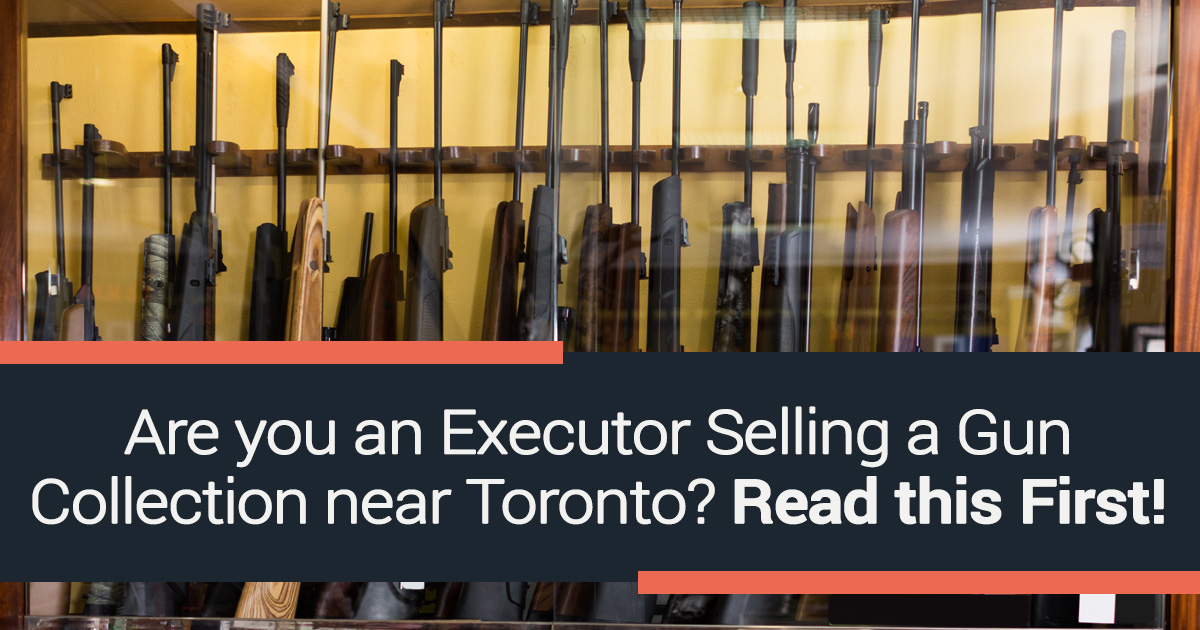 If you're the executor of an estate that includes firearms, this important article is for you!
As the executor of an estate in Toronto or in the GTA, there's always the chance that you will discover assets that will be challenging to deal with. Figuring out what to do with firearms, for example, can be very tricky; especially if the executor was unaware that the person who passed away owned a firearm, let alone a whole gun collection!
Often, many questions surface after discovering a deceased's firearm. Is the firearm registered? Is it a restricted or prohibited firearm? Is the deceased's licence still valid? Is it in the Will—if there is a Will? Is the beneficiary of the firearm qualified to receive it?
When faced with all of these questions, how should the executor proceed?
The answer, if you want to save yourself all kinds of headaches, is actually very simple. If you're an executor selling a gun collection in or near Toronto, then you need to use GTA Guns Auctions to solve all your gun problems quickly and efficiently.
We take care of all the details, making it absolutely painless for you.
Responsibilities of an Executor Selling a Gun Collection
Did you know the RCMP imposes the obligation on executors to transfer a firearm to a properly licensed individual or business, safely and lawfully within a reasonable period?
It's also the responsibility of an executor, in the Greater Toronto Area, to make sure that any firearms are safely stored until they are disposed of or transferred to their new owner.
Furthermore, the executor is also responsible for making sure that any restricted or prohibited firearms that they transfer to another individual or business are then registered to the transferee.
In short, that's a lot of legal responsibility and can quickly turn into a big headache with severe repercussions if the law is not followed to the letter.
Ah! But not if you use GTA Guns Auctions!
GTA Guns and Gear Auctions Inc. is the leading gun auction company in all of Ontario. Our firm is located within the buyer-rich Toronto-area gun market, and we also attract a large audience of buyers from around Ontario, across Canada, and even from all over North America to our online auctions.
The most important thing for executors to know about us is that our straightforward and transparent processes make it easy and equitable for anyone to legally purchase or sell guns and related equipment.
Professional Appraisals for Selling Your Gun Collection
As of January 2016, the Canada Revenue Agency (CRA) requires all firearms to be professionally appraised to determine their cash value. For widows, heirs, and estate executors in the Greater Toronto Area who have firearms bequeathed to them, this means the CRA requires you to have estate firearms appraised before a Will may be probated.
Our knowledgeable and experienced team of firearms specialists regularly perform extensive research and analysis of all firearms, ammunition, and related gear. We call it GUNCHECK™! Our experience guarantees that you will receive a professional and fair opinion of the value of the gun collection you're trying to sell.
Our firearms appraisal services for insurance and estate valuations include a formal inspection and assessment of any type or class of firearm (including antiques), a comprehensive report on the gun collection, market and replacement value appraisals, and legal and equitable options for selling the firearms in your possession.
GTA Guns Online Auction
But that's just the first step! After the gun collection has been appraised, we'll be happy to help you sell it for what it's worth through our online auctions.
Ever since we moved our auctions online, we've seen an enormous increase in interest from avid gun enthusiasts from all over North America who are looking to add the perfect piece or pieces to their existing collection.
Before each monthly auction, we send out an enormous e-blast to our 62,000+ subscribers, letting them know which firearms are for sale. This attracts thousands of buyers eager to engage in a bidding war, driving the bids of the firearms on sale up higher and higher!
To ensure that our potential buyers will be confident in their purchases, they have access to detailed information on the quality and condition of every firearm we're selling through our bidding platform. On every bidding page, we have high-resolution photos that show the condition of each firearm in great detail. This reassures bidders of the guns' quality, which means higher bids and more money in your bank account at the end of the sale.
No one wants to buy someone else's problem, so we even guarantee that all firearms purchased through our online auctions are fully functional. If they aren't, we'll pay for the shipping and repair.
If you're an executor selling a gun collection, you'll want to let GTA Guns auction off your firearms for a completely stress-free experience. We fill out all of the paperwork, we verify who the buyers and sellers are, and we guarantee that everything is legal, transparent, and fair for everyone involved.
Safe Storage
As we mentioned, the RCMP makes it the executor's responsibility to ensure that the firearms are being stored safely until they are transferred or sold.
GTA Guns has the solution to that problem too! GTA Guns Safe Storage.
Any firearms that are stored with us are kept in a carefully-regulated environment that keeps them safe and dry. Our gun storage facility is closely monitored to guarantee optimal environmental conditions with a constant level of low humidity to prevent damage over time.
Plus, our secure facility is continuously monitored, so you'll have full peace of mind when storing a valuable gun collection with us. And the icing on the cake? Our entire facility is insured so that, if anything were to happen, your firearm collection would be fully covered and you wouldn't have to deal with any complicated paperwork.
You can access your guns whenever it's convenient for you by calling us and making arrangements to come pick them up or drop them off.
So, if you're an executor selling a gun collection near Toronto, contact GTA Guns Auctions today!
Regardless of how new or old or what make and model the guns that you currently have in your possession are, there is a large and enthusiastic community of hunters, collectors, and athletic shooters across Ontario, Canada, and in the U.S. who would be happy to add them to their collections. And at GTA Guns, we're more than happy to connect you, the executor, to those buyers through our gun auctions!
If you have any questions about the firearms in your possession, get in touch with us by phone, email, or through our online form. Our knowledgeable and courteous staff will be happy to help you!