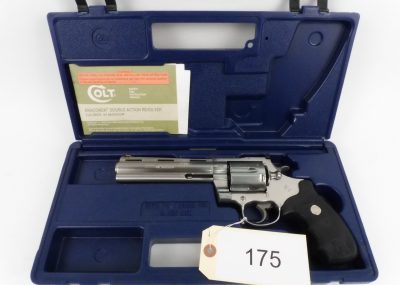 You may have a very valuable piece worthy of our advanced silent auction service. To qualify, your firearm must have a value in excess of $5,000.
We will post your item on our Silent Auction page for 60 days, send out an e-blast to more than 65,000 interested gun enthusiasts enticing them to place a bid.
We manage the entire process. You and I will decide on a minimum value for the item to be sold.
In this way, you are guaranteed a minimum price or it will not be sold.
Terms for the buyer for Silent Auctions
The buyer may inspect the item prior to bidding by appointment.
We guarantee the functionality of all items.
Successful bidders will be charged local taxes plus a 10% buyers premium.
Costs of shipping if necessary.
We guarantee authenticity for 30 days following purchase for full refund.
Current Auctions
Krieghoff K-32 Majestic
Krieghoff introduced the K-32 into the American clay target market during the 1960s. For two decades, the K-32 built the foundation of reliability, precise engineering and endurance Krieghoff is known for.
Specs.
12 Ga. 2 3/4″ chambers.
Removable chokes.
Left hand offset and palm swell.
Rated 9/10 Condition.
Tiniest handling marks and some wear on the flats.
Some tiny dings on the cheek piece, fore-end and right side butt-stock above the trigger.
Action is very tight.
Good chime on the barrels.
32″ barrels.
LOP 14″.
Update
A close friend who is an accomplished investment portfolio manager, gun enthusiast and researcher has discovered some interesting new facts about the above fine firearm.
This is a one of a kind Krieghoff. The adornment is an after market upgrade engraving done by Paolo Barbetti. This guy REALLY knew what he was doing.
Call for an appointment to inspect. (844)482-4644.
This item will close on Friday October 15th at 4pm. The highest bid at that time wins this firearm.