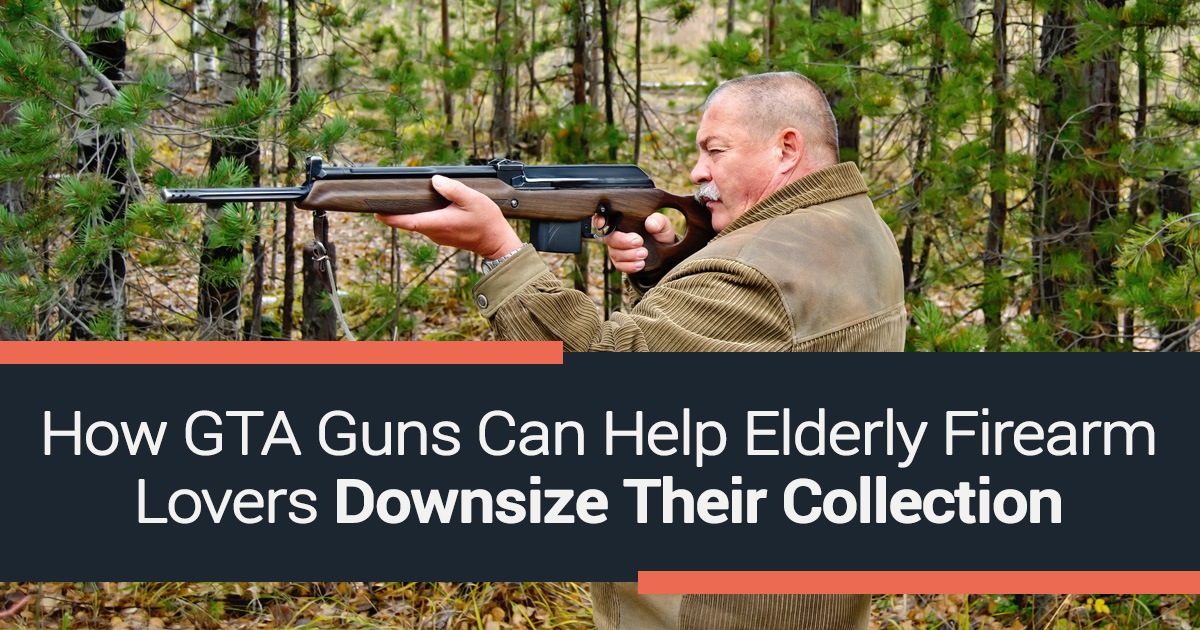 Downsizing can be an excellent way for the elderly to enjoy more free time. If you're like us, then hunting and shooting is probably high up on your list of favourite activities. Maybe you've spent years building an amazing firearm collection? If so, you know how rewarding owning a gun collection can be! But you also know that it's not a cheap endeavour. Your firearms need to be insured and stored safely, securely, and legally.
Plus, there's the cost of maintenance to ensure your collection stays in tip-top shape. The truth is, if you aren't using these firearms regularly, they're probably just taking up space!
Unlike other types of clutter, if you sell your guns with GTA Guns auctions, you can make a surprising amount of profit! Just think about it – all the money you make from downsizing your firearm collection could go a long way towards a comfortable retirement. Hunting trips anyone?
Here's how GTA Guns can help:
Our Hassle-Free Online Auctions
Downsizing your firearm collection can be challenging. You can't just throw them away, and if you want to give them to a family member, you have to worry about transferring the gun licenses and transporting them to their new home.
So what are your options? Well, if you're at all internet savvy, you could try selling your guns online. But this is often a huge headache, with a high chance of getting scammed. You could try to find a professional firearm collector or take your unused guns to the gun store, but chances are you're going to get a less-than-fair price (it's sort of like selling a used car).
That's why GTA Guns auctions offer the perfect solution. We make downsizing your firearm collection a breeze.
First, you can take your firearms to our expert gunsmiths for an appraisal, so you'll know the exact condition of your firearm. Then when we list your gun on our online auction site, you will have access to the buyer-rich GTA-area gun market, as well as more than 65,000 potential bidders from all across North America.
We've seen a massive surge of interest from gun enthusiasts all over the continent who don't shy away from fierce bidding wars. You'll love the rush of seeing the number climb higher and higher; it's thrilling!
But it's just as exciting to know that we take care of all the necessary paperwork and transfer and transport the firearm directly to the buyer. Once the auction is over and the sale has gone through, you'll get paid within six business days following the auction. No exceptions.
Lastly, we allow all our clients to personally inspect any item listed before the auction takes place. All they have to do is set up an appointment with us to view the firearm they're thinking of bidding on at our brick and mortar location. From the time the auction is posted online until the Saturday before it takes place, you can come in for a full inspection. This helps facilitate the sale and puts more money in your pocket.
Like we said, our online auctions are effortless for any elderly firearm lover looking to downsize. So you can start planning those hunting trips already!
GTA Guns Safe Storage
But what if you just can't bear to part with your firearm collection? As avid gun enthusiasts, we totally get it. That's why we also offer our GTA Guns Safe Storage solutions.
When you opt to use our Safe Storage solution, you get your own gun locker in our high-security storage facility. Our storage lockers keep your guns stored in optimal conditions, which makes it a far superior storage option than a non-controlled environment like your home (or worse, your basement).
Of course, our storage facility is equipped with 24-hour surveillance, and is fully insured. If anything were to happen, all of your firearms would be covered. You don't have to deal with complicated paperwork or worry about insuring each individual firearm. Plus, our insurance policy covers all kinds of disasters so you'll have full peace of mind knowing that your firearm collection is safe and protected 24/7!
It's also easy to access your firearms whenever you want! Simply give us a call to set a time for pick up or drop off. Your firearms are ready at your convenience.
Let Us Help You Downsize
So, if you're looking to downsize, let GTA Guns help. Our knowledgeable staff will be more than happy to help get your firearm collection appraised, put it up for auction, or set up a safe storage option that works for you. So contact GTA Guns Auctions today, and we'll be happy to answer any questions you may have.