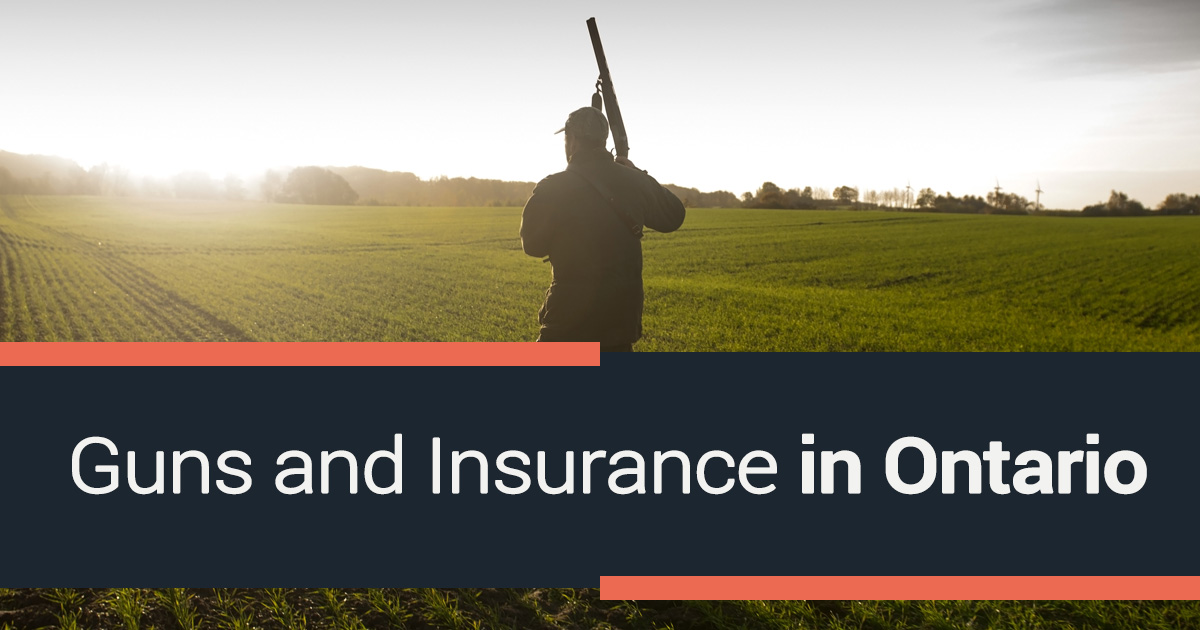 Did you know guns are some of the most commonly stolen items by thieves?
Since they're relatively small and easy to carry, it makes them an ideal target for theft. Not to mention that guns are often among some of the most valuable items in your home, akin to jewelry and other collectibles when it comes to monetary value.
That's why it's so important to make sure your guns are adequately insured. We know that insurance is often confusing, but it's worth digging into for your own peace of mind.
That's why we've simplified what you need to know about guns and insurance in Ontario. We hope it will get you on the right path to make sure that all of your guns are covered and protected.
Homeowners Insurance
A typical Ontario homeowners insurance policy will cover items that are lost, stolen, or destroyed by natural disasters like fires or floods. Guns are already included in this coverage, just like any of your other household possessions.
Insurance companies don't count firearms as a liability in your home. That means that guns aren't factored into most insurance companies' homeowners insurance, so your premium won't go up for having firearms in your house.
Homeowners insurance alone won't completely cover you though. Most standard insurance policies in Ontario have a limit on how much they will pay out for guns and other high-value items. For example, if you have a gun collection that's valued at $5,000, it's possible your standard home insurance policy would only allow for a loss of up to $1,500.
To ensure you're covered for the full value of your firearm collection, you can opt to add on scheduled coverage based on the real value of each firearm. This would cover the total loss if something were to happen. It's important to note that this might require you to list each gun individually and have each firearm appraised. That way, you and your insurance company can determine an agreed-upon value that they're willing to cover.
Blanket Coverage
Are you the proud owner of an extensive firearm collection? If so, it may be a wise idea to purchase an added blanket coverage policy. This places a total value on all your guns, plus covers each firearm or the whole collection up to a specified amount. Some blanket policies even cover scopes, lenses, and various gun accessories. Typically, a deductible does not apply to a blanket or scheduled coverage policy, which is a nice bonus!
Collectible Insurance
If you own some expensive or antique pieces, you might want to think about purchasing a collectibles insurance policy. Even with an expanded homeowner's insurance policy in Ontario, it's unlikely to cover accidental breakage, loss in the mail, or other risks that take place in your home (besides flood, fire, and theft).
That's where collectible insurance comes in. This type of insurance policy provides broader coverage to protect your more valuable pieces. Some collectible policies in Ontario will even cover your whole arsenal, from the gun itself to ammunition, gun safes, accessories, and knives.
Another pro to purchasing a collectible insurance policy is that it enables you to select a plan that matches the actual value of your guns. And as you're not paying a flat rate, most of the time this works out to a lower premium!
Moreover, you won't need to give the insurance company the serial numbers for any individual firearm under $20,000, and appraisals are usually not required for this type of coverage.
GTA Guns Can Help
If you need your firearm or firearm collection appraised for insurance reasons, we can help. Here at GTA Guns, we offer professional gun appraisals and firearms valuations for collectors, insurers, lawyers, executors, and trustees. This can be for our firearm auctions, insurance purposes, or merely to satisfy your curiosity.
Our firearms appraisal services for insurance and estate valuations include:
Formal inspections and assessments of any type or class of firearm, even antiques.
Giving our clients a comprehensive report of their firearms and related gear.
Market value and replacement value appraisals.
But that's not all! We also have a fully insured safe storage facility for both short-term and long-term storage needs. By storing your guns with us, all your insurance worries are taken care of, without having to deal with a single insurance company!
So if you need an insurance appraisal, are looking to take the hassle out of insuring your guns by storing them with us, or just want to add another valuable piece to your collection through our online auction, we have what you need.
Contact us at your convenience and discover how we can help you today.