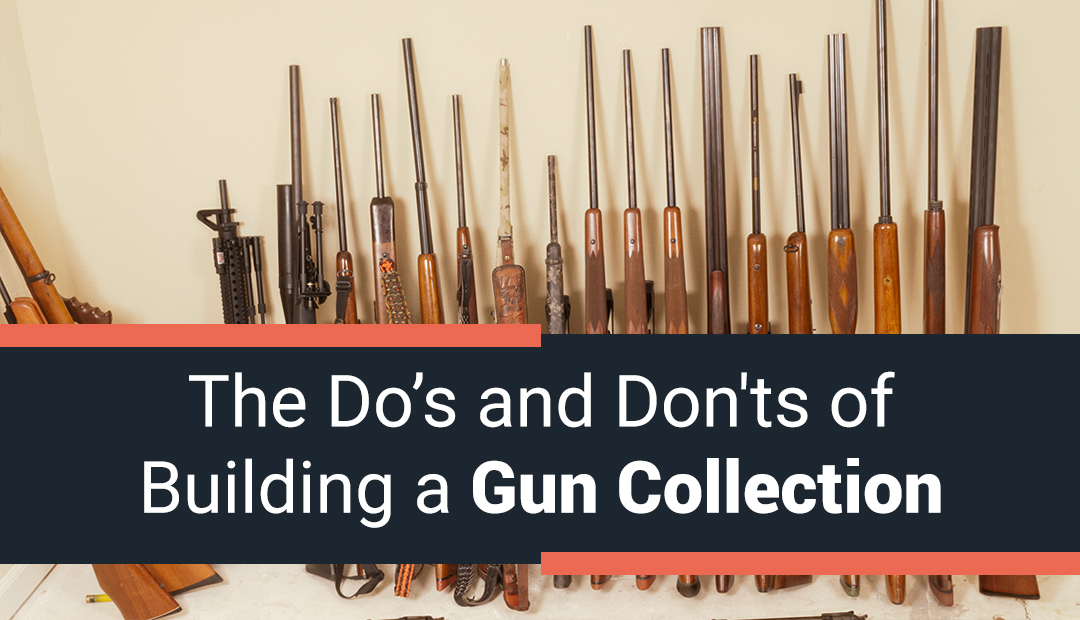 Did you ever collect hockey cards as a kid?
There was nothing quite like tearing into a pack, only to find a rookie card hiding among all of the doubles of cards you already had! As an adult, it can be difficult to recapture that feeling and excitement of finding a rarity and adding it to your collection. I mean, collecting sports cards can still be fun, but there are some people who want a more… grown up hobby. They want a hobby or collection that costs a little more, and potentially has much more value. If you're looking for a rewarding and exciting hobby, then starting a gun collection might be the perfect way to scratch that old hockey card itch!
Reasons to Have a Collection
The makeup of your gun collection can greatly depend on your reasons for wanting it.
For example, if you are a hunter, then your firearm collection will likely be populated by rifles and shotguns, with less of an emphasis put on handguns and revolvers. If you are building your collection with an eye on personal safety, then revolvers and handguns would probably be the most common firearms you own. Or, if you are collecting firearms with history in mind, you may have a number of older firearms that you need to be sure are still in excellent and usable condition.
What You Need to Buy Firearms
You should be aware that buying firearms in Canada can be quite a bit more involved than in the United States. First, you need to get a gun licence called a Possession and Acquisition Licence, or PAL. With this, you can legally purchase both firearms and ammunition within Canada.
To get a PAL, you need to first take the Canadian Firearms Safety Course, requiring a full day of study. After the course, you need to pass both the written and practical safety exams. Once you've passed, you can then apply for your license. After your application is sent in, there is a 28 day waiting period. After receiving your license, you will then be eligible to purchase a gun and start building your collection.
Where You Can Buy Firearms
Once you have your firearms license, you're going to want to start collecting! But where can you go to legally buy guns in Canada?
Gun retailers are often the first stop for many first-time gun owners. Their helpful staff can walk you through the steps you need to take to buy your gun, but they will often direct you to the more expensive firearms in the store rather than the ones that would be the best starter guns for your collection.
We would probably direct you away from going to any online gun forums or private buyers to start your collection. There are a lot of scammers on these sites who might take the money and run, without giving you anything in return. Generally, buying online through less-than-stellar sellers is a headache that just isn't worth it.
Then there is the option that we would recommend, our GTA Guns auctions. As you are starting a brand-new collection, you want to be sure that your new firearms are all in perfect working condition. That is guaranteed through our GUNCHECK™ system, where we test every firearm sold. You probably don't want to spend too much money on the first pieces in your collection, and you can find some fantastic deals on firearms at our auctions. Finally, you can be completely sure that every sale through our auctions is 100% legal.
We Can Help
If you are planning on building a gun collection and want some advice, a great place to start would be to call GTA guns. We are delighted when gun buyers call us for advice and we are willingly to talk for free. You would be hard pressed to find anyone more enthusiastic than all of us here at GTA Guns! We are professionals who genuinely care about firearms and their condition. We also have cultivated a strong relationship with many of the firearm collectors out there who use our gun auctions to expand their collections.
We can give you all of the advice you need to get started, from recommendations about some basic firearms to purchase right away, to details about more exotic and rare models of firearms that you can occasionally find at our auctions. Gun collecting can be a incredibly rewarding hobby, and one that could pay off handsomely in the future if the value of your collection goes up. And if it does, you know just who to approach to sell those firearms, right? That's right, GTA Guns!
If you'd like to learn more about GTA Guns Auctions, or any of our other services, don't hesitate to contact us about any questions you may have.