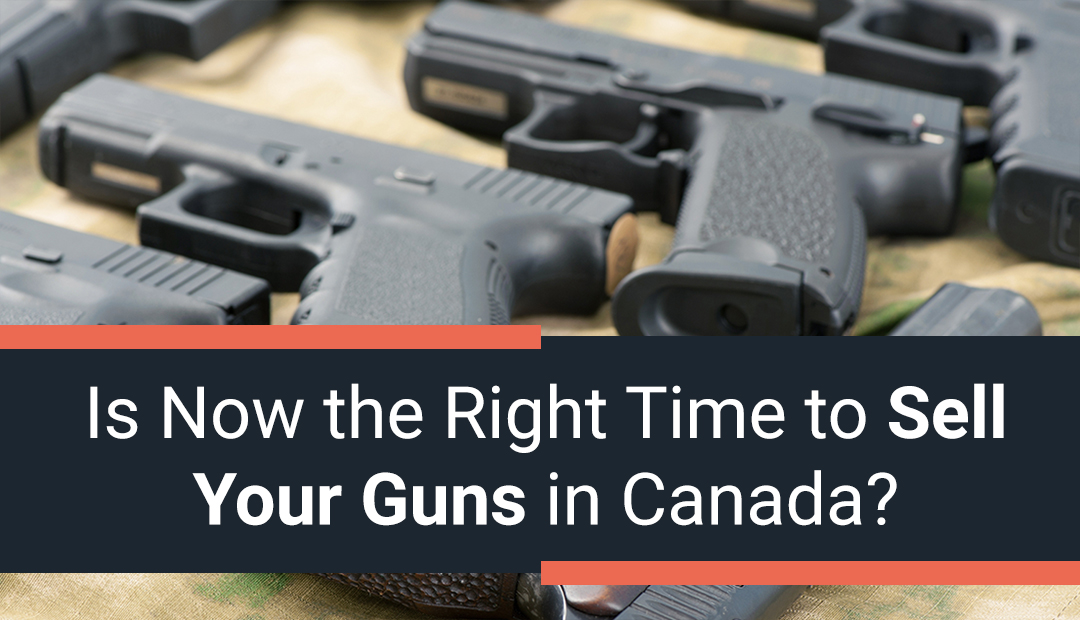 Do you ever wonder when the best time to sell your guns is in Canada?
As one of the premier places in North America to sell firearms, GTA Guns always keeps a close eye on how Canadian public opinion is shifting. While worries about gun control are always on the horizon, that doesn't mean new laws will be put in the books anytime soon. Canadian gun laws have been reasonably stable ever since the end of the Long-Gun Registry, back in 2012. And, after all, firearms have been an integral part of this country's history for centuries.
Now that we got the dirty politics out of the way, the question is, should you wait to sell your firearms, or should you sell them now? Well, it all depends on your circumstances!
Are You Downsizing?
It's safe to say that moving into a new home, while exciting, is also stressful. Even if you think you're 100% prepared, moving all of your things into a new home can be a very frustrating process—even more so if you're trying to downsize your possessions.
If you're moving into a smaller place, you need to make some tough decisions about your belongings. There might not be room for your massive firearm safe or the guns contained within. In this situation, it could be the perfect time to list your firearms with GTA Guns auctions. You'll not only be cutting down on "clutter," but you'll also be raising funds that might help you with the expenses of the move.
Of course, you may not want to get rid of your firearm collection, even if you no longer have space for it. If that's the case, we have a solution! Our Safe Storage facility can offer the perfect alternative to at-home gun storage.
Are You Ready for a Vacation?
One major factor that should come into play when you're deciding on the right time to sell your firearms is your financial situation. If your bank account has taken a hit over the holiday season, you might want to build your savings back up.
Alternatively, if you're tired of all the snow and ice that Canada gets hit with in the early months of the year, you might be seeking extra cash to take a vacation!
Selling your firearms can be a fabulous way to get some funds for the vacation of your dreams. If you have some rarer firearms or firearm accessories, they might pay for your vacation altogether. Or, if you have some well-maintained firearms, you'll very likely be able to find a buyer through GTA Guns auctions. The money you raise from the auction could pay for your airfare to somewhere warm and sunny!
Has a Loved One Died?
The death of a family member is one of the most stressful and painful things we must go through in life. After the initial shock has worn off, the practical realities of the situation can start to sink in.
If your departed loved one willed their firearm collection to you (or someone else in your family), you might not actually want it. If you have no interest in maintaining or building upon their collection, then selling the collection is your best option—and there is no better way to do it than with GTA Guns auctions.
We have a tremendous amount of experience helping people with inherited firearm collections. Whether you want us to work with the executor, or you want to handle things yourself, we can make things much easier for you during this difficult time.
The answer to the question, "is now the right time to sell my guns" all boils down to your specific situation… but we can tell you that, if you DO decide to sell your guns, GTA Guns will help you in any way we can! We'll put your firearms through our proprietary GUNCHECK™ or CYCLECHECK™ programs to determine their exact condition. We'll then put your guns up on our website with high-quality photos and detailed descriptions that will entice potential buyers. And you don't have to worry about doing any of the paperwork because we'll take care of it for you!
If you'd like to learn more about GTA Guns auctions, or any of our other services, please feel free to contact us. We work with firearms every day, and you can trust us to keep yours safe and in perfect condition!