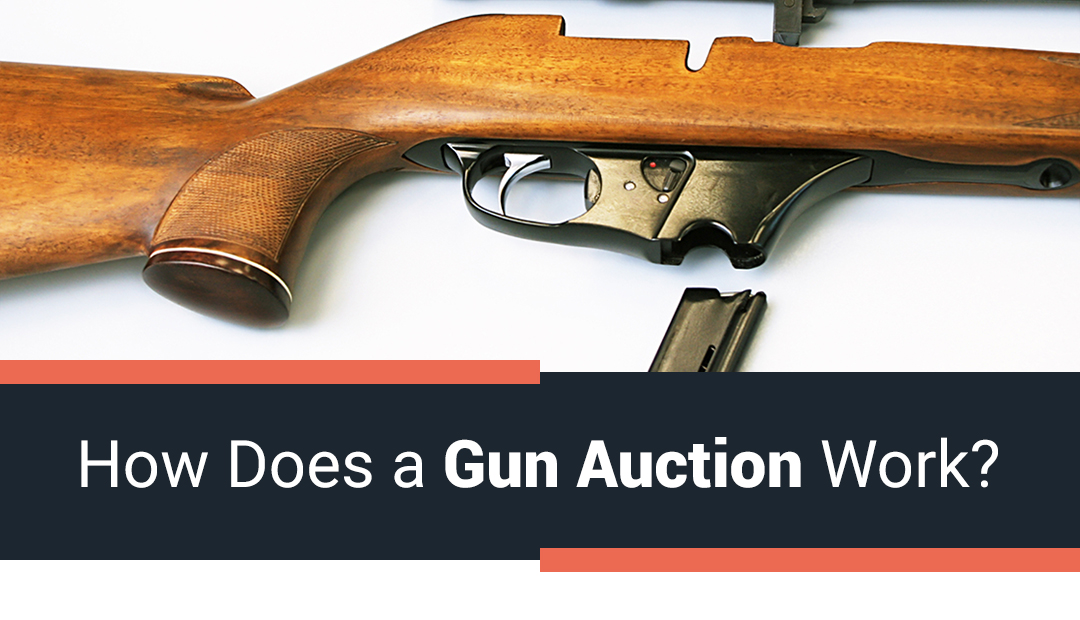 What do you picture when you think of an auction?
Perhaps you picture someone standing at a podium, speaking at a rapid-fire pace: "One dollar bid, do I hear two, do I hear two, that's two, do I hear three, three, three, no three, going once, going twice, sold for three dollars!"
Or you might think of silent auction fundraisers, where you quietly write down your bid on a piece of paper.
Well, our GTA Guns auctions are a little bit like a cross between the two—they're pretty silent, as the bidding is done online (you can whoop it up at your computer if you'd like), but they also have the excitement of a live auction, as the bids quickly come in as the timer reaches zero!
Here is what you need to know about how GTA Guns auctions work:
The Prep
Before we can have an auction, we need items to bid on.
If you've been thinking about paring down your collection of firearms, GTA Guns auctions is the perfect way to do it. All you need to do is pick out some guns or gun-related items from your collection and give us a call.
You then drop off your firearms at our brick-and-mortar location, and we take care of the rest! We put them through our proprietary GUNCHECK™ or CYCLECHECK™ programs to determine their condition, both inside and out. High-resolution photos of the firearms are taken so that bidders can see precisely what they'll be bidding on.
Once the condition of the guns is determined and the photos are taken, it's time to create detailed bidding webpages for the items. On these pages, potential bidders will find a full description of the gun they're interested in, the photographs (and video, if it was a semi- automatic firearm put through CYCLECHECK™), and the starting bid.
GTA Guns auctions include far more than just firearms. You can also find incredible deals on ammo, scopes, bows, gun safes, and specialized hunting equipment.
What Is It Like to Bid?
To bid on items in the GTA Guns auctions, all you need to do is create an account. As a user, you get several benefits:
Approved to bid in auctions
Bid online (pre-bids & live bidding)
Save your searches
Set up smartwatch notifications
Bookmark items
Track your bids & items
…and more!
You can start bidding on items as soon as their listings are live. Keep in mind, however, that serious bidding might not begin until it gets closer to the day of the auction.
Once the auction is only a few hours from closing, bids will be coming in rapidly from all across North America. We have a user base of thousands of serious firearm collectors who are determined to win the pieces they choose to bid on. But here's the thing: they don't always win! That's the beauty of auctions—if you throw in a higher bid, you will land the item. It's as simple as that!
What Happens Afterwards?
After the auction, you don't need to worry about a thing. We take care of all the paperwork, transferring the gun's ownership, and even transport/ship the item to you.
One reason why some may be a bit reluctant to take part in online auctions (especially gun auctions) is that they don't get a chance to see the item in person. If you live in the GTA area (or are willing to make the trek), we would be delighted to show you any item currently listed (until the Saturday preceding the auction). Just give us a call to make an appointment and come to our physical location. You can hold the firearm in your hands to see if it lives up to your standards.
But what if you live provinces (or even a country) away? Well, that's why we have our GTA Guns guarantees!
If the firearm you purchased fails to fire and/or cycle, give us a heads up. Ship it back to us (we'll pay the costs), and we'll repair and send it back to you (30-day max). If you're not satisfied with your purchase for any other reason, you can return it to us, and we will relist it in our next auction without any seller's fees (30-days max and hammer price $3,000+).
At GTA Guns auctions, we might not have the excitement of a slick-talking auctioneer up front running the whole show, but we do offer the thrill of bidding (and winning) the firearms you've been looking for! If you'd like to learn more about GTA Guns auctions, or any of our other services, please feel free to contact us. Create an account and make a bid. You never know, you might just win!