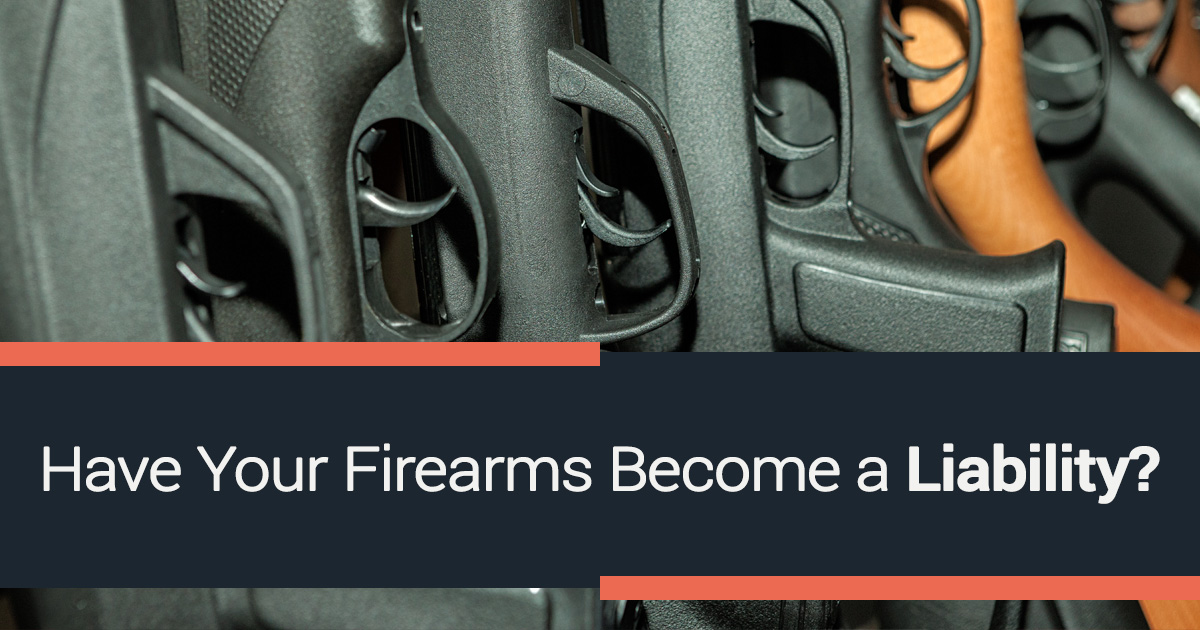 Do you enjoy using your firearms at the shooting range or target practice? Do you often go away on hunting trips?
If so, then you're actively using your gun and benefitting from gun ownership – and that's great!
But did you know that if you're not taking advantage of the benefits of owning a gun, you've actually got a liability on your hands?
It's true! If you have a gun lying around your house that isn't being used, even if it's safely stored it can quickly become a liability.
The Liabilities of Unused Firearms
Just think about what having a gun is actually costing you. There are estate taxes to pay, and if the gun is lost or stolen, you can be held responsible. There's also the risk of damage due to an accident or natural disaster. And don't forget the complications and stress that your guns will cause your trustees in the case of your death. It may be morbid to think about it, but do you really want to cause your loved ones that kind of hassle once you're gone?
Estate taxes

Risk of loss or theft

Risk of damage

Stress for your trustees
With a gun, you've got a hot potato on your hands! Or maybe a whole sack of hot potatoes if you have a firearm collection!
So really stop to think about it. Is it really worth it? If you're not benefiting from active gun ownership, enjoying the shooting range and target practice, then it may be time to sell your unused guns. Not only will you eliminate the risks of gun ownership liability when you sell an unused firearm, but you'll also make a profit! And, with our GTA Guns online auction, that profit will be not only high but also hassle-free.
GTA Guns Online Auctions
Our online auctions attract over 60,000 gun enthusiasts from all over North America who are looking to add the perfect piece to their collection. Our bidders understand the real value of each gun they want and will be eager to compete against others in a bidding war. That means even more money in your pocket!
GTA Guns also offers additional safety precautions and one-of-a-kind guarantees when you sell your guns through our auctions, meaning that we're the best option out there for selling your unused firearms.
Simply bring your unwanted firearms to us, and we handle all the details. If you're in the GTA, contact us and we may even be able to come and pick your firearms up for you!
First, determine the condition of your firearms, then we safely store the guns at our facility until it's time for the online auction. We take care of every little detail, and at the end of it all, you get paid! The process is entirely safe and hassle-free.
Once the transaction has occurred, you don't have to do a thing. No paperwork, no hassles, no transporting or shipping the firearm to the new owner. All you have to do is wait six days for the funds to be deposited directly into your bank account. It is, by far, the most lucrative and effective way to sell your unused guns.
Contact Us
If you have any questions or would like to discuss our other services, pick up the phone and call us today. We're always thrilled to connect buyers and sellers in the simplest, most cost-effective way possible!