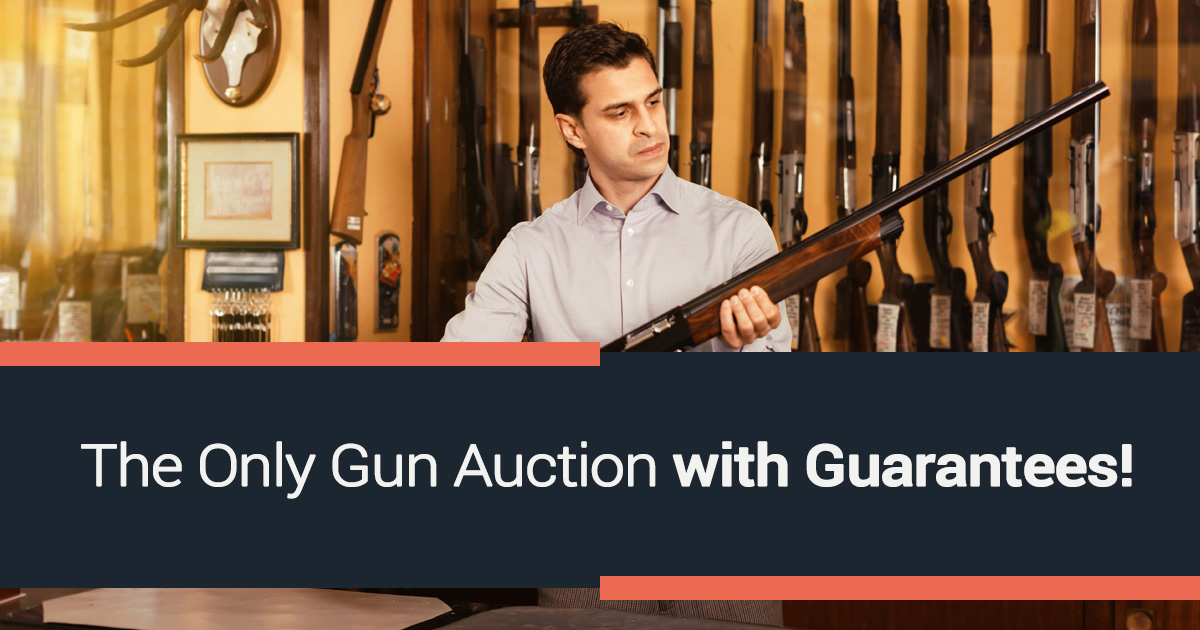 Did you know that GTA Guns is unique in that we're the only firearm auction company that offers guarantees to our buyers?
We call it our Buyers' Uncertainty Discount because online buyers are worried about the true quality of the firearms they are buying. They, therefore, reduce the amount they would ordinarily pay if they knew the guns were in top shape.
Here at GTA Guns, we understand that you might feel some uncertainties when it comes to buying a used firearm, especially online. That's why we go the extra mile (or kilometre, depending which side of the border you're on) to make sure that buying a gun through our auctions is entirely risk-free.
Performance & Satisfaction Guarantees
Our performance guarantee ensures that if you buy a gun and it doesn't work for any reason, you can simply send it back to us. We'll repair it for you, and we'll even refund the shipping costs (30-day maximum).
Our satisfaction guarantee applies to any guns bought at auction with a price of more than $3,000. If you're not satisfied with your purchase, we'll be happy to put it back up for auction for you with no sales charge (30-day maximum).
Just think about how that completely changes the auction game! These guarantees mean that you will absolutely have a gun in perfect working in order and if for any reason you aren't satisfied with your purchase of $3000+, you can even put it back up for auction without sales charges. These guarantees are absolutely unique. If they don't wash away your uncertainties, probably nothing will. You literally have nothing to lose.
GUNCHECK™
Here at GTA Guns, it's important to us that every gun we sell is in perfect working order when it arrives at your door or when you pick it up from our convenient location in the Greater Toronto Area in Newmarket. This is why we check every listed firearm ourselves to make sure they are in top condition.
Using our proprietary GUNCHECK™ program, we put your firearms through a round of careful inspection. Your firearms will receive grades at the end of the process, and you'll be given a summary that outlines the exact condition of your firearms. This includes high-resolution internal and external photos that we will post on your firearm's auction listing to guarantee it will bring in the highest possible bids.
CYCLECHECK™
Few things are more worrying to a firearms enthusiast than the possibility of acquiring the semi-automatic firearm they were looking for, only to find out it doesn't work properly due to a faulty firing cycle. But that's where our CYCLECHECK™ verification service comes in.
With CYCLECHECK™, we offer you our full assurance that the semi-automatic gun you are purchasing from GTA Guns and Gear Auctions performs flawlessly. Through CYCLECHECK™, we confirm that the semi-automatic firearms being auctioned off work properly during our shooting range testing. It's an industry first!
GTA Guns and Gear Auctions guarantees all of the semi-automatic firearms we sell feature the CYCLECHECK™ seal of approval. And the best part? There's no additional charge added to the auction buyer's acquisition price for our CYCLECHECK™ service. Plus, the actual test is posted for everyone to see on the firearm's auction page.
GTA Guns and Gear Auctions
If you're seeking a quality gun auction in Ontario, look no further than GTA Guns and Gear Auctions. We're licensed and experienced when it comes to appraising, transporting, storing, and selling all types of firearms. We strive to get top dollar for each item you wish to sell based on its history, condition, and its market value. Plus, the whole process is entirely stress-free because we do all of the paperwork including verifying who the buyers and sellers are to make sure everything is legal, transparent, and fair for everyone.
So give us a call today if you'd like to learn more about GTA Guns auctions, or any of our other services! We're more than happy to answer any and all of your questions.