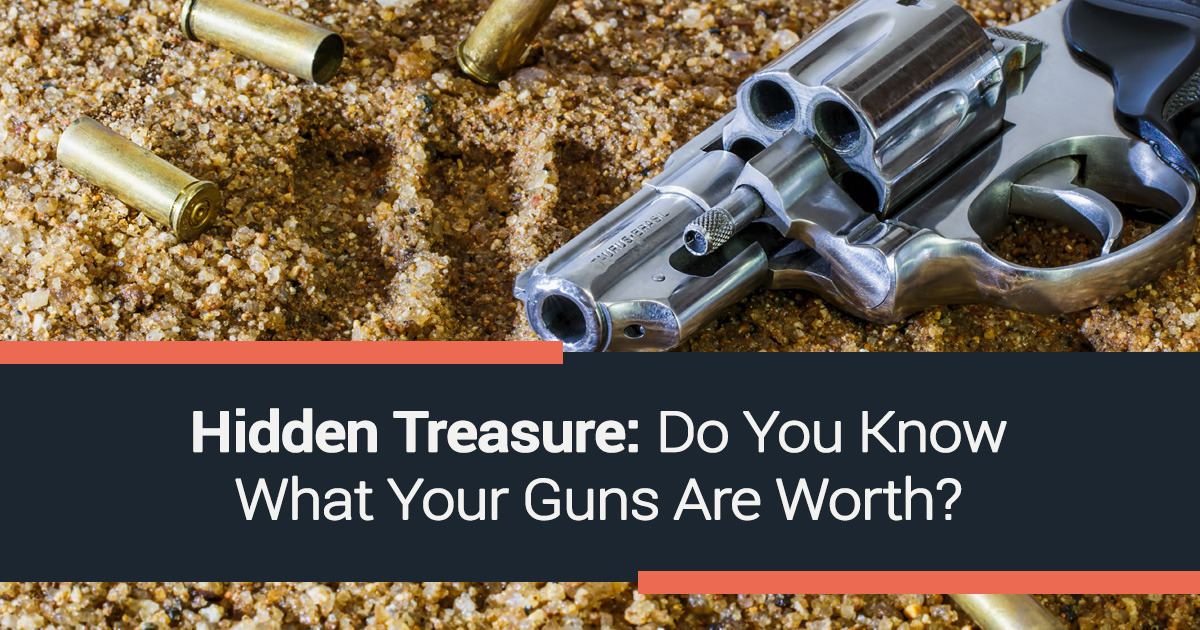 Could there be buried treasure in your basement?!
Arrr… Ok, we'll drop the pirate voice, but it's true! Many firearm collectors don't know the actual value of their guns. This is because firearm prices can fluctuate. Subtle variations, rarities, and model shortages are all external factors that could raise the value of the individual guns in your collection. This could mean that you have valuable pieces in your gun collection and don't even know it!

Discovering the real value of your collection can be tricky, as you don't just want to take your firearms into a gun store for valuation and potentially get ripped off. How can you figure out the real value of your collection without this kind of risk?

By coming to GTA Guns, of course! Here at GTA Guns, we can help you discover the true value of your firearm collection in many different ways!
GTA Guns Online Auctions
Here's a quick economics lesson: An item's value is determined by the price someone is willing to pay you for it today. And guess what? Our job is to find that someone. Many someones, in fact, who are eager to enter into a bidding war on our online auction platform. We have a market of over 60,000 gun enthusiasts from all over North America who are always looking for the perfect piece to add to their collection. Our bidders know the real value of the guns they want and will compete against others to make sure that they are the winner.

When you add the safety precautions and the guarantees that come with selling your guns through our auctions, it really is a no-brainer. There's no better option for selling your firearms than through GTA Guns auctions!
GUNCHECK™
Not only do we have access to a massive market of buyers, but our GTA Guns GUNCHECK™ system offers you our proprietary verification process that will make sure everything works correctly. Your firearms will receive grades at the end of the process. Not only that, you'll be given a comprehensive report all about the condition of your firearms, including high-resolution internal and external photos. GUNCHECK™ is a great way to find out if there are any hidden treasures (or fool's gold) in your gun collection.
CYCLECHECK™
What if your gun collection features semi-automatic firearms? Alongside our GUNCHECK™ system, we also offer the CYCLECHECK™ system to verify that your semi-automatic firing cycle is working properly. CYCLECHECK™ is an industry first! We take your semi-automatic firearms and put them through a round of rigorous testing. Once the tests have been completed, you'll receive a video of the test firing to prove that it works. Perfect if you decide to auction off one of your newly discovered treasures to our eager buyers.
Appraisal Services for Insurance and Estate Valuations
Not only do our online firearm auctions help you discover the real value of your collection but we also offer firearms appraisal services for insurance and estate valuations.
Our services include:
Formal inspections and assessments of any type or class of firearm, including antique guns.

A comprehensive report on the condition of your firearms and related gear.

Appraisals based on market and replacement values.

Legal assistance to help with the paperwork involved with selling the guns in your possession.

Secure and legal transportation to the buyer.

Short and long-term firearms storage services.
Our experienced team of firearms specialists perform extensive tests of all firearms, ammunition, and related gear to provide you with a professional analysis and fair opinion of value.
So come on down to GTA Guns and get your firearms appraised. Call us today to make an appointment or simply ask a question, whether it's about our auctions, our appraisal services, or our safe storage! We're more than happy to help.