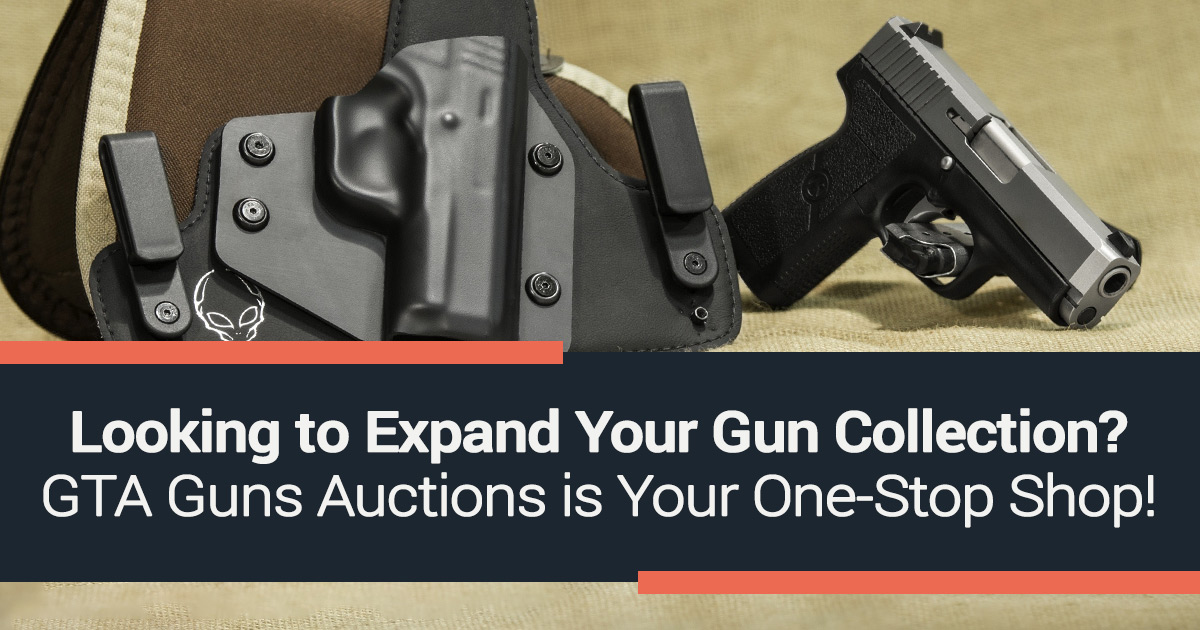 Are you an avid gun-collector? Or maybe you've just starting to build your beautiful gun collection? Regardless if you've got three guns in your collection or 30, if you want to buy new guns, you're going to want to take a look at GTA Guns auctions. Not only can you buy confirmed high-quality firearms at our auctions, but the process is completely hassle-free.
As a gun collector, purchasing new firearms to add to your collection can be a real pain in the neck. From dealing with clueless sellers, to trying to arrange a meeting, to filling out all that paperwork, there are so many complex steps. That isn't even considering that, when you conduct a private sale, you never know who you're actually buying from. You never want to find yourself in a situation where the Possession Acquisition Licence (PAL) information turns out to be fake!
With GTA Guns auctions, we solve all those problems. At our auctions, we guarantee: 1) that your new firearm will be in perfect working order, 2) that you will be paying a reasonable price for your new gun, and 3) that the sale will be 100% legal.
To sweeten the pot, we've even introduced two new guarantees that make out GTA Guns auctions better than ever!
1. Performance Guarantee
If the gun you bought from the auction fails to fire and cycle, just send it back it to us within 30 days of the date of purchase. We will repair it and send it back to you, even refunding your shipping costs.
2. Satisfaction Guarantee
This is for guns bought with a hammer price of $3,000+. If for any reason you are not satisfied with your purchase, you may return it to us within 30 days from the date of purchase and we will sell it in our next auction without seller's fees.
GUNCHECK™ and CYCLECHECK™
You get all of these guarantees on top of our GUNCHECK™ and CYCLECHECK™ programs. What does that mean? It means that, here at GTA Guns, we check every firearm ourselves to ensure they are in perfect working order.
Our GUNCHECK™ program puts all the firearms for sale at our auctions through a round of careful gunsmith inspection. If you're looking to add a semi-automatic firearm to your collection, we put those through our CYCLECHECK™ program, where we double-check the firing cycle and post the actual firing at the range.
So, when you're buying firearms for your gun collection from GTA Guns auctions, you can trust that they will be in excellent condition – and we do all of these extras at our own cost!
Online Auction
But that's not all! We've recently moved our auctions online, creating a massive surge of interest from gun enthusiasts all over North America. This is a massive market, meaning that you could find some really unique pieces to add to your collection.
Now, if we've moved our auctions online, does that mean you won't get a chance to see the firearms you want to add to your collection? Absolutely not! We now offer on-site pre-viewing of all our auction items. From the time the auction is posted online until the Saturday preceding the auction, you can make arrangements with GTA Guns and come to visit our location to make a full inspection of the guns or accessories you're interested in.
All you have to do is select your items of interest and call us to arrange a viewing appointment. It's that simple! With this added feature, plus our GUNCHECK™ and CYCLECHECK™ programs, you'll be able to bid on that new firearm you've been eyeing with complete confidence. And remember, once your purchase is complete, we'll fill out all the necessary paperwork and transfer and transport the gun to you, making the whole process a breeze.
If you'd like to learn more about GTA Guns auctions, or any of our other services, call us today! We're more than happy to answer any and all of your questions.