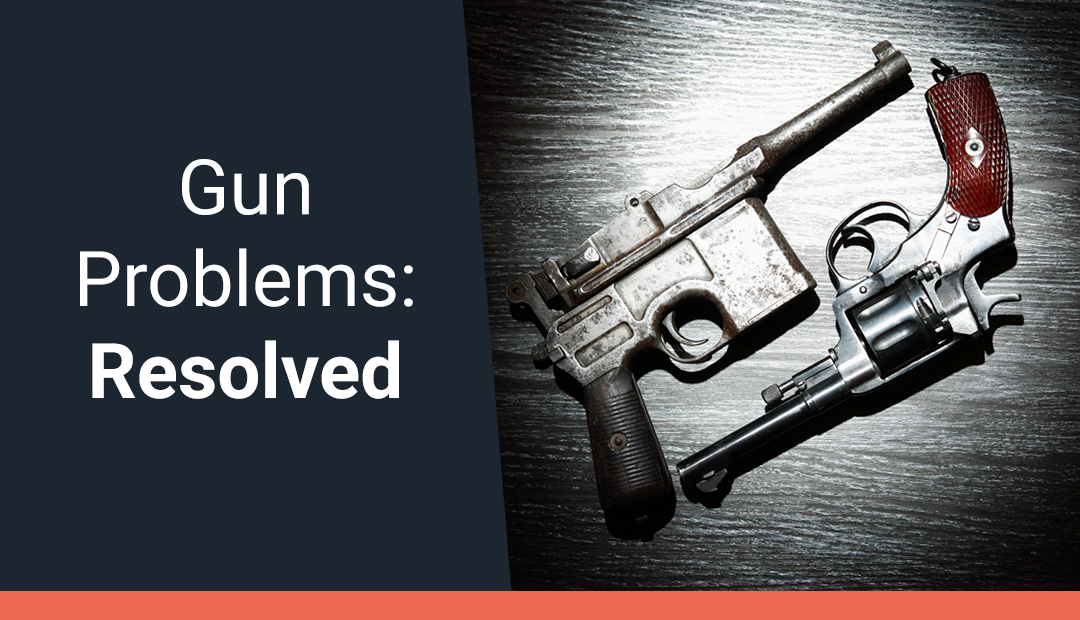 Does dealing with your gun collection ever give you a headache?
As much as we love firearms here at GTA Guns, we fully admit that sometimes problems can arise. Maybe you've run out of room for your collection or have inherited a gun that you didn't want. Or it could be as simple as an issue with registering a brand-new firearm. Whatever your issue, GTA Guns could have the solution for you! Here are some of the most common problems our clients have faced:
Firearm Licensing and Registration
When someone purchases a new gun, it can involve a surprising amount of paperwork.
First, you need to have your firearm license. Without that, you can't become a legal gun owner. Fortunately, it's not too complicated a process.
To get your Firearm Possession and Acquisition Licence, you first need to take the Canadian Firearms Safety Course. It only takes one day, and usually costs about $125. After the course, you write a test. When you pass, you can apply for your gun license. Just fill out the form: RCMP 5592/CAFC 921E from the RCMP CFP website, print it off, pay the fee, and mail it in. A few weeks later, you'll be able to purchase a firearm in Canada legally.
Next, you need to register your firearm. This part is often a significant concern for people who are purchasing firearms from GTA Guns auctions. You don't have to worry about a thing there, as we take care of all the paperwork regarding transferring gun registrations. As long as you have your firearm license, everything should be smooth sailing!
Firearm Storage
If you are a passionate firearm collector, you likely know how fast a collection can take up space.
You don't want to keep your collection in a damp basement, as that can permanently damage the firearms. You also likely don't want to spend thousands of dollars on multiple firearm safes. If you have tight living conditions, then your firearm collection might be even more limited by the available space.
Our solution to these problems is our GTA Guns safe storage. We have a fully-insured, secure facility that offers 24/7 security. It's climate-controlled for an optimal environment to keep your collection in top condition. And if you ever want to pick up your firearms, you just give us a call. GTA Guns safe storage offers you a way to continue to grow your firearm collection without any hassle.
Firearm Appraisals
How much are your firearms worth? It's a tough question.
When many people list their firearms for sale online, they take an educated guess based on internet research. The problem with this strategy is that it often ends up in lowball offers—something you want to avoid.
To determine your firearms' actual value, bring them to us! We offer firearm appraisal as an off-shoot of our auctions. We'll put your guns through our proprietary GUNCHECK™ and CYCLECHECK™ assessments to determine their exact condition. With GUNCHECK™, we inspect the firearm inside and out. With CYCLECHECK™, we run all semi-automatic firearms through tests to make sure that they properly cycle.
By learning your gun collection's value, you can start to make decisions about buying and selling in our auctions, earning money while also getting your collection down to only your favourite firearms!
Estates that Include Firearms
Things can get a little complicated when a firearm is included in an estate. If you have an elderly relative who bequeaths you their gun collection, you might not want it—or at least, not want ALL of it. To make matters even more confusing, there are very specific rules executors of an estate must follow when firearms are involved.
Here, GTA Guns really comes in handy! First, an executor needs to know the monetary value of the collection—well, that's easy with our Firearm Appraisals! If you receive any firearms as part of your inheritance but don't want them, GTA Guns auctions offer you the perfect way to get top dollar for those firearms. Even better, you'll know for sure that your loved one's firearms will be sold to a passionate collector who will treasure them.
Firearm Collection Sales
There may come a time when you want to get rid of your entire collection. For example, if no one in your family has any interest in inheriting it, you could sell the whole thing and use the money for a fantastic vacation!
Liquidating your firearm collection can be tricky, as you're likely to get ripped off by gun stores or scammed by gun forums online. But when you list your collection with us, you can take advantage of everything we talked about above. We handle all of the paperwork, transferring your gun to its new owner. Once you bring your firearms to us for the auction, we store them for you, free of charge. With GUNCHECK™ and CYCLECHECK™, we will figure out exactly how much your collection is worth. And if you need to liquidate a firearm collection from an estate, we can help guide you through the entire process.
If you have gun problems, we have gun solutions! For questions about resolving these issues, or if you'd like to learn more about GTA Guns auctions and our other services, please feel free to contact us today!