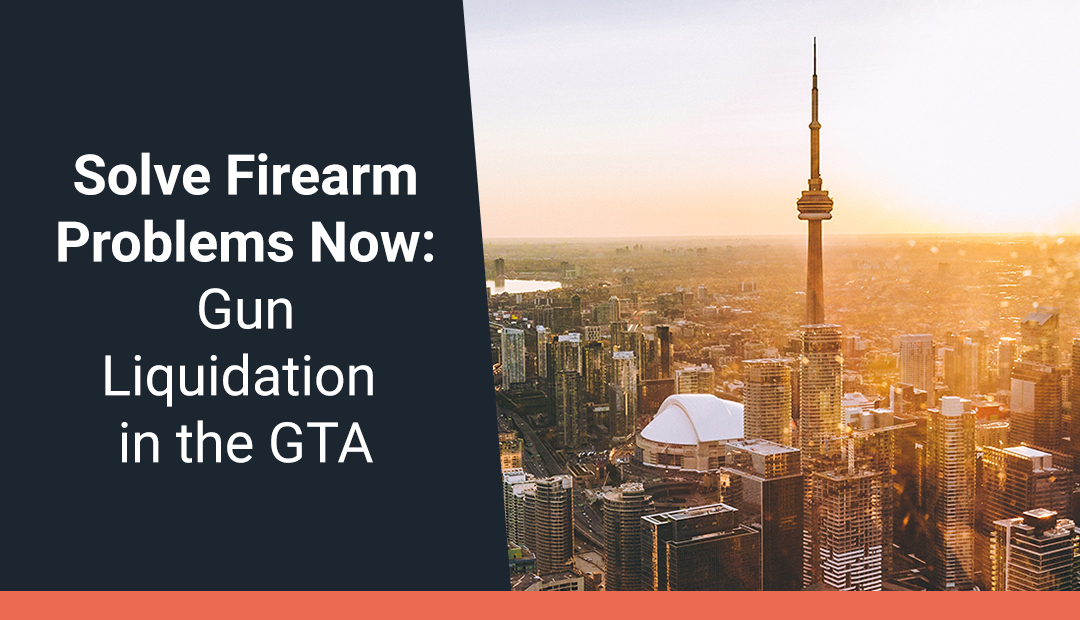 Do you have a "problem" when it comes to collecting guns?
For instance, what happens when the size of your collection becomes an issue? Imagine that you need to downsize your living situation, and there is no more room for every gun you own. How do you quickly sell several firearms for what they're actually worth?
And then there is the worst-case scenario: What if you pass on, leaving your extensive collection to your family? Your executor needs to be aware that firearms must be mindful of the many rules involved with guns in an estate. What if your family members don't have much interest in firearms? What is going to happen to your beautiful collection?
If you're in either of these situations that require you to liquidate your firearm collection fast, we can help. GTA Guns auctions are the fastest, safest, and most profitable way to sell your collection to people who will treasure your guns as much as you.
The Process of Selling a Firearm
Here's the process most sellers go through when they come to GTA Guns to sell a firearm.
First, they transport the firearm to us for inspection. And… that's their part done! At that point, it's all up to us.
We put the firearm through our proprietary GUNCHECK™ and CYCLECHECK™ services to determine its exact condition. High-resolution photos are taken inside and outside the firearm to be posted on its auction page. If it's a semi-automatic, then a video is posted of us testing it. These photos and videos give our buyers all of the information they need to make an informed purchasing decision.
In the days before the auction, people bid on the firearm, driving up the price. But the real magic happens on the last day when bidding wars can start. We have buyers all across North America, and if they want a firearm, they're going to "fight" for it!
After the auction, we contact the buyer, arrange the payment, and then ship their new firearm to them. The proceeds of the sale get sent to the seller. Easy peasy!
The Process of Liquidating Your Firearms
When it comes to liquidating your firearms, it's basically the same process. The only difference is that we're doing it with every firearm in your possession.
It wouldn't be the first time that we've handled the liquidation of a firearm collection. Executors often come to us, requesting our help with managing the firearms in their care. After all, they usually have no idea how much each item is worth, so our gun appraisal services come in handy.
Our preference, of course, is to work with the owner of the collection. Why? Because they're our kind of people—we love gun collectors because we love guns! Learning about you and your collection is one of the best parts of our job. It's always an honour to help you get the full cash value for your firearms. On your end, you'll know every item in your collection will go to someone who loves firearms as much as you do!
Another Option
If you aren't quite ready to downsize or liquidate your firearm collection yet, but you still don't have room for it, we can still give you a hand. Our Safe Storage facility is the perfect solution for those who can't keep their firearm collection at home anymore.
We designed our safe storage facility with firearms in mind. We keep the internal temperature and humidity at optimal levels for gun storage, so there is no risk of rusting or other damage. Our facility is monitored 24/7 and is fully-insured, so even if the worst happens, every one of your firearms is covered.
Whenever you want to access your firearms, you just need to get in contact with us to book a pickup time. It's the perfect solution for those who wish their firearm collection to be safe, secure, and readily available.
If you'd like to learn more about our firearm liquidation services and how we can help you get the full cash value (or maybe more) for your collection, please feel free to contact GTA Guns today!