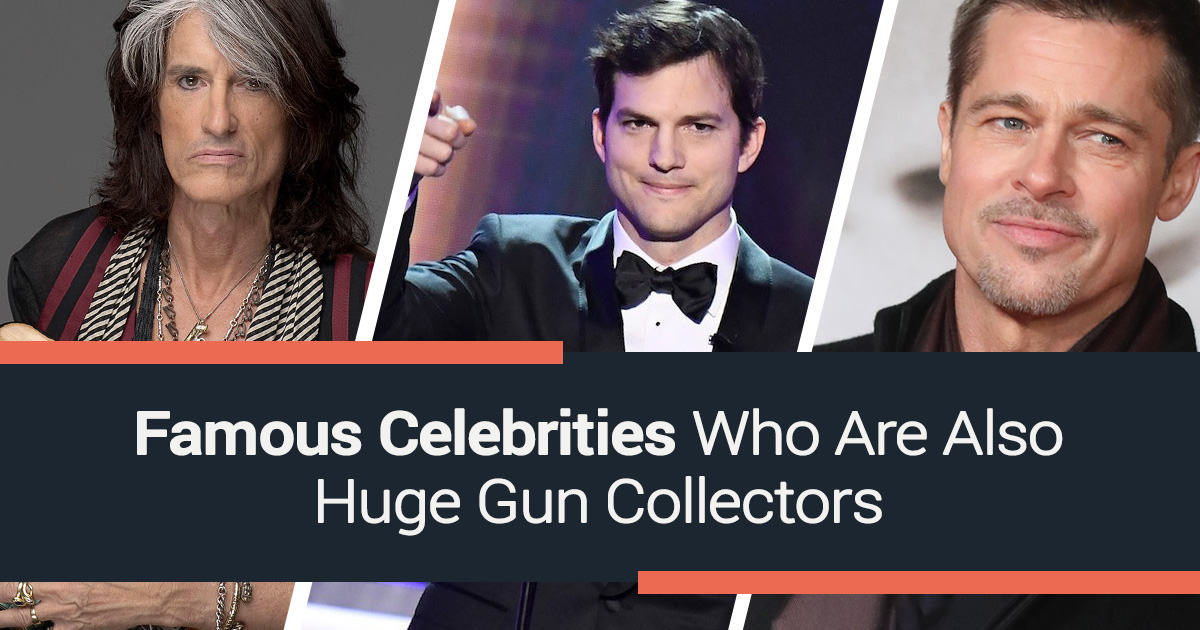 Celebrities: they're just like us! Ok, so we might not all have vacation homes in Aspen, a reserved table at the Ivy in Los Angeles, or a $5 million dollar movie contract, but there's certainly one thing many of us have in common with famous celebrities – the love of a good firearm!
So, who are the most famous celebrities with gun collections? Let's take a look…
Brad Pitt and Angelina Jolie
Did you know Brad Pitt has owned guns ever since he was five-years-old? During an interview with Live Magazine for his 2014 war movie Fury, he said, "America is a country founded on guns. It's in our DNA. It's very strange, but I feel better having a gun. I really do."
Back when Pitt was still with Angelina Jolie, he even had Jesse James, an infamous gun customizer and reality TV show star, craft a pair of stunning Cisco 1911 firearms for the couple. Both Cisco 1911's are Government sized. Jolie's was chambered in 9mm and Pitt's was in .45acp. Both guns were hand fit from oversize parts to ensure they were incredibly accurate and well-shooting pistols.
Eric Clapton
This famous 1970s guitar God made more than enough money to support his hunting hobby with a collection of famous bespoke English firearms. Just like Brad and Angelina, Clapton had many custom pieces made with beautiful engravings. For example, an Italian named Giacomo Fausti, founder of an engraving atelier in his home called Creative Art, made a custom Fabbri over/under for Clapton. The piece featured a pierced monogram of Clapton's initials for the stock, while the furniture and action were engraved with fine scroll. The lockplates were designed by master engraver Manrico Torcoli, who embellished them with hunting scenes.
In December 2008, Clapton auctioned off many of his firearms to make room for even more guns, bringing in a whopping 147,000 Canadian dollars. Now that must have been one heck of an auction!
Tom Selleck
Selleck, famous for his role in the 80s television series Magnum P.I., is another celebrity with an extensive gun collection. In fact, the NRA teamed up with Nevada Cabela's back in 2009 to display his collection in a small exhibit. The display included:
Shiloh Sharps #3 Rifle in .45-110 calibre that was featured in "Quigley Down Under."
A Henry rifle 44.40 Reproduction as seen in "Last Stand at Sabre River."
A .45 Smith and Wesson Schofield revolver from "Crossfire Trail."
A Winchester 1876 .45-60 also in "Crossfire Trail."
An 1887 Winchester 12 gauge shotgun from "Monte Walsh."
An Ivory gripped Colt SAA reproduction, also featured in "Monte Walsh."
Ashton Kutcher
Shortly after Kutcher married Demi Moore in 2005, they both went out and purchased new firearms to add to their collection. Kutcher told the Daily Mail that he bought a Springfield and she bought a Glock. Five years later, Kutcher tweeted a picture of Moore firing a machine gun at a gun range, further confirming their love of firearms. Even though the pair split up in 2013, his love of guns has never faded.
Joe Perry
Lead-guitarist for Aerosmith, Joe Perry, is another celebrity to add to the list. Perry's love of firearms began at age 12 when he got his first BB gun. A few years later, he got a Crosman pellet gun. In an interview with Outdoor Life, he said, "Every day after school, I'd walk our 4 or 5 acres with my dog and hunt till it got dark."
Now that Perry has money to burn, he's been adding to his collection, telling Outdoor Life that he loves flintlocks and airguns from the '20s and '30s. Perry has about 50 handguns in his collection, including an old Indian rifle, a lever-action .410, and a Walther PPK.
Although not every celebrity has extensive collections like the people mentioned above, many other celebrities still like to pack some heat, including Ozzy Osbourne, Howard Stern, Miranda Lambert, Eva Longoria and many more. Even David Spade, who might not own his own guns, donated $100,000 to the Phoenix Police Department in 2008 to help them pay for 300 new rifles.
Add The Perfect Piece to Your Collection With GTA Guns Auctions
If you're looking to start a collection or want to find that perfect firearm, then you'll want to check out GTA Guns auctions. Our online auctions are the easiest, most effective way to add firearms to your collection. We take care of all the paperwork and even transport the gun directly to you once the sale is complete. We also offer other services such as gun appraisals and safe storage. To find out more about how GTA Guns can help you, get in touch with us today. Our team of expert gunsmiths is always happy to help!