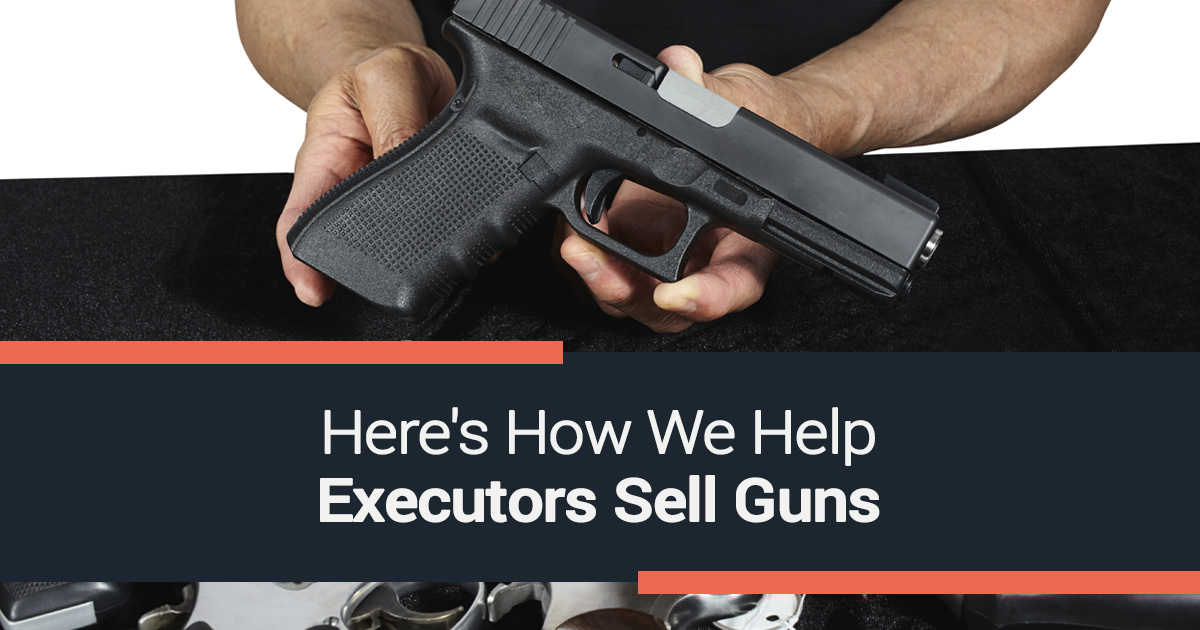 Are you the executor of an estate in Toronto or the GTA? It's a big responsibility, especially when guns are part of that estate. Trying to navigate your way through an estate with multiple firearms can make this important job even more complicated.
At GTA Guns, executors often ask us questions like, what if the firearm is not registered? Is this a restricted or prohibited firearm? Is the deceased's license still valid? Is it in the Will—is there even a Will? Is the beneficiary of the gun legally allowed to receive it?
On top of all that, if you're the executor of an estate, it's up to you to ensure that any firearms are either transferred to a properly licensed individual or business or disposed of safely and legally within a reasonable amount of time. And while you wait for the transfer or disposal, it's your responsibility to store any firearms securely and legally.
For an inexperienced executor, all of this can quickly turn into a nightmare. But as for the executors who know about GTA Guns, they know how we can facilitate the entire process, making the process quite simple.
Here's how we help executors sell guns:
A GTA Guns Auction is a One-Stop Shop
It can be confusing for executors dealing with a firearm or firearm collection to understand all their responsibilities. That's why they love coming to GTA Guns for our firearm auctions. Our licensed firm has a great deal of experience appraising, transporting, storing, and selling all kinds of guns. Further, an auction is the only way of ensuring the estate gets fair market value for the guns.
It's our goal to ensure you're getting top dollar for the guns you wish to sell, based on their history, condition, and market value. When you come to us, it's our pleasure to guide you through the procedures and legalities of dealing with the guns in your estate. Even better, we do this at no additional cost!
We Offer Professional Appraisals
Did you know that as of January 2016, the Canada Revenue Agency (CRA) requires all firearms to be professionally appraised to ascertain their cash value? That means if you're a widow, heir, or estate executor dealing with bequeathed guns, the CRA makes it obligatory for you to have estate firearms appraised before a Will can be probated.
Fortunately, our skilled team of expert gun specialists performs extensive research and analysis of firearms, ammunition, and related gear on a daily basis. We guarantee that when you get your firearms appraised by us, you'll receive a professional and fair opinion of their value.
We include a formal inspection and assessment of any type or class of firearm (including antiques) when you use our firearms appraisal services for insurance and estate valuations. We will also provide you with a detailed report about the gun or gun collection, market and replacement value appraisals, and legal and equitable options for selling your bequeathed firearms.
We'll Get You Top Dollar Through Our Online Auctions
Once you've had your firearm(s) appraised, we can help you get the money it's worth through our online auctions. Now that they take place entirely online, our auctions attract more than 65,000 buyers from all across North America.
Before each monthly auction, we send out an enormous e-blast to all our subscribers, attracting thousands of eager buyers who are ready to engage in a fierce bidding war, driving the price of your firearm higher and higher!
We use our proprietary GUNCHECK™ and CYCLECHECK™ methods to provide potential buyers with detailed information on the quality and condition of every firearm we sell through our online platform.
That means every bidding page has high-resolution photos demonstrating the condition of each firearm in unprecedented detail. This helps all our bidders feel confident in the quality of firearms they wish to purchase, which means higher bids and more money in your pocket once the sale is complete.
We Offer Performance Guarantees
We love giving our clients the utmost confidence in what they're bidding on, which is why we even offer performance guarantees! Our one-of-a-kind guarantees make sure that any gun purchased through our online auctions will be in perfect working condition. If, for any reason, it doesn't work as listed, a buyer can easily send it back to us, and we'll repair it. We even refund the shipping costs (30-day maximum).
What's more, we have a satisfaction guarantee that applies to any firearm purchased through our auction with a price of more than $3,000. If you're unhappy with your purchase, we'll put it back up for auction for you with no sales charge (30-day maximum).
As an executor trying to sell a gun, these guarantees are truly a game-changer. And to make sure the process is even less of a hassle, we fill out all of the paperwork for you, verifying each buyer to guarantee that everything is legal, transparent, and fair for all parties.
Contact GTA Guns Today!
So, if you're an executor selling a gun collection, you'll want to get in touch with GTA Guns today!
No matter the kind of firearm left by an estate, there is an avid community of hunters, collectors, and athletic shooters from all across Ontario, Canada, and the United States who would love to add your piece to their collections. At GTA Guns, we're thrilled to connect you, the executor, to those buyers via our online gun auctions!
If you have any questions about the firearms in your possession, don't hesitate to get in contact with us today! If you're an executor trying to sell a gun, we're here to help!