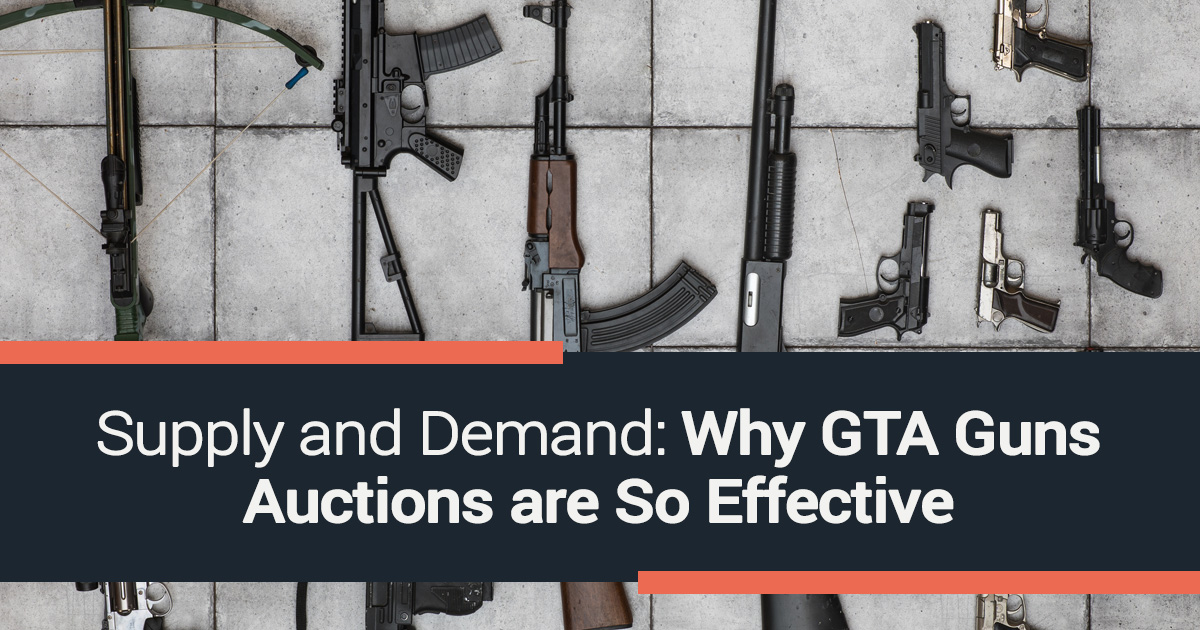 Here's a quick economics lesson: An item's value is the price someone is willing to pay you for it, in a competitive market, today. Period.
At GTA Guns auctions, it's our job to create a competitive market environment that facilitates supply and demand.
You demand, and we supply – all on our online auction platform.
Ever since we moved the "location" of our auctions online, we've seen a massive surge of interest from collectors all across North America. In fact, we pay to have an enormous e-blast of 65,000+ subscribers who are all interested in knowing about the firearms we have for sale on our auction site. All of these avid gun enthusiasts can browse our auction site (and your listed firearms) from the comfort of their very own home.
That's just one reason why GTA Guns auctions are so effective. Here are five more reasons too:
Fierce Bidding Wars
In economics, supply and demand is the relationship between the quantity of a commodity that someone wishes to sell and the amount that consumers want to buy. Our online auctions see a vast pool of avid gun enthusiasts demanding the perfect pieces for their collection. That means if you are willing to supply a firearm to sell, the demand will be very high. This often leads to fierce bidding wars that will drive up the price of your firearm, putting more money in your pocket.
Of course, if you're a seller, the success of a sale will mean that you'll want to sell even more guns. As a result, this attracts even more buyers who now have an ample supply of great firearms to bid on. It's a lucrative cycle for everyone involved!
Proprietary GUNCHECK™ and CYCLECHECK™ Services
Did you know GTA Guns auctions is the only firearm auction company to offer guarantees to our buyers? We understand that online buyers are often worried about the conditions of the firearms they're bidding on, as they will have only seen pictures and descriptions of the listings.
Bidders often have reservations regarding the condition of the item they're bidding on because they've been conditioned to expect "as is" terms. Therefore, they hold back on their maximum bids. We call this 'Buyer's Uncertainty Discounting' and that's exactly why we started our Buyers' Uncertainty Discount. We wanted to make sure that buyers wouldn't lowball the amount they would ordinarily pay due to uncertainty. Now, thanks to the guarantees we have in place, they can be sure that every gun is in top shape, resulting in our sellers getting more than a fair price.
So, how do we guarantee that each firearm is in perfect working order?
We check every listed firearm ourselves! By using our proprietary GUNCHECK™ and CYCLECHECK™ programs, we're able to confirm firsthand that each gun is in excellent condition.
With GUNCHECK™, our licensed gunsmiths put your firearms through a round of scrupulous inspection, grading and reporting every detail of their exact condition. We include high-resolution internal and external photos of your guns with our reports, and they are automatically posted to your firearm's auction listing. This is a great way to guarantee that they'll bring in the highest possible bids.
Our CYCLECHECK™ verification service is similar to our GUNCHECK™ service, but for semi-automatic firearms. We have our expert gunsmiths conduct a shooting range test to confirm that each gun is in good working order and fires accurately without any faults. It's an industry first!
After the test is complete, we then post the video of our test on your auction listing for everyone to see. And the best part? There's no extra charge added to the auction buyer's acquisition price for our CYCLECHECK™ service. All of the semi-automatic firearms we sell feature the CYCLECHECK™ seal of approval.
One-of-a-Kind Guarantees
Did you know that if you purchase a firearm through our auction and it doesn't work for any reason, you can send it back to us? We'll repair it for you, and even refund the shipping costs (30-day maximum).
What's more, we also provide a satisfaction guarantee that applies to any firearms purchased at auction with a price of $3,000 or higher. If you're not satisfied with your purchase, we put it back up for auction with no extra sales charge (30-day maximum).
Our performance guarantees and our satisfaction guarantees are game-changing, and come free of charge to both buyers and sellers.
With all of these industry-firsts, it's no wonder why GTA Guns is the go-to for so many firearm collectors and sellers!
On-Site Previewing
As you can see, we're all about making our buyers feel confident in what they're bidding on. That's why we also give every client a chance to see the guns they wish to bid on in person.
From the time the auction is posted online until the Saturday before the auction takes place, you can make an appointment to visit our brick and mortar location and make a full inspection of the firearms or accessories you're thinking of buying.
All you have to do is select which items you'd like to inspect and call us to set up a viewing appointment. It's that simple!
A Headache-Free Process
GTA Guns auctions are so effective because all the logistics are taken care of for you. When you buy or sell a firearm through us, the process is simple and headache-free. We take care of all the required paperwork and transfer and transport the gun directly to the buyer. You don't have to lift a finger.
Once the auction is over and the sale has gone through, we pay you within six business days following the auction. No exceptions.
It can't get easier than that.
Contact Us Today
At GTA Guns, we supply the best possible service to fill the demand of all our cherished clients – and that's why we're so effective.
Our fantastic location in the buyer-rich GTA combined with our online auctions, one-of-a-kind guarantees, on-site previewing, and hassle-free process makes us your one-stop shop for all your firearms needs.
So, don't hesitate to give us a call and learn more about our auctions or any of our other services. We're happy to help answer any of your questions and get you the money you deserve!