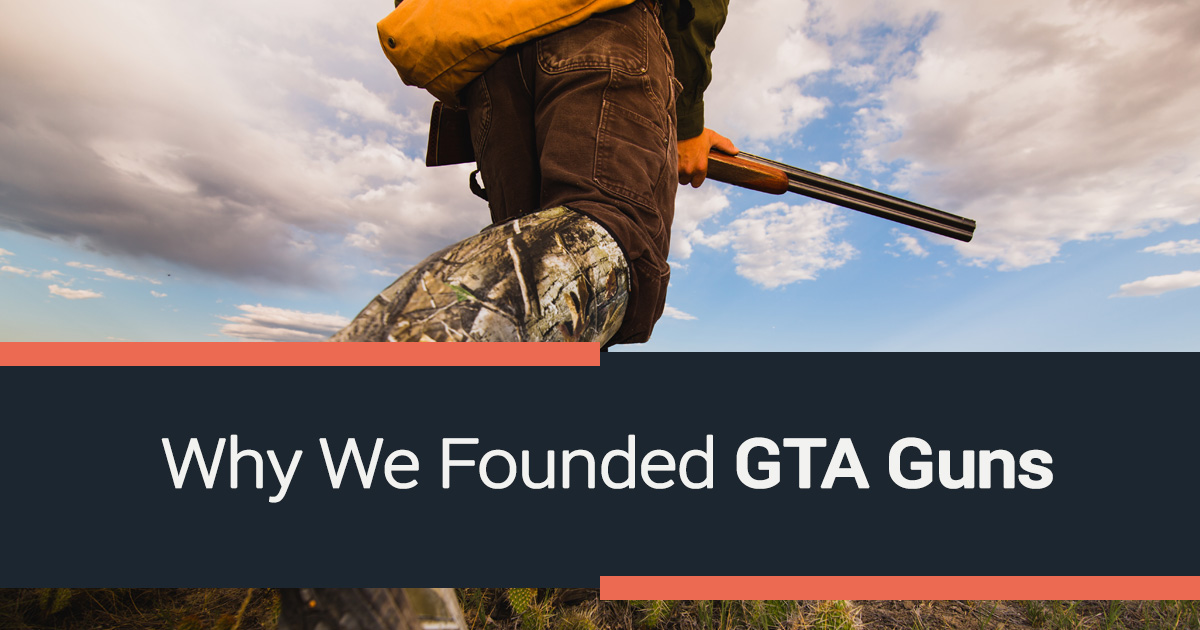 Did you know that many firearms auction companies are very careful to point out that this is a "buyer beware" industry?
When you work with the average auction company to buy firearms, you're often going to see "as is" included beside most listings. But here at GTA Guns, we've reinvented the firearms auction business so our buyers never need to beware of anything when purchasing their guns.
GTA Guns was founded by firearms enthusiast Gordon Siple of Sharon, Ontario. He aimed to create a business that not only specializes in hosting firearm auctions to facilitate the legal sale of a wide range of restricted, non-restricted, and prohibited firearms and related gear, but also to uphold Canadian values of safety and security.
GTA Guns auctions are designed to offer a safe and reliable way to buy and sell firearms and firearm accessories while providing the utmost in client satisfaction. Our auctions serve over 62,000 gun enthusiasts from all over North America, giving you access to a wide and captive buyers' market.
Here's how GTA Guns is changing the game:
We Make Both Buyers and Sellers Happy
GTA Guns was founded to make our clients happy. In order to make the seller happy, we know that we have to make the buyer happy first. So, we always begin with better buyer information.
GUNCHECKTM is a proprietary system exclusive to GTA Guns. Before they are posted to our auction site, a licensed gunsmith inspects every firearm that will be sold and writes a condition report. This way, buyers will be aware of the exact condition of their purchase before they buy.
We also employ another proprietary system known as CYCLECHECKTM. Here, all semi-automatic weapons are range tested and recorded. The video of our test is posted on the auction page to prove to bidders that the firearm is in perfect working order.
Lastly, we use fiber-optic bore pictures so that buyers can see the condition of the bore on used firearms. It's just like used car buyers looking under the hood! We are the only ones who offer these high-resolution images, along with proof of firearm condition. Thus, we are the only gun auction that puts client satisfaction at the top of our priorities.
Part of that customer satisfaction is taking care of the details. If you buy or sell a gun through our online auction, we'll handle all the paperwork, transport the firearm directly to the buyer, and make a payment to the seller's account within six business days following the auction — no exceptions!
We Offer One-of-a-Kind Guarantees
Have you ever got your hands on the perfect firearm only to find out it doesn't work? So disappointing!
But since GTA Guns was founded with client satisfaction in mind, we strive to make sure this never happens. Our performance guarantee ensures that, if you purchase a firearm with us and it doesn't work for any reason, all you have to do is send it back. We'll not only fix it for you, but we'll even refund the shipping costs (30-day maximum).
What's more, our satisfaction guarantee ensures that any guns purchased at auction with a price of $3,000 or more can be put back up for auction if you're not satisfied with your purchase. We'll even put it back up on our site with no sales charge (30-day maximum).
These guarantees mean that you'll be receiving a gun that is in perfect working order, no questions about it! Our guarantees are unique and designed to eliminate all uncertainties, which means higher bids for sellers and fully-satisfied buyers.
We Do It All!
Along with our gun auctions, GTA Guns offers a full range of firearms services. You can come to us to store your gun or gun collection in our safe storage facility, get your gun repaired, and even get your firearm collection appraised.
That's right, GTA Guns really does it all!
If you're looking to store your guns safely and securely, then you'll love our storage facilities. We offer both short and long-term storage options in a fully-insured facility that is monitored 24/7. We keep our facilities at an optimized climate for firearms, so your guns are stored at the perfect temperature without humidity. You can rest easy knowing your collection will be stored safely, legally, and in a way that will prevent damage and give them the longest life possible.
From repairs, decommissions, and stock refinishing to re-bluing, re-barreling, and customizations, our expert gunsmiths can solve any problem you may have with your firearms. We have an ongoing relationship with licensed gunsmith David Battiston. In fact, we're now a licensed gunsmith outlet for him! David is an expert at the installation of muzzle breaks and recoil pads, drilling and tapping for scopes, glass and carbon fibre bedding, and so much more.
Lastly, if you're an estate trustee, executor, lawyer, or firearms collector, we can professionally appraise your guns for legal purposes, insurance reasons, or merely plain old curiosity.
Reach Out to Us Today
As you can see, GTA Guns was founded with you – the client – in mind. Your safety and security are two of our top priorities, along with customer satisfaction and reliability.
We understand that the world of guns can sometimes be a shady place. That's why we strive for complete transparency to make sure that no one ever feels that way about dealing with us. At GTA Guns, we know the ins and outs of Canadian gun laws, and we're fully licensed to handle all your firearm needs.
So, if you're looking for a secure and hassle-free way to buy and sell guns, or need help with any other firearm related issues, call us today! One of our experts will be more than happy to inform you about our services and answer any of your questions!