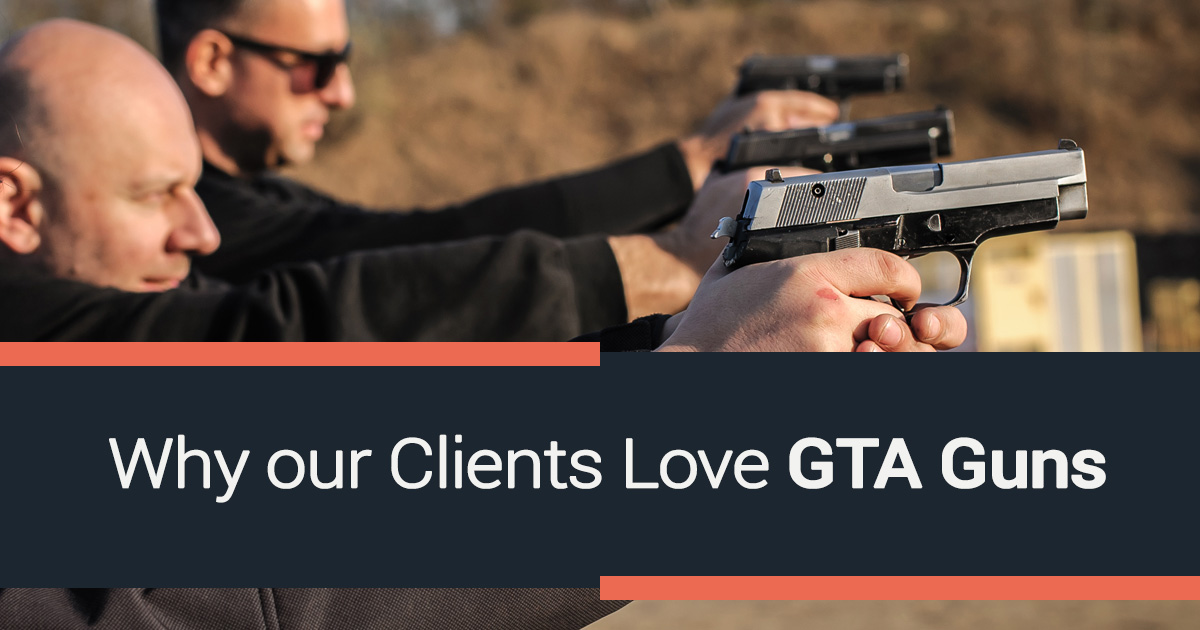 Have you ever tried to buy or sell guns outside of a GTA Guns auction? The process wasn't all that simple, we bet.
From dealing with buyers who don't have a clue to trying to find time to meet, selling firearms yourself can be a huge hassle. Not to mention, you always have to be on high alert for scams that involve fake gun licence information. And worst of all, there is all that paperwork! Yikes!
Plus, how can you be sure that you got top-dollar for your firearm? Trying to figure out the value of your gun all by yourself can be difficult. All you really have to go on is the internet and what a random buyer is willing to spend. And as we all know, the internet isn't where you should go if you want completely accurate information.
At GTA Guns and Gear Auctions, we're a "one-call-does-it-all" service that solves all of those problems – and that's one of the many reasons why our clients love GTA Guns.
Here are four more reasons why people come back to us again and again:
1. We Employee a Team of Expert Professionals
Are you looking to earn top-dollar for your gun? Then you need an accurate measure of how much it's worth. Our knowledgeable and experienced team of firearms specialists can perform extensive research and analysis of all your firearms, ammunition, and related gear to offer you a professional and fair opinion of their value.
And if you have a gun that needs a little TLC, our team can handle all your gunsmithing needs. Our in-house expert can diagnose, repair, and upgrade all classes of firearms like it's nobody's business!
If you love feeling supported by a well-informed, experienced team happy to answer any of your questions and make the whole process a breeze, then GTA Guns is the place to be.
2. We Check Every Listed Firearm
We love our clients just as much as they love us, and that's why it's important to us that every gun we sell functions flawlessly. We don't leave anything up to chance as we check every listed firearm on our auction site ourselves to make sure they're in top condition.
With our proprietary GUNCHECK™ program, we put all firearms through a round of precise inspection. Each firearm receives a grade at the end of the process, as well as a summary that outlines their exact condition. We even provide high-resolution internal and external photos that are posted to the firearm's auction listing page so all our sellers can see for themselves. This extra layer of trust helps bring in the higher bids.
Of course, we don't skip over our semi-automatic firearms. We understand that our clients don't want to worry about the possibility of acquiring a beautiful semi-automatic firearm only to find out there's a faulty firing cycle. That's why we invented the industry-first CYCLECHECK™ verification service.
With CYCLECHECK™, our clients can rest assured that the semi-automatic gun they wish to purchase from GTA Guns and Gear Auctions works flawlessly. We put each semi-automatic gun through shooting range testing to confirm it works, then post the actual test on the firearm's auction page for every bidder to see.
And you know what else our clients love? There's no additional charge added to the auction buyer's acquisition price for our CYCLECHECK™ service!
3. We Offer Proprietary Guarantees
The main reason why our clients love us all boils down to trust. When you purchase a firearm through our online auction, you know it will work – we guarantee it!
In fact, we're so confident that we've weeded out the lemons that we offer a performance guarantee that all guns purchased from GTA Guns auctions are in perfect working order. If not, the buyer can send it back to us. We'll not only fix it and ship it back to the buyer, but we even refund the shipping charge and absorb the cost (30-day max).
We also offer a satisfaction guarantee on guns with a price of $5,000+. If for any reason the buyer isn't satisfied, they can return the gun to us and put it up for the next auction without a seller's fees (30-day max).
4. Our Online Auctions Are Effortless
Not only are we located in the buyer-rich Toronto-area gun market, but we're also all over North America. Ever since we moved our auctions online, we've seen a massive surge of interest from collectors all over the continent! Our clients love that we have access to over 65,000 potential bidders who can now browse our auction site in the comfort of their own home.
Our clients especially enjoy the fierce bidding wars that drive up the price. You can feel the excitement as that number climbs ever upward; it's super exciting! And of course, this leads to the sellers earning more money, making them want to auction off more firearms, which then attracts even more buyers. It's a win-win for everyone!
What's more, we take care of all the required paperwork and transfer and transport the firearm directly to the buyer. Once the auction is complete and the sale has gone through, you'll get paid within six business days following the auction. No exceptions.
Now, who wouldn't love that?
Lastly, if any of our clients wish to inspect an item prior to the auction, they can easily set up an appointment to do so. From the time the auction is posted online until the Saturday before it takes place, our clients are welcome to make an appointment with us at our brick and mortar location to make a full inspection of the guns or accessories they're interested in.
Like we said, our online auctions are effortless, and our clients love that!  
Contact GTA Guns Today
So, if you're not already one of our cherished clients, you'll soon want to be! Get in touch with us today for any questions you might have about our online auctions or other services. We're always happy to help.