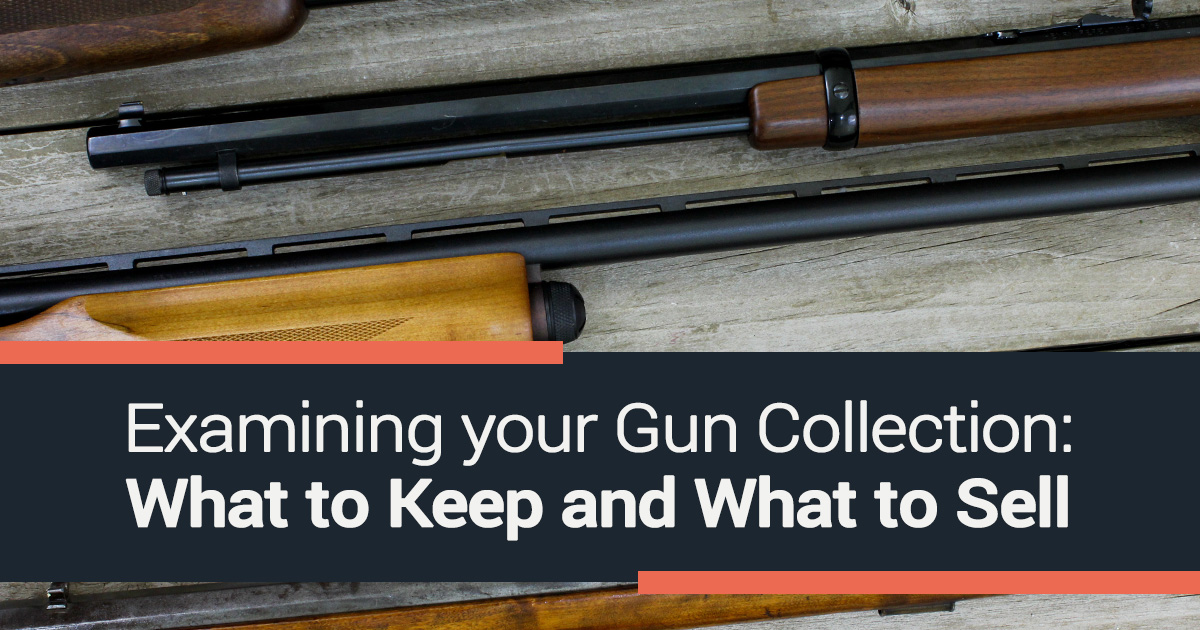 Are you an infantry battalion or a serious gun collector? If not, it might be time to examine your gun collection and cull the herd.
Owning a gun collection is great! However, it can be a costly endeavour. You must keep your firearms insured and stored in a safe, secure, and legal way. That isn't even including the cost of maintenance to make sure they stay in top shape. Frankly, if you aren't using them on a regular basis, the money you can get by selling them can be put toward other things. Vacation anyone?
So, the big question is, which guns should you sell and which ones should you keep? Here's how we would answer:
Keep Guns With Sentimental Value
If you were gifted a gun, or you have a firearm with real sentimental value, don't sell it. These guns most likely contain a lot of cherished memories that money can't buy. In our experience, most people end up regretting the sale of a sentimental firearm.
Rather than sell it, we might suggest giving it to a loved one instead. Willing someone a firearm after you've passed can be tricky, not to mention the estate administrative tax that they will need to pay on their value. Our advice is, if you want someone in your family to inherit a firearm, give it to them before you pass.
How Useful Are They
It's also a good idea to keep any firearm that is generally useful. For example, if you have a .270 Winchester rifle in your collection, you can hunt almost anything with it. It's a great idea to keep versatile guns like that in your collection.
Whereas, if you happen to own a .375 H&H Magnum for big game, you might want to let that one go unless you're planning a hunting trip in Africa (You could pay for it by selling some of your guns!)
Get Rid Of Guns You Haven't Used in a Year
Another great rule of thumb for keeping your collection under control is to sell any firearm that you haven't shot or hunted with for one year or more.
If a gun is just sitting in your safe, gathering dust, selling it through an online firearm auction might be the best course of action. Not only are you risking having it sit in improper conditions where it could rust, gradually lowering its value, but it's safe to say you probably won't miss it.
Sell Guns That Need Work
If you own some guns that have given you trouble or guns you've poured money into fixing but still don't working quite right, you'll definitely want to sell those. Just make sure to inform us of its history first!
Also, for mysterious reasons, there are some guns that we just don't shoot well with. This is usually personal preference and has nothing to do with the quality of the firearm. So sell these and keep only the ones you love to shoot.
Remember that as your interests and circumstances change, so too will your gun collection – and that's ok!  
GTA Guns Can Help You Sell Your Guns
Now that you have a good understanding of which firearms to keep and which to sell, let's help you get the most money for the ones you're letting go.
At GTA Guns, we make sure that you're getting the highest possible price for selling your unused guns through our online actions, and we guarantee the entire process will be completely hassle-free.
If you want to determine the real value of your gun collection, you need people who understand the demand – and, of course, that's GTA Guns.
Now that our auctions are held exclusively online, we have access to over 62,000 gun enthusiasts from all over North America! No one else in the GTA (or maybe even in Canada) has access to that many potential buyers.
Many of our bidders browse our online listings every single day. These people know what they want, and they'll do whatever it takes to add that perfect piece to their collection. This means fierce bidding wars and more money in your pocket at the end of the auction.
Plus, once the sale is complete, we take care of all the paperwork, verifying who the buyers are and transferring the firearm directly to them. We guarantee that everything is legal, transparent, and fair for all parties.
We're also the only gun auction company that pays our sellers within six business days following the auction. No exceptions. Now that's hassle-free!
GTA Guns Offers Safe Storage
So, what about the firearms you wish to keep? We can help you there too!
Our safe storage facility solves the many problems that come with storing guns. Our entire facility is fully insured and monitored 24/7, which means you don't have to worry about theft or natural disasters. If anything were to happen, you would be fully covered, without having to lift a finger.
In addition to being extra safe, our storage facilities are equipped to store your guns at the optimal level of humidity. This keeps them in tip-top shape by preventing any risk of rusting, helping them hold their value.
And if you need access to your collection at any time, simply give us a call to set a time for pick up or drop off. Your firearms are easily accessible at your convenience for whenever you need them—at the shooting range, for a hunting trip, or for any gun sports.
As professionals, we've got all the bases of firearm storage covered in detail and with expertise.  So, if you'd like to learn more about GTA Guns auctions, or any of our other services, don't hesitate to get in touch! We're happy to answer all your gun-related questions.