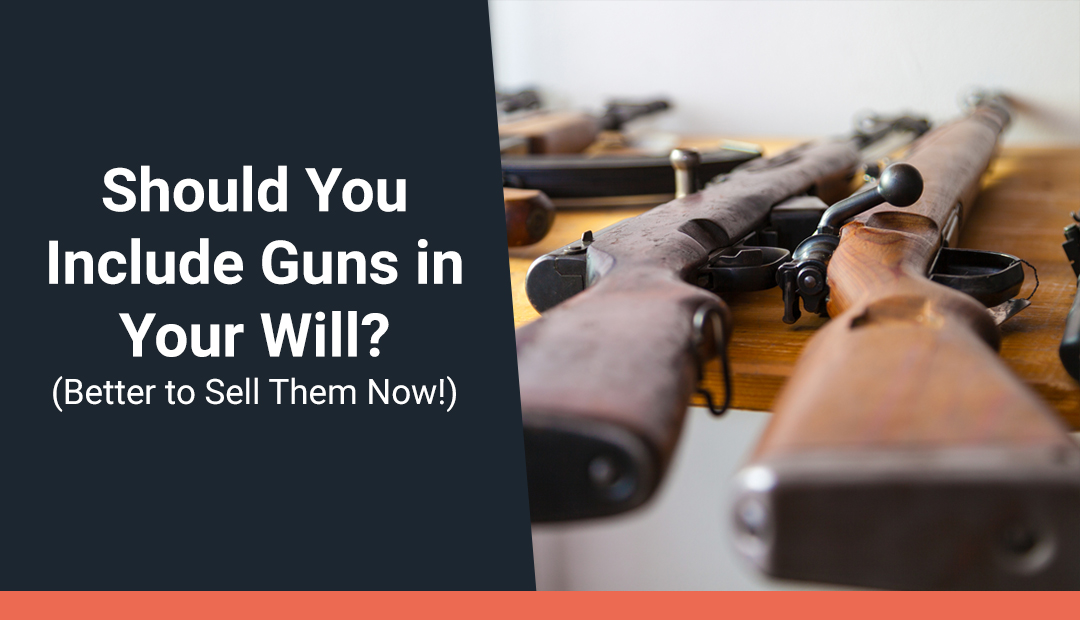 What plans have you made for the end of your life? Have you considered what will happen to your firearms after you pass?
We know, talking about death is a heavy question. If you're younger, the very idea of writing your Will might seem foreign. But believe us, it's something that your parents worry about constantly. The last thing they want when they pass is confusion and uncertainty about their wishes.
An often overlooked area when it comes to writing a Will is what happens to your firearms. When it comes to inheritance, firearms are a complicated question. Even if you have an experienced executor who knows how to handle everything, there's a chance that your beneficiaries might not even want the collection, requiring them to find a buyer.
A much better solution to the inheritance question is to figure out what to do with your firearms now—today—
instead of leaving a gun problem for later. If you're not using your guns anyways, thinking about downsizing your living situation, or you simply want to be prepared for the future, selling your guns through an online firearm auction is one of the best and easiest ways to handle the situation.
Why You Shouldn't Will Your Firearms
When you put firearms in your Will, there are many additional steps your executor must go through to make sure they get to the intended people.
First, your PAL will no longer be valid after you pass. Your executor will automatically have a provisional gun license so they can transport them, but that will be invalid after the transport has been completed. That means your beneficiaries will need to get their own valid PAL.
Another reason why willing your firearms isn't a fantastic idea is that your family members will need to pay estate administration taxes on every firearm. If you have some rare or expensive pieces in your firearm collection, this can result in an unexpected financial blow.
Finally, you shouldn't will your firearms because, frankly, some people in your family might not want them, even if they're too polite to tell you the truth. And even if you check in with them when you're writing your Will, their situation might have changed by the time the executor gives them out.
A Better Solution: Sell Them Now
Selling your firearms through GTA Guns is the best possible solution to the inheritance problem.
First, putting your guns up for auction with GTA Guns is incredibly easy. You give us a call, transport the firearms to our brick-and-mortar location, and your job is finished. We take care of everything from there. Your firearms will go through our GUNCHECK™ and CYCLECHECK™ services to determine their internal and external condition. We then take high-resolution photos of the firearms for their auction page.
During the auction period, you can sit back and watch the sale price of your firearm go up as our massive pool of buyers from across North America bid on it. After the auction, transporting the gun to its new owner and transferring the paperwork is our responsibility, not yours.
The benefits of listing your firearms are obvious. You don't need to do much work to sell them. You're guaranteed not to be ripped off by online scammers because taking care of the sale is our responsibility. And if you want to give your family and friends the money, you can do so without worrying about taxes. Or hey, maybe you might want to take that money and enjoy it for yourself! Enjoy! It's your choice!
An Alternative to Selling
Suppose you want to hang onto your firearm collection for a little longer, but unfortunately, lack of safe storage space is an issue. In that case, consider our safe storage facility.
We can store your firearms in an optimized environment that will keep them at their peak condition. A perfect level of humidity and temperature will ensure there's no internal or external rusting. They will be protected 24/7 in our insured facility. If anything were to happen, their value would be fully covered. And if you want to take your firearms out for any reason, give us a call to arrange it and you can collect them at your convenience!
So, if you're looking for a way to simplify your Will, please feel free to contact us today. We can't wait to tell you all about GTA Guns auctions and our other services!