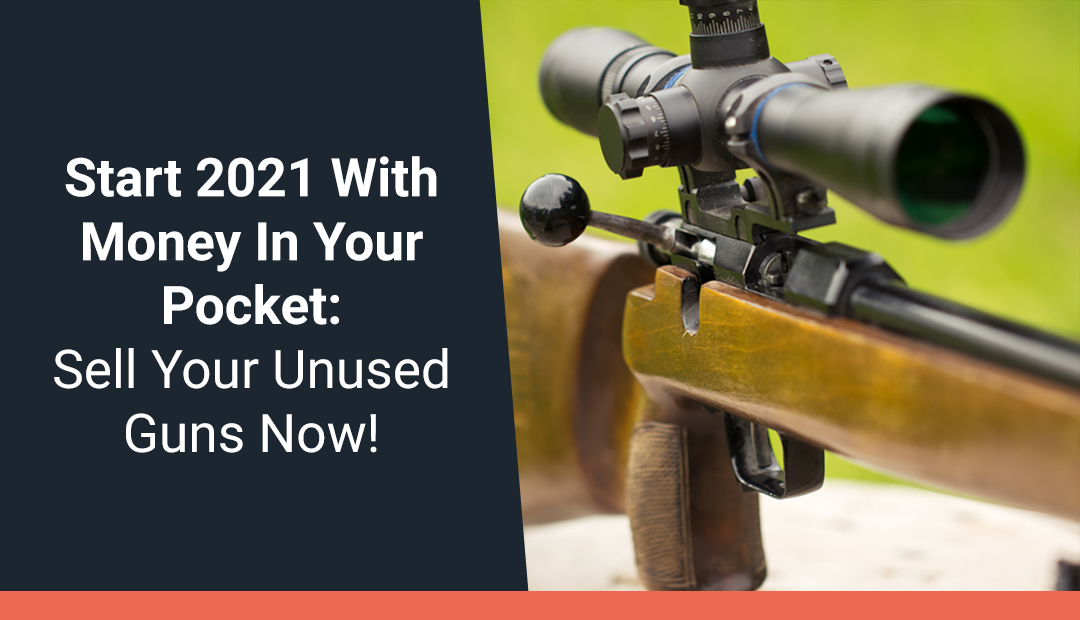 Could there be a better way to start the new year than with some extra cash in the bank? This would be especially fantastic since 2020 was hard for most people financially due to the pandemic, subsequent shutdowns, and economic downturn.
Fortunately, GTA Guns has the perfect solution: you can sell your unused firearms completely hassle-free while respecting social distancing guidelines and staying safe! Here's how it works:
How Do I Sell My Firearm?
If you have a firearm that you want to sell, all you have to do is bring it to our brick and mortar location and create your free account with GTA Guns auctions. This account enables you to bid in online auctions, save your searches, track your bids, and more.
Once we have your firearm, we use our proprietary GUNCHECK™ or CYCLECHECK™ programs to meticulously examine their condition both inside and outside. We also take high-quality photos so potential buyers can see exactly what they'll be bidding on.
We even create a professional listing for you that includes an in-depth description of the firearm, detailed information about its condition, and lots of great images. Once the listing is live, all you need to do is sit back, relax, and wait for the bids to roll in.
Please note that serious bids usually only come in the day before the auction. At that point, it gets very entertaining to watch. So, you'll no longer be "sitting back"—you'll be on the edge of your seat!
What Happens After the Sale?
Once your gun has sold during the auction, we handle the rest of the process. We fill out all of the paperwork needed to transfer the license, ship the firearm to the auction winner, and send the money straight to your bank account! If you're a buyer who wins an item, you simply transfer the funds to us, and we'll ship the item to you.
Are There Any Guarantees?
Yes! We are the only gun auction company that offers guarantees. If the gun you bought at auction fails to fire and/or cycle, you can ship it back to us free of charge. We'll fix it for you also free-of-charge (30-days max). If you're not 100% satisfied with your purchase for any reason, you can return the firearm to us. We'll re-list it in our next auction and we won't charge you the seller's fees (30-day max and hammer price is $3,000+).
How Much Can I Make?
Of course, how much money you make from auctioning your guns depends on the firearms themselves and how many you have to auction. But no matter how many guns you have to sell, from one to several, we strive to get top dollar for our customers.
In fact, our auctions consistently bring in more money for our clients than trying to sell them at a gun store. Remember, gun stores need to make a profit, so they often lowball the value of your firearms. Plus, our gun auctions attract more than 65,000 gun collectors and enthusiasts from all across North America. These are serious collectors who don't mind entering a fierce bidding war to get the firearm they want. If two buyers who desperately want your gun end up in a bidding war, you'll watch the price go higher and higher!
Contact Us Today
So what are you waiting for? Sell your unused guns now and start 2021 with extra money in your pocket! As you can see, the process is entirely hassle-free. We take care of the sale every step of the way, and we always work to make sure our customers get the highest price for their firearms.
GTA Guns auctions is the best way to sell your guns in the GTA safely and legally. You don't have to worry about scams, paperwork, or being lowballed on the price. So call us today and let us help you sell your unused guns fast!