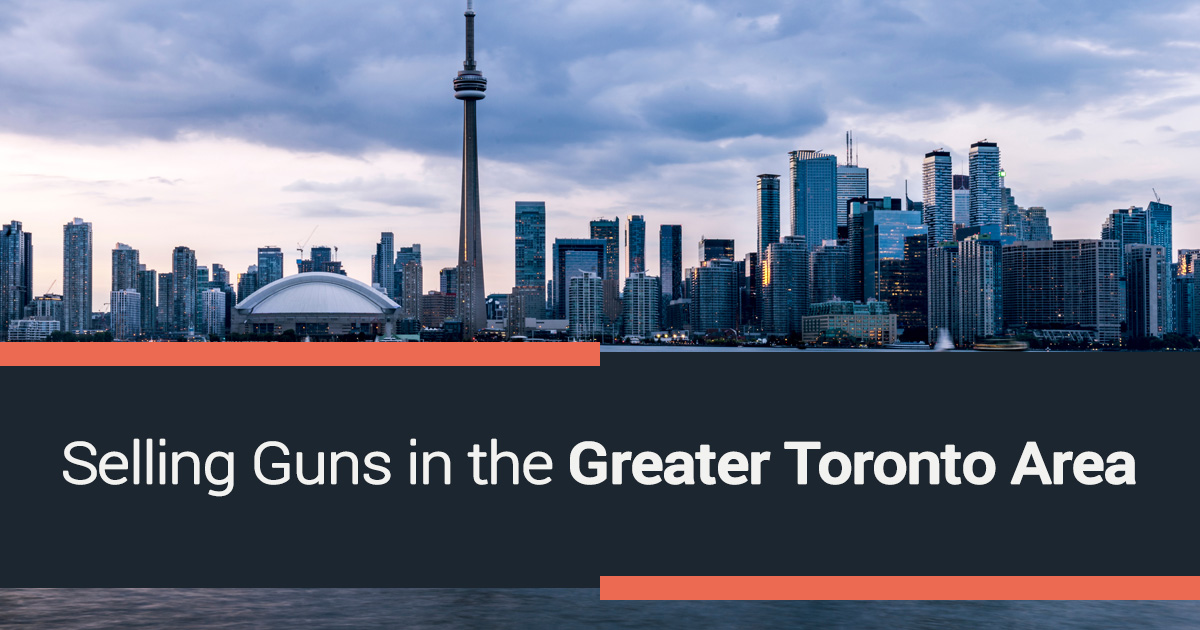 If you own a gun in Toronto or the Greater Toronto Area, listen up!
Did you know that the demand for firearms is on the rise and that you can make a lot of money by selling your unused guns right here in the GTA? But that's only if you know how to sell your gun or gun collection the easy way.
And the best way of selling your gun or gun collection to other gun collectors or firearms enthusiasts is by going through GTA Guns Auctions.
Why Private Sales are a Hassle
Selling guns privately can be a risky and scary experience! It's also time-consuming and comes with many legal issues that must be adequately addressed.
For example, if you are trying to sell a gun privately in Toronto, you must find a buyer who has first agreed to your price. Then you need to exchange Possession Acquisition Licence (PAL) information with them.
If the firearm being purchased requires registration or transfer, then the buyer must call the Canadian Firearms Program (1-800-731-4000) to begin the transfer, using the information given by the seller. After a short period, the seller will receive a reference number to quote to the CFP which allows for the final approval of the sale.
But, even if the firearm does not require registration, the seller must still confirm that the buyer is legally licensed by contacting the CFP, toll-free. Once the seller has received payment for the firearm, then THEY will need to contact the CFP to complete the transfer. After the transfer has been approved, the seller finally has to transport or ship the purchased firearm to the buyer.
Phew! That's a lot of back and forth with phone calls and paperwork, and now there are shipping expenses on top of everything!
And that isn't even accounting for the risk of privately selling your gun. Private sellers always run the risk of running into scams or receiving false PAL information. So even if everything seems to be legitimate, if it turns out that it was a fake and your buyer commits a crime, you will be an accessory to that crime. Yikes!
How GTA Guns Auctions Makes it Easy
But there's really no need to worry when you're selling a gun or gun collection through GTA Guns Auctions. We solve so many of the problems one encounters when trying to sell their gun or gun collection for you, right here in the Greater Toronto Area.
For instance, at GTA Guns Auctions, we make sure that all firearms are in perfect working condition through our proprietary GUNCHECK™ system. In it, a licensed gunsmith inspects every firearm inside and out and writes a condition report. This way, buyers know the exact condition of what they are buying, driving them to bid even higher. Or, if you're selling a semi-automatic firearm, we use our CYCLECHECK™ program to range test it and prove to the bidders that the gun operates properly.
We also have a team of knowledgeable and experienced professionals who conduct extensive research and analysis of all firearms, ammunition, and related gear. They will give you a professional and fair opinion of value so you know you won't be getting any less cash than you deserve come auction time.
And one of the best parts? You're guaranteed to receive full payment for any gun you sell through GTA Guns Auctions. Once your gun has been sold at auction, we transfer the money right into your bank account!
Our Online Auctions
We all know that the three most important things about a retail operation are location, location, and location. Our firm is located within the buyer-rich Toronto-area gun market, and that's not all! Ever since we switched over to holding online auctions, we've seen a massive surge of interest from collectors all over North America.
We have an email list that includes 62,000+ gun enthusiasts! No one else in the GTA has access to that many potential buyers. Many collectors browse our auction site every single day, bidding on the firearms they want. This often results in bidding wars that increase the price of the firearm you're selling, meaning even more money in your bank account!
Selling Your Guns or Gun Collection
Whether you're an executor selling a gun collection or an individual selling guns, you need to take them to GTA Guns! Located right in Newmarket, Ontario, we take care of all the administration and paperwork of selling your firearms, we have access to more buyers than ever before, and we even transport the sold firearm to the buyer, then sending the money directly to you!
We also understand that selling a gun or gun collection is never an easy thing to do. Sometimes, it can feel like losing an old friend. So that's why, here at GTA Guns, we want our sellers to know that your unused firearms will be going to people who love guns just as much as you do and they'll be enjoyed for many more years to come!
So take advantage of our hassle-free way to sell your gun or gun collection and bring in some money! Contact GTA Guns Auctions today to get the process started or click here to learn more about any of our other services. We're always happy to answer any questions you may have and help you earn the money you deserve.