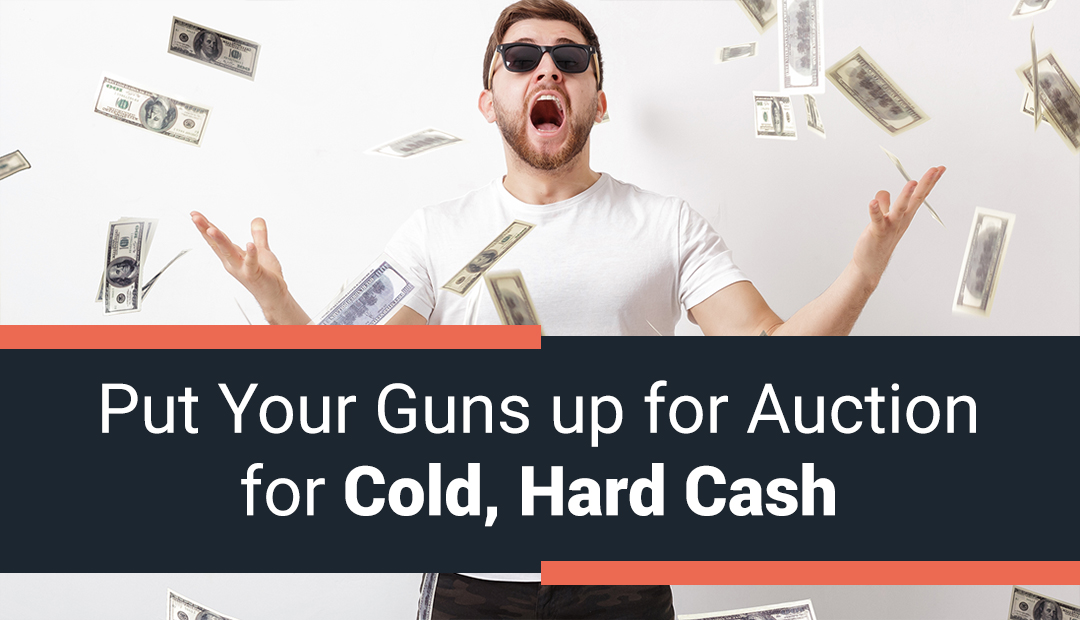 Are you looking for a risk-free, hassle-free, and more lucrative way to sell your guns and earn cold, hard cash? Look no further than GTA Gun Auctions!
As avid gun enthusiasts, we understand that owning guns is no cheap endeavour, so if you're not regularly using your guns, it's better to cash 'em in.
Auctioning off your guns with GTA Gun Auctions is your best option—here's why:
We're More Convenient than Traditional Auctions
If you've ever tried to sell your guns through a classic auction, you know how time consuming the process is. Even a ten minute auction can take up hours of your day. You need to take into account the time it takes to get there, register, and inspect the items, and then you have to wait around for the auction to actually start. Once the auction begins, you still have to wait for the item you're interested in to be up for bidding.
Luckily, GTA Guns online auctions changes all of that! You just need to log in to the auction from the comfort of your own home.
…and guess what? An online auction is more fun! How? Well, you don't have to be silent or keep a poker face. You can openly talk about your next bid with whoever's in the room with you and debate, discuss, and do the math before you place your bid. Shouting and yelling in excitement is encouraged!
GTA Gun Auctions Offers a Wider Selection
Our brick and mortar store located right in the heart of the buyer-rich Toronto area gives us access to hundreds of local gun enthusiasts. But our online auctions have really allowed us to reach the most extensive market of firearm aficionados!
GTA Guns auctions draw in over 65,000 gun lovers from all across the continent, which means we have access to more potential buyers than anyone in the GTA… and maybe even the whole country!
With so many people taking part in our online auctions, we often witness intense bidding wars that drive up the price of firearms. That means more cold, hard cash for you!
We Make the Process Simple
Selling your firearms privately can be a real pain. You have to deal with clueless buyers, find a time to meet with them, and fill out endless paperwork. Not to mention you might get scammed! For instance, what if the buyer's Possession Acquisition Licence (PAL) information turns out to be fake? You can end up being a potential accessory to a crime!
Plus, how do you know the real value of your firearm? You put yourself at risk for getting low-balled when you try to sell your gun privately.
At GTA Gun Auctions, we've solved all these problems. When you put your guns up for auction with us, we make sure the entire process is simple and straightforward. We take care of all the required paperwork for you, and we even transfer and transport the gun directly to the buyer.
And that cold, hard cash? We pay you within six business days following the auction—no exceptions!
We Build Confidence in Our Buyers
We really want our clients to get the most money possible for their firearm—this is why we offer on-site previewing. From the time the auction is posted online until the Saturday preceding the auction, we let all of our potential bidders make an appointment at our brick and mortar location to perform a full inspection of the gun or accessory they're thinking of bidding on.
This gives bidders even more confidence in the item they wish to buy, which means even more cash in your wallet.
We Give One-of-a-Kind Guarantees
Did you know we also offer proprietary GUNCHECK™ programs? Our programs put all firearms through a round of meticulous testing by a certified gunsmith. At the end of the testing process, every gun is awarded a grade and a summary that details their exact condition, along with high-resolution internal and external photos that are posted to the firearm's auction listing page. This offers an extra layer of trust that drives even higher bids on the firearm being sold.
And the best part? There's no extra fee added to the auction buyer's acquisition price or the seller's fee for our amazing GUNCHECK™ and CYCLECHECK™ services.
But that's not all! We also provide a performance guarantee for all our buyers. If any gun bought through our online auction doesn't work for any reason, the buyer can return it to us to be fixed, and we'll even refund the shipping costs (30-day maximum).
If anyone is unsatisfied with a firearm they purchased at auction with a price of $3,000 or more, we put it back up for auction with no sales charge (30-day maximum).
All of these services are free of charge for the buyer and the seller, which is another excellent reason to sell your guns at our auctions!
Sell Your Guns with GTA Gun Auctions Today!
So what are you waiting for? Get that cold, hard cash in your pocket today by putting your guns up for auction with us. Give us a call if you'd like to know more about our auctions, safe storage, or any of our other services. We're more than happy to answer any questions you may have.