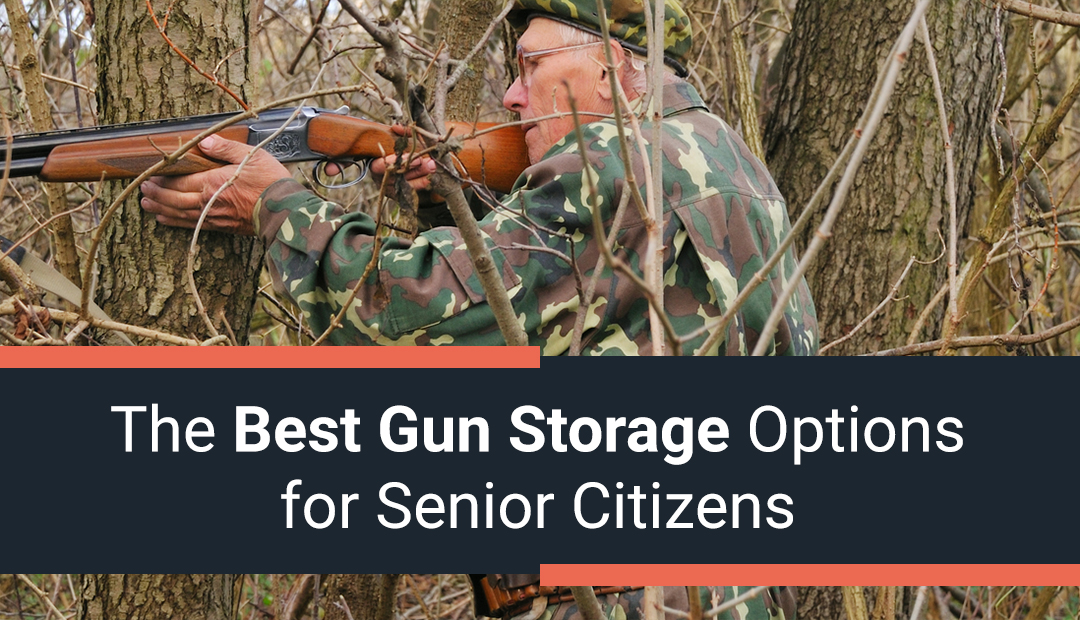 Do you ever worry about your parents or grandparents having a gun collection in their home?
If you do, don't feel guilty. It's human nature to be concerned about our loved ones, especially once they start to put on a few years. Heck, many seniors citizens in the GTA are worried about their gun collections themselves, but are unsure about how to deal with it. They may not want to get rid of their firearm collection, but they also aren't comfortable with keeping it in the house. So, is there a solution? Of course, and it has GTA Guns written all over it!
What Are Some Common Issues with Storing Guns at Home with Seniors?
Safely storing firearms at home can be a costly, time-consuming, and even dangerous affair.
To avoid the possibility of theft, we would recommend purchasing a gun safe if you plan to keep a collection in your home. However, a good gun safe can be very expensive. Cheap ones are easily broken into, making them little more than a deterrent. Plus, if someone does break in and steals your parents' guns, your parents might legally be culpable for any crimes committed with them. Even if they buy a safe that has adequate security, it might not offer an optimal environment for gun storage. For instance, if there is too much humidity in the safe, the firearms could suffer irreparable damage over time.
There might also be a voice in the back of your head wondering if your elderly parents know how to properly store their firearms safely. Many people from older generations threw a shotgun under the bed (sometimes while loaded). While your elderly loved ones probably know how to safely use and secure firearms (especially if they have a collection), you should never assume.
In a worst-case scenario, what if one or both of your parents have started to show signs of dementia or Alzheimer's? In this sort of situation, having firearms in the home can go from being an inconvenience to being downright dangerous.
What Is the Best Option for Gun Storage in the GTA?
To avoid all of these issues, seniors citizens in the GTA could put their collections up for auction with GTA Guns. But if they've invested time and money into their collection and want to keep it, we have another solution for them as well: our Safe Storage Facility!
One of the biggest concerns we hear about gun storage options in the GTA revolves around the ease of getting access to one's guns once they've been stored. Don't worry—it's easy! All you have to do is call us to set a time for pick-up or drop-off. Your parents (or you, if you are driving them) only need to stop in and pick them up.
We are also conscious of how important security is when it comes to your firearm collection. That's why we offer 24/7 surveillance of our safe storage facility. No more worries about having your guns stolen during a break-in!
Guns must be stored in optimal conditions with no humidity or dampness. In our facility, every firearm is kept in a carefully regulated environment designed to stay at a constant temperature and moisture level. This ensures that firearms will maintain their value and remain in perfect working order for however long you wish to store them with us.
Finally, because OUR parents always taught us to cover all our bases, our facility is fully insured. If there is a natural disaster that damages any of the firearms in our care, your parents' gun collection would be fully covered. In fact, we would ever do the paperwork for them!
Whatever the situation with your elderly loved ones—whether they are moving into a smaller space, want to downsize, or simply cannot take proper care of their firearms anymore—we can help. As the leaders in gun storage in the GTA, we can take their collection into our facility, or even help them sell it through one of our auctions. Either way, their guns will be in good hands with us!
If you'd like to learn more about GTA Guns Auctions, or any of our other services, don't hesitate to contact us about any questions you may have.