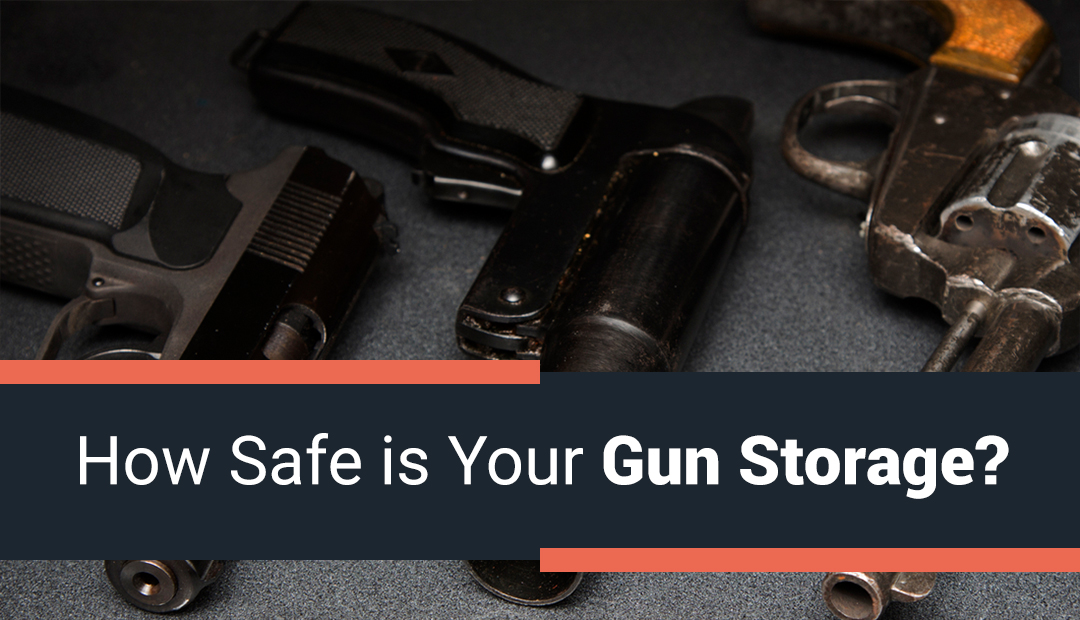 Storing your guns at home is no easy feat.
First, and most importantly, you need to find a way to store your guns securely and out of reach from children.
You also need to make sure your guns aren't getting rusty or damaged by the elements, so you need to find a way to store them in optimal conditions. Then, you need to think about natural disasters. Storing your guns in the basement can leave them vulnerable to flooding, while hurricanes or fires could be hazards if you store your guns in the attic.
And, of course, no matter where you choose to store your guns at home, it has to be done legally. Whew!
Although there are many at-home storage options, how safe are they really?
Trigger locks, which usually cost less than $20, are good at successfully preventing an unintentional discharge when installed correctly, but they don't provide any physical protection for your gun, and they don't protect against theft.
Gun cases are another storage method which don't protect against theft since these cases are designed to be lightweight and portable. Plus, we never recommend using a gun case because it traps moisture and lead to rust developing on your guns.
What about a locking steel gun cabinet? Although these cabinets provide better protection than a gun case or trigger lock, they are still light enough to be carried away by one or two people, so again, theft is an issue.
Gun safes are the most secure at-home gun storage option for the average gun owner. However, buying a gun safe is a substantial financial commitment since prices can range from $500 to more than $2,500! And you could still be liable if your guns are found to be stored illegally.
So, what's the best option for storing your guns safely? GTA Gun Auctions Safe Storage, of course!
We're Fully Insured
Our mission is to provide our clients with complete peace of mind. That's why we handle everything that might be an issue when it comes to storing your firearms.
For instance, we have full coverage insurance on both our storage area and our entire facility. So, if something were to happen like a hurricane, fire, flood, or any other natural disaster, your firearm or collection would be fully covered. It's the same for theft. Although it's highly unlikely that anything will happen, if we need to make an insurance claim, we fill out all of the complicated paperwork for you, so you don't have to lift a finger.
When you store your guns with us, we make their safety our problem, not yours. We have years of experience dealing with the safety of firearms, so we make sure to cover all of the bases in detail, so you don't have to worry about a thing.
We Monitor Our Facilities 24/7
Security is our top priority when it comes to safe gun storage. As a gun owner, you understand that something as valuable as a firearm needs to be protected from theft. A stolen firearm can quickly become a legal nightmare full of liability issues.
Luckily, that's another issue you don't have to worry about when you store your firearms with GTA Gun Auctions. Our safe storage facility is under 24/7 surveillance, so theft is never a problem.
It's Easy to Access
No matter what your storage needs are, we have options! If you're looking to store your guns safely while you go on vacation, we provide safe short-term storage solutions. If you're looking for long-term storage solutions due to a move or a new baby, we offer that option too! We pride ourselves on providing safe storage solutions for any situation.
But what about accessing your guns for a day at the shooting range or a weekend of hunting? When you store your guns with GTA Gun Auctions, they're easily accessible at your convenience. All you have to do is give us a call and set up a time for pick-up or drop-off. Your guns are available whenever you need them.
We Make Sure the Conditions are Fully Optimized
Our team of experts have inspected countless firearms using our proprietary GUNCHECK™ service. Luckily, most of the guns we see are in pretty good shape, but every once in awhile, we come across guns that were stored in poor, damp, and humid conditions for years and years. It's so sad to these beautiful pieces destroyed due to improper storage conditions.
This is why we guarantee that our storage facilities are fully optimized; your guns are stored in a carefully regulated environment that maintains a constant temperature and moisture level. This keeps your firearms dry and safe, so they hold their value and stay in perfect working condition.
When you opt for GTA Guns Safe Storage, there's no reason to worry about mold or rust on your precious firearms.
Contact GTA Gun Auctions Today
So, how safe is your gun storage? Chances are it's not as secure as our storage options here at GTA Gun Auctions! So, if you need a safe, legal, and easily-accessible way to store your firearms, then you'll want to contact us today. Our fully-insured, fully-optimized, securely monitored facilities are the ideal way to store your guns with total peace of mind.
If you have any questions about our safe storage options, our online GTA Guns auctions, or any of our other services, give us a call. Our team of experienced gunsmiths are more than happy to answer your questions and figure out the best storage solution for you!