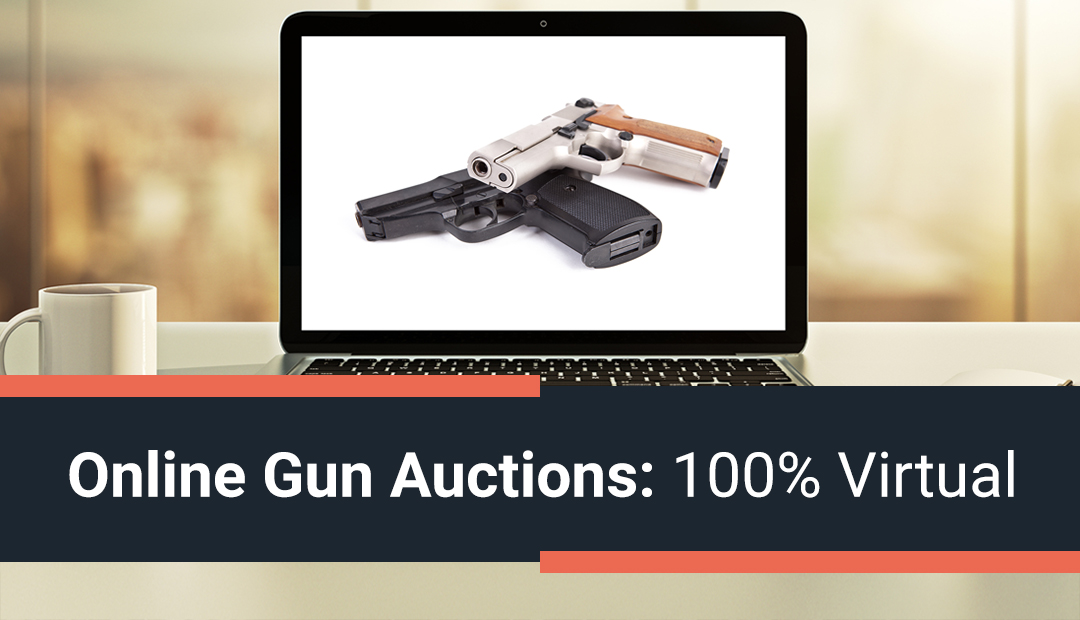 Have you been doing a lot of online shopping lately?
Due to COVID-19, brick-and-mortar stores have been forced to close in compliance with physical distancing measures. Thankfully, GTA Guns moved to a fully-online model of auctioning a few years ago. Before that, we held hybrid firearm auctions, with both in-person and virtual components. If we were still operating that way, we would have been in a tough spot with the new restrictions.
But as it is, our GTA Guns auctions can continue without skipping a beat! Since our firearm auctions are 100% virtual, firearm enthusiasts from across North America can continue to sell and purchase guns, finding the pieces they've been looking for to expand their collections.
There are a few minor tweaks to our auctions, but on the whole, they're still the exact same auctions that you know and love!
Selling Firearms
If you're planning on selling firearms, there shouldn't be any issues managing the restrictions of COVID-19. Unlike sites like Kijiji that require you to meet the buyer in-person, with GTA Guns you'll have absolutely no contact with the person who eventually purchases your firearm. We take care of everything!
First, you drop your firearms off at GTA Guns. We follow all physical distancing requirements to make sure there's no chance of spreading the virus. After that, your job is done; the rest is entirely virtual.
Once we have the firearms in our possession, we make sure to sterilize them. After that, we start our usual auction preparation. First, we put your firearms through our proprietary GUNCHECK™ or CYCLECHECK™ programs. Here, we check to make sure that your guns fire properly and, in the case of semi-automatic firearms, cycle. We then examine each firearm, inside and out, to determine its exact condition, taking internal and external photos for the auction listings. After the auction goes live, gun collectors from Canada and the US are free to bid on your firearms. Mind you, the serious bidding doesn't usually happen until the day before the auction is over.
Once the auction is complete, we take care of the paperwork and even ship the firearms to the winners. You just have to sit back, relax, and wait for the money to go into your bank account.
Buying Firearms
Purchasing a firearm through GTA Guns auctions is even more convenient than selling since you don't need to leave your house at all!
After you set up a free account with GTA Guns auctions, you can see and bid on all current listings. Be sure to keep an eye on the items that catch your interest, as it's likely that someone will outbid you in an attempt to steal them out from under you. That's part of the excitement of a firearm auction!
Once you win an item, you send us the payment and we send you the firearm. Again, we take care of all the paperwork so you don't have to worry about any legal headaches. We securely ship the firearm to you, though this might take a little longer given the current circumstances of the postal service during COVID-19.
Once you receive your firearm, you have options. Chances are that you'll love it and be proud to add it to your collection. But sometimes, things don't go that way. If your gun was damaged in some way and won't fire or cycle, don't worry. That's why we have the GTA Guns guarantee! You simply ship it back to us (we pay), and we'll repair it free-of-charge (30-day max). If you decide that the firearm wasn't what you had in mind when you purchased it, we'll be happy to relist it in the next GTA Guns auction without any buyer's fees (30-day max, hammer price $3,000+).
At GTA Guns, we're committed to making our virtual auctions as frictionless as possible for both buyers and sellers. You have enough on your plate right now without having to worry about handling online transactions. We check the gun, put up the listing, take care of the paperwork, and ship it to the winner. That's all there is to it! It might be 100% virtual, but the convenience is 100% real.
If you'd like to learn more about GTA Guns auctions, or any of our other services, please feel free to contact us.