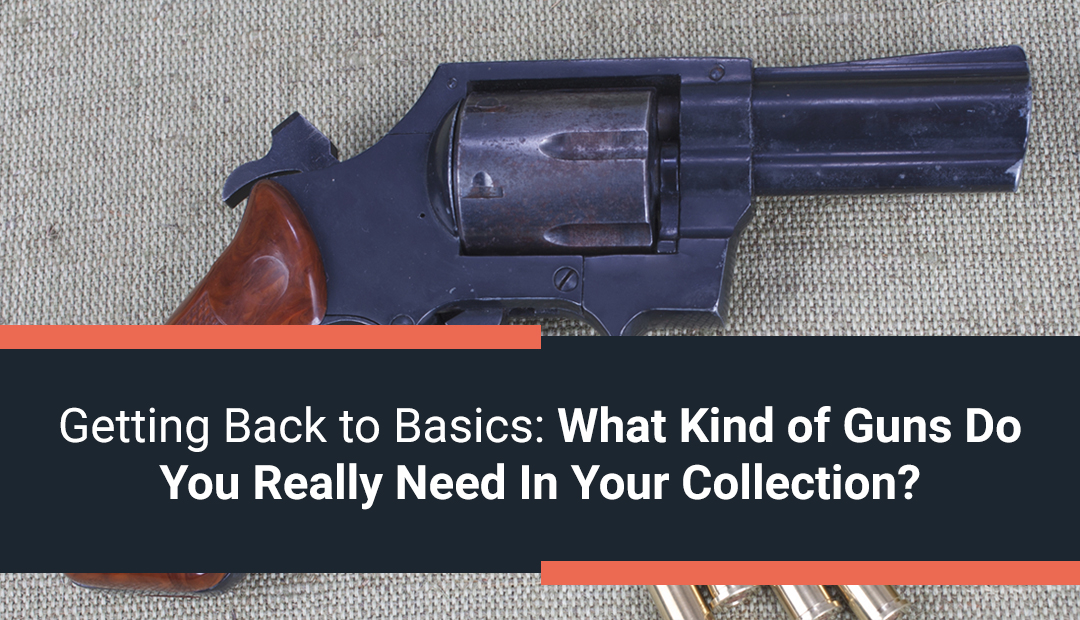 How many guns is too many guns?
At GTA Guns, we talk to collectors daily about their firearm collections. Some collectors prefer their collections to boast literally hundreds of firearms (often stored in GTA Guns safe storage), while others keep smaller collections consisting of only two or three particularly special guns. Either method is an entirely legitimate way of collecting, and GTA Guns auctions can help both collectors find the pieces they want.
But here, we want to ask a simple question: What is a "basic" gun collection?
Purpose
Are you collecting for the target range? Hunting? History? Do you like the style of certain firearms, like antiques? Each purpose will drive you in a different direction.
On the other hand, if you're just starting out, or you're looking to downsize, there are different considerations. Determining your purpose will help guide your purchases.
Shotgun
A shotgun is a remarkably versatile firearm. You can use it for home defense, hunting both large and small game, and shooting clay targets. Shotguns can also make for a beautiful "showpiece" firearm, as everyone knows what it is from a single glance.
Of course, there are several varieties of shotguns out there. You might want a classic double barrel variety. Or perhaps a pump-action shotgun (such as the Remington 870) might be more your style. The thing to remember is, if you're going to be shooting a shotgun, beware of the recoil – especially when it comes to older shotguns! Pump-action or semi-automatic shotguns in a 12 or 20-gauge might be more versatile.
Rifle
If you're planning on going hunting this summer (and you can, so long as you maintain physical distancing standards), then you might want a new rifle to take with you on your hunting trip.
If you're looking for a versatile rifle for hunting small game, a .22 LR rifle will do the trick nicely. If you're looking for something more powerful for larger game, a bolt-action rifle might be best. This is definitely not a firearm for personal protection but can be extremely useful if you're heading out into the woods.
Handgun
Though compact, concealable pistols are very popular in the United States, their use is limited here as both open and concealed carry are illegal in Canada. Therefore, if you're looking for a handgun, we recommend something a little bigger and more practical.
If you want a real showpiece, a magnum revolver is a beautiful and iconic style of firearm. But for home protection, a 9mm calibre handgun is probably the best bang for your buck.
Antique Firearms
You have to be careful about purchasing antique firearms, as they might not actually be in working condition. Just because they are polished and pretty on the outside doesn't mean they'll shoot safely and accurately.
It's one of the reasons why we put every firearm that goes on sale on the GTA Guns auction site through our proprietary GUNCHECK™ program. We check every aspect of the gun, inside and out, to make sure it's in functioning order before putting it up for bids. Any wear and tear will be clearly reported on the listing. And even better, if you purchase the firearm and it turns out not to fire, you can mail it back to us (we pay the costs) and we'll repair it for you (30-day max)! If you decide that you don't like your new firearm for any reason (maybe it wasn't what you pictured when you bid on it), you can send it to us, and we will relist it in the next auction without any seller's fees (30-day max, hammer price is $3,000+). That policy doesn't just go for antique firearms, but every single gun we sell in the auction.
Whether you're clearing some room in your collection for new firearms, or you're trying to build a brand-new collection from scratch, GTA Guns has got your back! If you'd like to learn more about GTA Guns auctions, or any of our other services, please feel free to contact us.