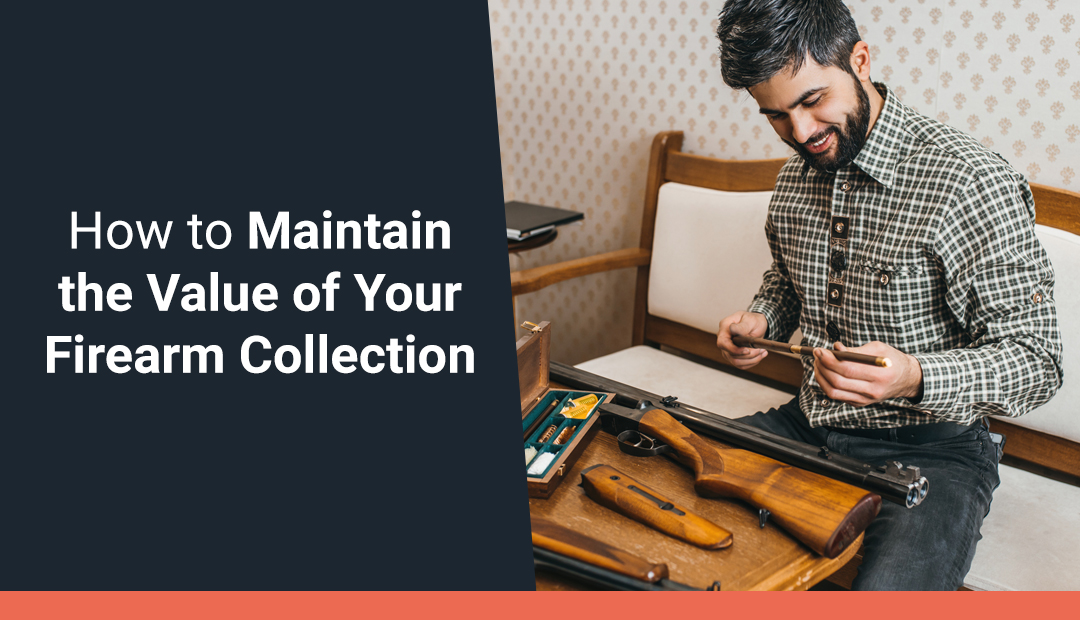 Do you know how much your firearm collection is worth?
There are many reasons why people collect firearms. They could be big hunting fans and want a variety of rifles to choose from when heading out into nature. Or maybe they find firearms to be beautiful items. Or perhaps they simply enjoy collecting and have discovered their passion lies with firearms rather than with baseball cards or stamps.
Whatever the reason you collect, you want your firearms to remain in peak condition. However, that could be trickier than it sounds. If you regularly use your guns, they'll require regular maintenance to keep them in top condition. If you store them in your home, you need to make sure that your storage solution will protect them from rust or other environmental damage. Here's what you need to know if you want to maintain the value of your firearm collection:
At-Home Storage
If you have a firearm collection in your home, how you store it is going to have a direct correlation to its overall value.
Many people purchase firearms only to keep them in their basements. Frankly, this is not a good idea. A single burst pipe or flood is all that it takes for your firearms to be damaged beyond repair. We've seen it happen!
Even if you luck out and there never ends up being any kind of disaster, a basement is still one of the worst places to keep your firearms. Most basements are not kept at optimal conditions for firearm storage. They tend to have high humidity levels and can be damp. These conditions promote rust and mould growth in firearms. We've seen many beautiful firearms that have nearly been destroyed due to poor storage conditions.
The best at-home solution to maintain the value of your collection is to purchase a gun safe, but this has significant drawbacks as well. If you have a small collection, then a regular firearm safe can be a perfect solution—provided you keep the inside of it at low humidity. If you have a larger collection, buying a large gun safe can be very expensive. They tend to be extremely heavy, which means that wherever you place them is where they'll be forever. On top of that, many gun safes are built to varying quality, so you'll want to do your research before you invest.
A Better Solution
The reality is that home storage is rarely optimal for long-term firearm storage. But, fortunately, there is another option.
When we first started GTA Guns Safe Storage, it was to keep our sale items in top condition during auctions. But we soon realized that there was a significant demand for high-quality firearm storage. Unfortunately, terms of service often prevent firearm collectors from storing their guns in most storage lockers. And even if that wasn't an issue, those lockers are rarely kept in perfect conditions for firearm storage.
With GTA Guns Safe Storage, we've created a solution that will solve all of your gun storage problems. Our facility is always kept at a perfect humidity and temperature level to protect the firearms. The facility is also monitored 24/7 and is fully insured, meaning that if the unthinkable were to happen, every one of your firearms would be covered!
We offer several different options for storage. At the most basic, you can rent a firearm locker from us for your handguns or your rifles. If you'd like to use your firearms, all you need to do is give us a call to book pick-up and drop-off times. Your firearms will be available when you need them, whether that's because you are heading out on a hunting trip or want to go to a firearm range for some shooting.
If you prefer to have your firearms available on-demand, day or night, we also offer self-storage options. Here you can simply come into our facility in person to collect your firearms at your leisure without needing to call us. They are kept behind three layers of security to ensure that the only one who can access your guns is you!
Maintenance and Repair
Even if you treat your firearms right, there will come a time when maintenance is necessary. Wear and tear can take a toll, so you need someone you can trust when things need fixing.
GTA Guns offers expert gunsmithing services. Our gunsmith, David, has years of experience maintaining, diagnosing, repairing, and upgrading firearms of all kinds. We even trust him to maintain our own personal firearms!
If you are worried that your firearms might not be performing their best and thus losing their value, take them to GTA Guns for a tuneup. And hey, you might even walk away deciding to make a few upgrades, like bluing or bolt jeweling!
Maintaining the value of your firearms is essential if you want your collection to be worth anything in the long term. With GTA Guns safe storage and gunsmithing services, you can ensure that you'll be getting top dollar for your collection if and when you decide to sell it! If you want to learn more about our online firearm auctions or any other services, please feel free to contact us today!