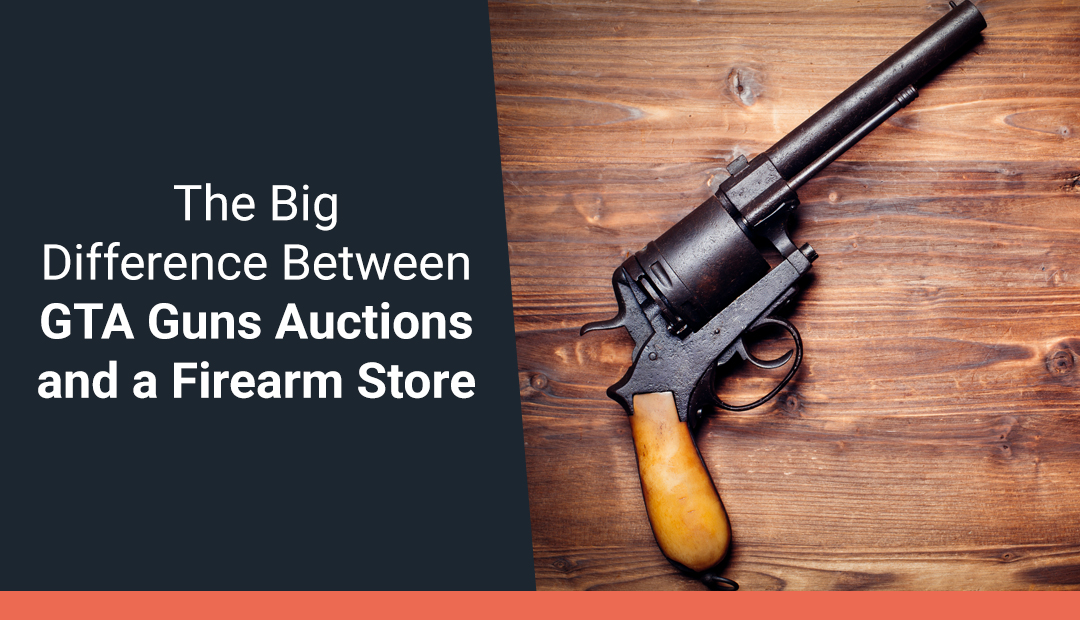 Where was the last place you purchased a firearm?
When most people think about purchasing a firearm, their mind probably goes to gun stores. Though not as popular in Canada as they are in the United States, there's no shortage of well-run firearm stores across the country. However, it isn't the only way to buy a gun—in fact, there might be some superior options!
For example, GTA Guns auctions! Our online firearm auctions are, in our opinion, the absolute best way to purchase a gun. Here's how buying a gun from a store and buying a gun via GTA Guns auctions compare for both buyers and sellers:
Sellers
If you're looking to sell some items from your firearm collection, you might think the easiest way would be to take them to a firearm store. But hold up a minute—you likely won't be getting what the firearms are actually worth!
Most firearms purchased by gun stores are bought below their actual value. That's not because they are looking to rip you off, but because they need to make a profit. They'll be looking to resell the firearm, so they can't purchase it from you for the same price they would sell it. So, you're likely to get lowballed, meaning that you'll walk away with less money in your pocket than your gun was worth.
With GTA Guns, it's an entirely different story. We want your firearms to sell at their full price—actually, we want them to sell at the highest price possible! That's how we make our money. By selling your firearms through our auctions at their full value, our interests are aligned!
Moreover, you'll know that your firearms will be sold and sent to a passionate firearm enthusiast that is willing to pay top dollar for your gun. It's a win-win-win for everyone!
Buying
During the height of the pandemic, gun stores were closed across the country. But here at GTA Guns, we were moving full steam ahead with our auctions. Why? Because we do everything online!
With GTA Guns, you don't need to leave your home and head to a store to buy a new firearm. Instead, you can simply log into our auctions and browse the selection. If you see a gun that you want, please feel free to bid on it. You can do everything from your computer, phone, or tablet. That makes it incredibly easy to buy a new gun!
But What if You Want to See the Firearms?
When it comes to the difference between a firearm store and GTA Guns auctions, the thing we always hear is, "But if I go to a firearm store, I can touch the firearms to see if they are the right fit for me."
Here is the secret… you can do that with our firearms auctions too! Though the high-quality images and video are often enough for firearm collectors across North America, many people would prefer to see a firearm with their own eyes before purchasing it.
Fortunately, every firearm that we sell in our auctions is stored by us. So, if you want to see a specific item, all you need to do is give us a call, and we'd happily welcome you to our brick-and-mortar location to inspect the firearm for yourself. That way, you can bid with the confidence that the item you want really IS the item you want!
But why is it that so many of our customers are willing to purchase a firearm from us, sight unseen? It might be because of our unparalleled buyer guarantees.
If your item arrives damaged in any way, please send it back to us—we'll pay to ship both ways—and we'll repair it, free of charge (30-day max).
If an item arrives and it isn't exactly what you expected, you can send it back to us, and we'll relist it in our next auction without charging you any seller's fees (30-day max, +$3000 hammer price).
Those guarantees are just two of the reasons why gun lovers across the continent trust us!
Keep in mind that we're not saying that firearm stores are in any way "bad." In fact, despite them being our competition, we're big fans! Many of them provide wonderful community services to gun lovers across the country. However, in our opinion, there is no real competition when it comes to buying and selling firearms. GTA Guns comes out on top every time! If you'd like to learn more about our online firearm auctions or any other services, please feel free to contact us today!