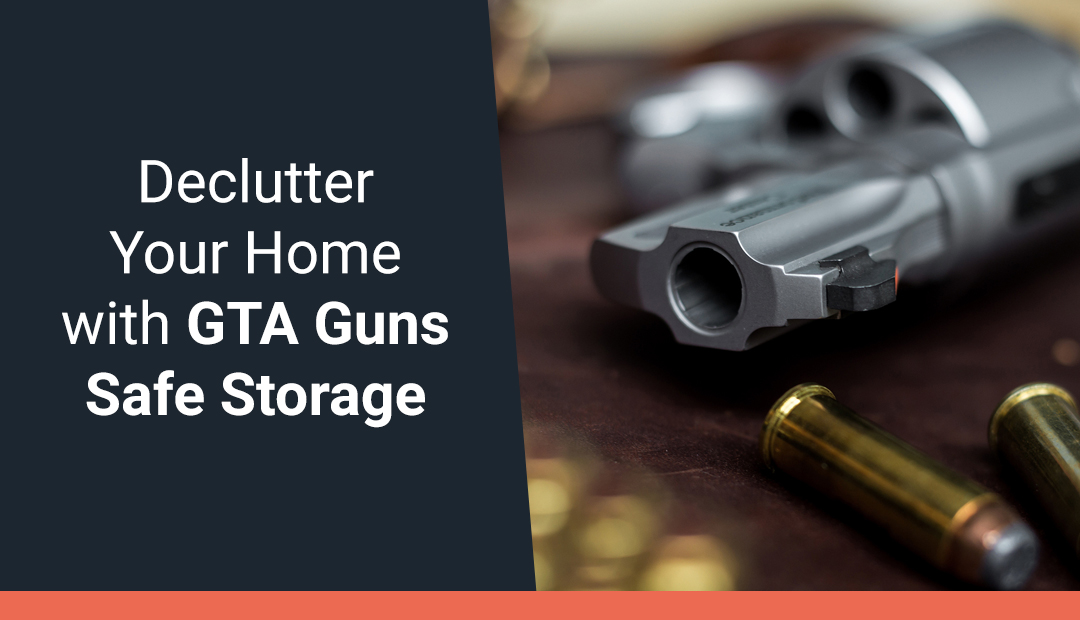 Do you feel like it might be time to declutter your home?
Clutter can build up in our homes in many ways. For example, maybe you haven't organized your basement lately, or you need to get rid of some old clothes. Another way that your home could feel cluttered is if you have an extensive firearm collection. It turns out that guns take up quite a bit of room, and if you live in a limited space or are planning on moving into a smaller one, a medium-sized firearm collection could feel like a substantial amount of clutter!
One thing is for sure: once we spend some time decluttering, we always feel better! So, let's take a look at how we can declutter your home by getting rid of your unwanted firearms.
Selling Your Guns
Selling your firearms is usually the best choice when it comes to getting rid of unwanted guns. Not only will they go to passionate firearm enthusiasts, but you'll also earn cash in hand for them! Not a bad trade!
The trick is figuring out the best way to sell your guns to get the most money possible. Firearms stores will never give you market value because they need to sell your guns at a higher price than they buy them. Online classifieds or firearm forums can be dangerous, and often invite scams. In our opinion, the best way to sell your firearms is through auctions.
GTA Guns auctions have been successfully getting the highest prices possible for our sellers for years now. The best part is that all you need to do is deliver your firearms and paperwork to our brick-and-mortar location, and we'll do the rest!
We'll put your guns through our proprietary GUNCHECK™ and CYCLECHECK™ systems to determine their exact condition, inside and out. We then create listing pages that include high-resolution photos and descriptions. And we'll even transport the firearms to the winners once the auction is complete!
All of this means that you barely need to lift a finger. After the auction, we deposit the proceeds of the sale into your bank account, and that's it! If the buyer has any complaints about their new firearms after the sale is complete, that's our problem, not yours.
If you're curious about what happens if the buyer does receive a damaged firearm, they can return it to us—we pay the shipping—and we'll repair it, free of charge (30-day max). If the firearm simply isn't what the buyer expected, they can send the gun back to us, and we'll relist it in our next auction without seller's fees (30-day max, +$3000 hammer price). These unparalleled guarantees are why GTA Guns is beloved by both buyers AND sellers!
Giving Your Guns Away
Over the years, we've had many executors come to GTA Guns, asking for our help executing a Will. That's why we feel like we can give you a free piece of advice: if you're planning on giving your firearms away, do it before you pass!
When firearms are included in a Will, there can be many complications. Maybe the executor doesn't know how to handle them, or the person you're giving them to might not want them. Often, the entire collection needs to be liquidated—which we can help with. All of this can be avoided by giving your firearms to your friends or family while you're still here.
That also means you get an opportunity to enjoy your firearms with your loved ones! Plus, it will result in considerably less stress for them during one of the most difficult times imaginable.
Storing Them
If you've spent years, or even decades, building up your firearm collection, you might be reluctant to part with any of your pieces. So, is there a way to remove your guns from your home without needing to sell them? Sure! It's called GTA Guns Safe Storage!
Our Newmarket Safe Storage location is groundbreaking in the way we take care of your firearms. It's a climate-controlled facility that maintains the perfect temperature and humidity for gun storage. As a result, you never need to worry about your firearms sitting in a damp location, possibly rusting and becoming damaged. Our facility is also fully insured, so all of your firearms would be completely covered if the unthinkable were to happen.
We offer several different kinds of storage, including self-storage, where you can pick up your firearms whenever you wish. We also have more long-term storage options where all you need to do is call us ahead of time for pick up and drop off. Either way, your firearms will be safe and at your disposal whenever you want!
Getting rid of clutter doesn't need to be a hassle, especially when that clutter includes firearms or other firearm equipment. Simply contact GTA Guns, and we can help you either sell or store your firearm collection! If you have any questions about our Safe Storage options, our online firearm auctions, or any of our other services, please feel free to contact us today.