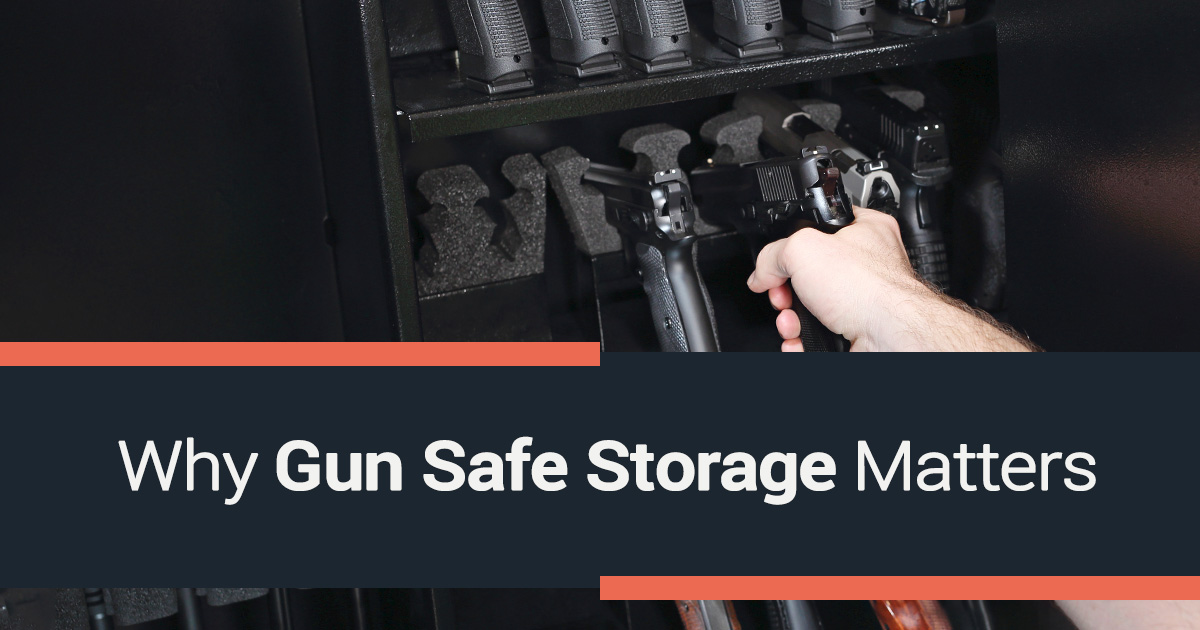 When it comes to storing your guns safely, there are many factors to consider. The first and most important is to store your guns securely, out of reach from children. Second, you need to make sure your guns are stored in optimal conditions, so they don't get rusty or damaged by the elements. Third, you need to make sure your guns are stored legally.
Unfortunately, sections of the Criminal Code dealing with the storage of legal firearms can be complicated and ambiguous. There have even been some high-profile criminal cases that highlight how confusing the law can be.
One of the most notorious examples happened when a man named Mike Hargreaves, a former Toronto-area gun-safety instructor and collector, left on vacation in 2003. While he was away visiting his son in Florida, burglars entered his home to steal his firearm collection. It took almost two full days for the burglars to break into Mr. Hargreaves 770 kilogram concrete and steel safe. The burglars had to use sledgehammers and blowtorches to open the vault before they were able to steal over $40,000 worth of high-powered handguns and rifles.
Even though it took the burglars close to 48 hours to break in with specialized tools, the police still decided that the precautions Mr. Hargreaves took to protect his firearms were inadequate and obtained a warrant for his arrest on unsafe storage charges. It took over 11 years and $14,000 worth of fees until the Crown dropped the charges against Mr. Hargreaves.
Although this is an extreme example, it just goes to show difficult it can be to store your guns at home in a safe and legal matter.
Instead of worrying about criminal repercussions if someone breaks into your home to steal your firearms or the costs if they are damaged by natural disasters, why not gain full peace of mind by storing your guns with GTA Guns?
Our safe storage options have you covered on all bases:
Our Facilities are Fully Insured
When it comes to storing your firearms, it's our mission to give you total peace of mind. We take care of everything that might be an issue when it comes to storing guns.
For example, not only is our storage area fully insured, but our entire facility is too. If anything were to happen such as a hurricane, fire, flood, or any other natural disaster, your gun collection would be fully covered. The same goes for theft. Plus, in the improbable event of an insurance claim, we fill out all the complicated paperwork for you.
When you store your guns with GTA Guns, their safety is our problem, not yours. As experienced professionals, we cover all the bases in detail, so you don't have a thing to worry about.
Our Facilities Are Under 24/7 Surveillance
One of the most important bases we cover is security. Everyone who owns something as valuable as a gun understands the importance of making sure it's protected from theft. Especially, since a stolen gun can quickly turn into a legal nightmare with liability issues.
Once again, you don't have to worry about that when you store your guns with us. Our safe storage facility is under 24/7 surveillance, so theft is never an issue. Our clients love not having to worry when they store their firearms at GTA Guns.
Our Facilities Are Easy to Access
Are you going on vacation and need a safe short-term storage solution? Visit GTA Guns! What about if you are downsizing and looking for a long-term storage option? We provide that too! We pride ourselves on offering a safe storage solution for every situation.
And the best part? Your guns are easily accessible at your convenience. When you're ready to use your guns, simply call us to set up a time for pick-up or drop-off. Your firearms are available whenever you need them—for a weekend of hunting, a day at the shooting range, or a fun afternoon of gun sports.
Our Facilities Are Fully Optimized
Our expert gunsmiths have inspected numerous firearms using our GUNCHECK™ service. Fortunately, most of the guns we see are in pretty good condition, but every now and then we see guns that were stored in poor, damp, and humid conditions for years and years. It breaks our hearts when we see these beautiful pieces destroyed as a result of improper storage conditions.
That's why we guarantee our storage facilities are fully optimized so that your firearms are stored in a carefully regulated environment, maintaining a constant temperature and moisture level. This keeps them dry and safe, so they retain their value and remain in perfect working order.
In short, there's no need to worry about mold or rust when you store your guns with us!
Get In Touch With GTA Guns Today
So, if you're looking for a safe, legal, and easily-accessible way to store your gun or gun collection, look no further than GTA Guns. Our fully-insured, fully-optimized, securely monitored facilities are the best way to store your firearms worry-free. When you store your firearms with GTA Guns, you'll know it's in good hands because we treat every piece as if it's our own.
If you have any questions about our safe storage options, our online GTA Guns auctions, or any of our other services, give us a call. Our team of experienced professionals is always happy to answer your questions and determine the ideal storage solution for you.