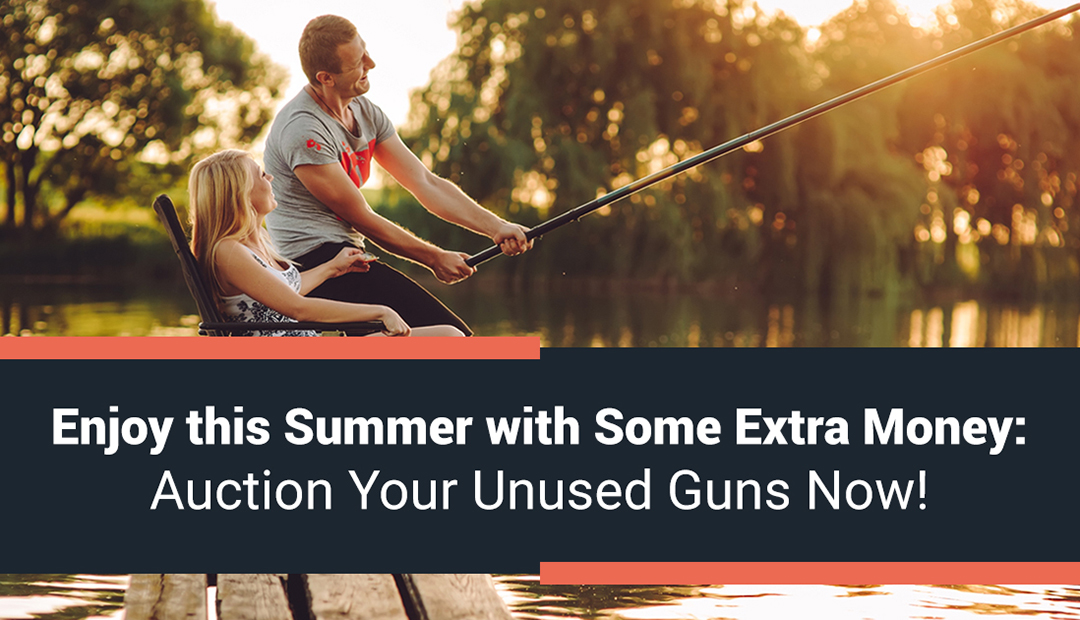 Do you love hunting or recreational shooting? Are your weekends spent at the range? Or maybe your family has been collecting firearms for generations, and you have some very valuable guns you are thinking about selling.
Well, summer is the perfect time to do so because all that extra cash could be used to take a nice vacation, spruce up your garden, or pay for all those home repairs on your to-do list!
The demand for firearms is on the rise and you can make a lot of money by selling unused guns to other collectors or enthusiasts. Of course, you don't want to sell your guns to just anyone. You need ensure that the entire process is safe and that you're getting the best price possible. But those issues are instantly solved when you sell your firearms through GTA Guns auctions. After a short and simple process, we'll put your guns up for sale and you'll have have enough cash to celebrate summer in style!
It's Easy to Sell Your Firearms with GTA Guns
When it comes to selling your guns, you need to ensure that the firearms are in perfect working condition. You need to know how much to sell each the gun for and make sure that the gun is properly transferred to the buyer after the sale. Not to mention, you'll need a surefire way to get paid! But guess what? Yup, that's right! GTA Guns auctions solve all of those problems for you!
GUNCHECK™
Here at GTA Guns, we check every firearm ourselves to make sure they are in excellent operating condition. Using our GUNCHECK™ program, we put your unused firearms through a round of meticulous gunsmith inspection. What's more, if you're looking to sell semi-automatic firearms, we even put them through CYCLECHECK™, where we double-check the firing cycle and post the actual firing at the range on the auction site. By the time we're through, you will know the exact condition of your firearms so that they're ready to be auctioned at the best price possible. We do this to make the bidders more confident that they are not buying someone else's problem which translates into higher bids. Plus, we do all of these extras at our own cost.
Administration
It's no surprise that there's a lot of paperwork involved in the private sale of guns and, boy, it can be a real pain in the neck! But not when you use GTA Guns! We'll fill out all the necessary paperwork for you. All you have to do is transport your unused firearms to us and we'll take care of the rest. After the sale, the firearm will be transferred and transported to the buyer without you having to do a thing! The money raised through the auction will then be transferred to your bank account, safe and sound. A cheque will be sent to you on or before 6 business days following the auction.
Our Auction
Now that our auctions take place online, we've seen a huge increase in interest from enthusiasts all over North America. This is a vast market of gun collectors that no one else has access to. Numerous collectors browse our auction site daily, placing bids and searching for the perfect piece to add to their collection. The result? A bidding war that drives up the price of your firearms! And you know what that means? It means you'll be on your way to Disneyland faster than you can say "fun in the sun"! That extra cash will be going straight to your pocket!
Here at GTA Guns, we understand that choosing to part with your firearm can be difficult. That's why selling them through our auctions can make the decision much easier. Why? Because when you sell your firearms through GTA Guns, you can be sure that they will be going to people who love guns just as much as you do. So there's no need to worry because they'll be going to a great home!
So what are you waiting for? Contact us today and be on your way to your best summer yet! We can almost hear the ocean waves and the clink of those margarita glasses already. And if you're not ready to part with your beloved collection, we can always store your most precious items for you in our Safe Storage facility for firearms! If you'd like to learn more about GTA Guns Auctions, Safe Storage, or any of our other services, reach out today. We're more than happy to answer any questions you may have.