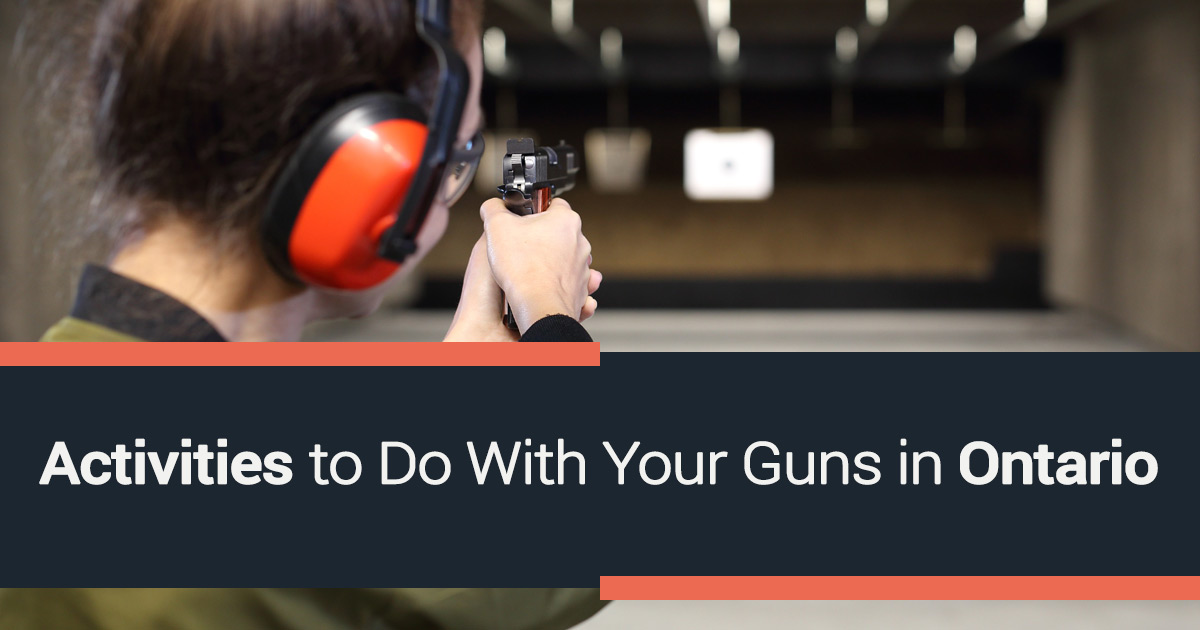 Is your gun collection gathering dust?
Chances are that, if you live in the GTA, you might not have a ton of opportunities to actually use your firearms. If you're looking to dust off your old guns and put them to good use, then check out these fun and exciting activities you can legally do with your firearms in Ontario.
Hunting
Something we are blessed with here in Ontario is some of the most beautiful natural landscapes in North America. Ontario is home to a large part of the boreal forest and many, many lakes. This unspoiled wilderness means that Northwest Ontario is ideal for hunting bear, moose, deer, and birds, as it's such a large area with an abundance of animals.
Fun fact: Ontario is one of the most accessible areas in Canada for quality black bear hunting. The forests and lakes found here are their ideal habitat thanks to a plentiful food supply, which makes Ontario home to one of the largest black bear populations in North America.
What's more, Northwest Ontario's Sunset Country has more moose than any other area in Ontario. Some bulls even sport 50+ inch racks, making them the ultimate big game target. You can choose to do a bow hunt, a traditional rifle hunt, or for something uniquely different, you can even try an old-fashioned black powder hunt.
There are also large populations of whitetail deer in the southern part of Sunset Country. They're mostly found around and below the Trans-Canada Highway which runs across Sunset Country. In Ontario, the deer are large-bodied and numerous, so hunters usually enjoy high success rates. Depending on their level of experiences, hunters can choose to utilize the services of a deer-hunting guide or venture out on their own (You must use a guide in some areas if you are a non-resident).
So, what are you waiting for? If you're at least 16-years old (or 15 with written parental consent), have taken the Ontario Hunter Education Course and Canadian Firearms Safety Course, and have an H1 class licence with all required tags and seals for the game you wish to hunt, then it's time to enjoy your gun collection out in the beautiful wilderness of Ontario.
Download the Ontario Hunting Regulations Summary from the Ministry of Natural Resources website. You can easily search by species to find precisely the animal you wish to hunt. The MNR also offers a Map of the Wildlife Management Unit Boundaries in Ontario.
Shooting Range
If you're an avid gun enthusiast, but not so much a fan of the outdoors, you might prefer a fun day at the shooting range to a day of hunting. Luckily, Ontario is home to some excellent shooting ranges that provide a variety of packages for novices and experts alike.
Some shooting ranges, such as The Range @ Urban Tactical, offer themed packages from Predator to The Walking Dead. They also offer single gun packages and intro classes like Intro to Pistol.
No License, PAL, or even membership is required to buy a range package. You don't even need your own gun! It's perfect if you're looking to introduce a friend or family member to shooting, and kids as young as 12 are allowed to shoot too!
Spending a day at the shooting range is not only a fun way to legally use your firearms, but it's also healthy for you! Shooting can help build many physical disciplines such as increased strength, stamina, hand-eye coordination, and fine motor skills. It also helps with focus and increases mental discipline.
Gun Club
If you've passed the Canadian Firearms Safety Course and the Canadian Restricted Firearms Safety Course exams, and hold a valid firearms possession and acquisition license (PAL), then it's time to join a gun club in Ontario!
A gun club is an excellent way to enjoy shooting your firearms legally. At a gun club, you'll not only get some face-to-face time with other members, some of whom may be very experienced with firearms, but you'll also get to learn, practice, and perfect your technique.
Gun Clubs are the perfect place to socialize and meet other like-minded people, but they can also be fun for the whole family!
Why?
Some gun clubs offer Cowboy Action Shooting, a dream come true for anyone who's a fan of the Old West and cowboy movies. This is a fantasy shooting sport that uses genuine or reproduction firearms from the Old West to reenact this unique era.
During a round of Cowboy Action Shooting, you can shoot various metal targets with real ammunition while being timed. To fully embody the times, shooters are usually required to dress in Old West-style clothes, such as a cowboy hat, jeans, and a flannel shirt. Even kids love getting into the part, making it a fun day for everyone.
Reenactment
Ontario also hosts many popular war reenactment groups. For example, the Incorporated Militia of Upper Canada reenacts the War of 1812, while the Ontario WW2 Reenactors Association and the Perth Regiment of Canada are two popular choices to reenact World War II.
Many of these groups are actively looking to recruit volunteers, so if this kind of fun, legal gun activity is of interest to you, don't hesitate to get in touch with them. GTA Guns has no affiliation with any of these reenactment groups, but we do think they look like a great time!
However, if you own a real historical or antique gun, we advise that you don't use them at these events. Many antique and historical guns are very fragile and valuable. Plus, the majority of reenactment societies will provide their own reproductions of period-appropriate weaponry, so you won't need to bring your own anyway.
GTA Guns Appraisal Services
If you do happen to have a real historic or antique gun, GTA Guns auctions offer professional appraisal services. Our knowledgeable and experienced team of firearms specialists perform extensive research and analysis of all firearms, ammunition, and related gear so that you get a professional and fair opinion of its value.
GTA Guns Online Auction
Regardless if your firearm is an antique or not, firearms that go unused can quickly turn into a liability. So if your gun collection is gathering dust and you have no urge to use it, why not make some extra cash by auctioning off your guns with us at GTA Guns Auctions.
We're the easiest, most efficient way to sell any unused guns you may have. We have access to over 60,000 eager bidders from all over North America, all of them looking to add to their collections. We take care of all the details, including the paperwork, and we even transport the firearm to the new owner. All you have to do is sit back and wait for us to transfer the money from the sale directly into your bank account.
GTA Guns Safe Storage
But that's not all! If you aren't ready to sell your gun or gun collection, but do want to get rid of some clutter, we also offer safe storage. Our facilities are fully insured and monitored 24/7, giving you ultimate peace of mind. Plus, our facilities are designed to be kept at an optimal temperature so that your firearms are stored in a humidity-free area to prevent moisture damage. This keeps your firearms at peak condition, maintaining their value for a time when you might wish to sell them.
Contact Us Today
If you have any questions about our services or would like to learn more about GTA Guns Auctions, contact us today. We look forward to hearing from you!