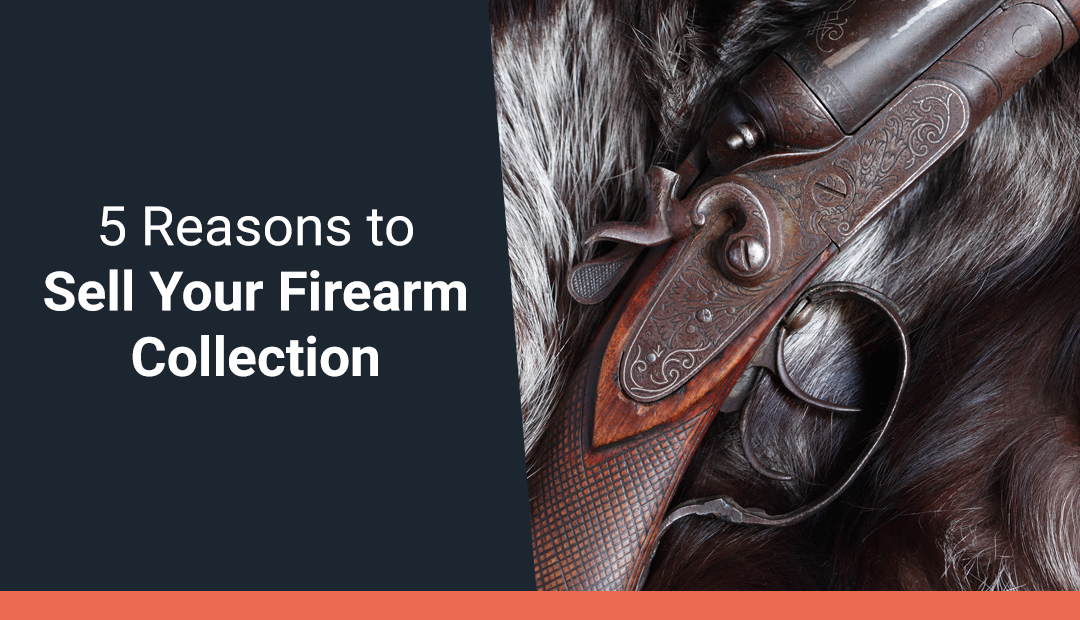 Have you ever thought about selling your firearms?
At GTA Guns, when we ask our sellers why they are putting their guns up for sale in our online auctions, we get all kinds of different answers. Sometimes, our sellers might be looking to pocket some extra money. Others could be ready to leave their gun collecting days behind. Regardless of their reason, they come to GTA Guns because they know they have the best chance of getting what their firearms are actually worth through our firearm auctions.
Here are some reasons why you might be considering selling your firearm collection:
1. Someone in Your Family Has Passed
This is one of the saddest situations we run into at GTA Guns. When the owner of a firearm collection passes, their family often doesn't know what to do with their guns. Maybe the guns were given to someone who doesn't really want them. Or perhaps the firearm collection was overlooked in the Will. In these situations, GTA Guns can help.
Have your executor contact us, and we can figure out a solution that will not only help you during your difficult time but also ensure that your loved one's collection is treated with care and respect.
2. You Are Downsizing
Moving can be highly stressful. Everything from finding a new home to packing to getting a rental car to moving in can result in a huge amount of anxiety and panic. And it can be even worse if you are moving to a smaller place!
This is something that many folks go through later in their lives. They might sell their larger homes to move somewhere a bit more manageable. If they have an extensive firearm collection, however, problems can arise when moving to a small place. It's just a fact that safe and secure gun storage takes up a TON of space. If they're moving into an apartment or condo, there might not be room for their guns.
If you are downsizing and have a gun collection, there are two options. The most obvious is that you can list some of your firearms in the next GTA Guns auction. That will get the firearms out of your home and put some extra money in your pocket.
The other option is to put your firearm collection into GTA Guns Safe Storage. We run a climate-controlled facility where your firearms will be kept in optimal condition. It's monitored 24/7 and fully insured, so if anything were to happen, you'd be fully covered. And if you regularly use your firearms for hunting or other shooting activities, you can consider self-storage, where you have full access to your firearms day or night!
3. You Want Some Extra Spending Money
Due to the pandemic, the last two years have been unbelievably difficult in many ways, but especially financially. Even if you didn't need to go on CERB, that doesn't mean your income didn't take a big hit. People were burning through their savings to stay afloat, and disposable income became tighter than ever.
Now that almost everything has reopened and people are getting back to work, it's time to rebuild your savings. One way is to part with a few items in your firearm collection. By selling them in GTA Guns auctions, you can earn big bucks that will go straight into your bank account. Guns tend to be high-value items, which means that by parting with one or two of them, you can jumpstart your savings again!
Even if your savings are doing completely fine, selling a gun through GTA Guns auctions can be a great way to bank up money for something special. For example, how long has it been since you had a decent vacation? Maybe it's time to sell a few of your firearms so you can take off to a warm beach for a week or two!
4. Your Parents Have Gotten Older
There can come a time when your parents might not be safe with firearms in their home. For example, if either of your parents suffers from confusion or a degenerative disorder, you might need to speak with them about selling their collection. Like with all aspects of aging, this can be a tough conversation, similar to talking with them about taking their driver's license or needing to move them into a care home.
We want you to know that we fully understand what you're going through and have helped many people deal with this challenging situation. With GTA Guns auctions, we can help your parents get top dollar for their collection and ensure that their pieces will be going to firearm enthusiasts who will treasure them.
If your parents are 100% adamant that they do not want to sell their firearms, another option might be for them to give you the firearms. Not only can this help solve the issue, but it completely removes the possibility of inheritance issues with Wills.
5. You Want to Upgrade!
In the computer world, folks often sell off their older computer components to raise money to pay for better ones.
As a firearm collector, you likely understand that mindset. If you've been collecting guns for the last few years, it might be time for you to sell some of your pieces in order to afford a rarer firearm—possibly one that you found on GTA Guns.
With GTA Guns, you can both list AND purchase firearms in the same auction! Many firearm collectors around North America use this strategy with every auction. They list the firearms they no longer want and bid on new ones that they do! And with our unparalleled buyer guarantees, they always walk away happy!
Whatever the reason you want to sell your firearms, one thing is clear: GTA Guns is, by far, your best bet for selling them for what they're actually worth! If you want to learn more about our online firearm auctions or any other services, please feel free to contact us today!