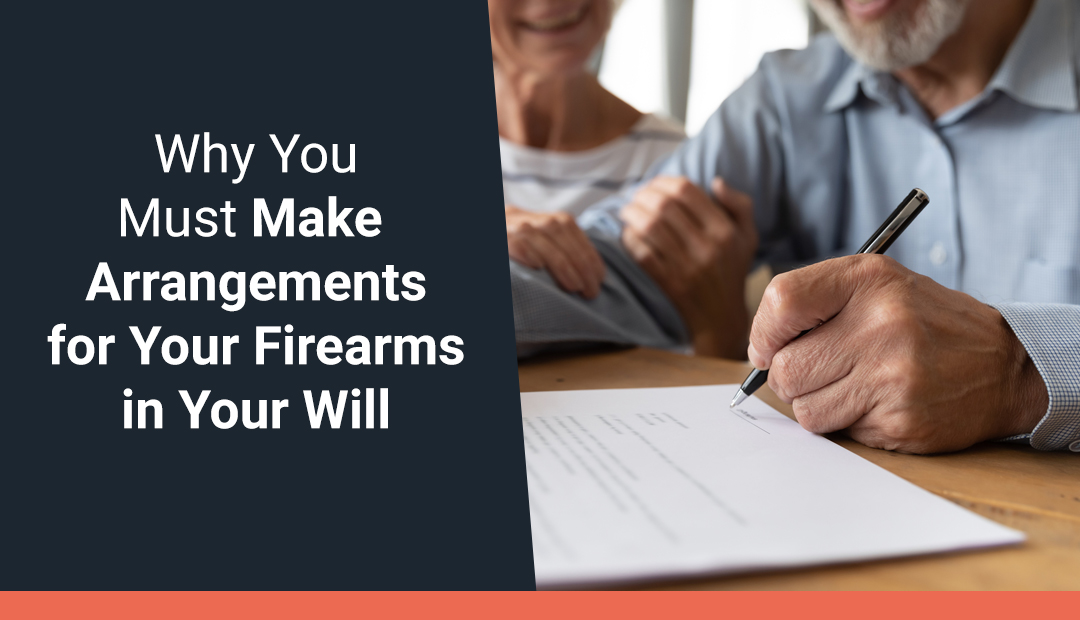 When was the last time you updated your Will?
No matter your age, post-death planning is something that you should be thinking about. We know that isn't a very comfortable topic, but believe us, planning now will make everything much easier on your loved ones once you eventually pass.
While you should be thinking about your real estate and money in your Will, you also need to consider your firearms. Giving your firearms over to your friends and family after you pass should be a simple enough task, but there are many obstacles that you might not think about when writing your Will.
Our Experience
At GTA Guns, we've worked with dozens of executors to help them liquidate the firearm collections of their deceased clients. This task can be extraordinarily stressful for both the executor and the family, especially if the firearms weren't included in the Will. In such a case, deciding who gets what, what should be sold or inherited, or if the guns should all be resold can become contentious questions. We've seen it happen over and over again.
Problems with Your Executor
You might think that your executor will take care of everything, but what if they aren't allowed to have firearms in their possession?
In that event, the executor will need to bring in a trusted third party who can handle and transport the firearms. While this is always an option, it can save them—and your family—a lot of stress if you verify that your chosen executor can legally possess firearms.
Where Do You Store the Firearms?
Whether you have a single gun or an extensive firearm collection, storage will always be something to consider.
If you include your firearms in your Will, you also need to ensure that your executor and family know where to find them. Going on a scavenger hunt for your collection is the last thing your executor and family will want to do!
That's why you need to leave clear instructions about where your firearms are located. If they're in your home in a gun safe, you need to make sure that the combination and key are readily available. Another alternative would be to store your firearm collection with GTA Guns safe storage.
Our facility is kept at optimal conditions for gun storage, is fully insured, and we monitor it 24/7. In terms of storage for after a passing, you might prefer the short-term storage option. Or, if you'd like to leave the firearms in long-term storage, that's an option as well! All you need to do is give us a call to schedule pick-up and drop-off times.
If you decide to give your firearms over to a family member immediately, but you still plan on using them regularly, you can use our new self-storage option, where you can pick up and drop off your firearms without scheduling an appointment. That's perfect if you spontaneously want to head to the shooting range or go hunting!
Selling the Firearms
When most executors or families ask us for advice about how to handle the bequeathment of firearms in the Will of a loved one, they usually want to figure out a way to sell the firearms with the least amount of worry and stress. Fortunately, that's at the heart of what we do at GTA Guns!
With GTA Guns auctions, we take care of all the paperwork for you. From putting the firearms through our GUNCHECK™ and CYCLECHECK™ assessments to transferring firearm licenses to new owners, we take care of the sale from beginning to end. All you need to do is drop the firearms off, and we'll do the rest.
If you're an executor and need an accurate assessment of the value of the firearms for tax purposes, we offer gun appraisal services to give you the measure of the worth and condition of every item in the collection. With the Canadian Revenue Service needing that information to tax the assets, we make it as easy as possible. Just drop off the firearms, and we'll go through them with our experienced eye.
Solution: Make Your Arrangements Early
One of the best solutions to the problems above is to give your guns to family or friends before your death.
If you do this, not only will the process of executing your Will be considerably simplified, but you can also see your loved ones enjoying your firearms while you're still here! Another plus is that if you give your firearms to your family before your death, they won't need to pay any taxes on their value.
Another option is liquidating your firearm collection yourself and using the money to treat yourself to a wonderfully relaxing vacation! Or using the money to purchase something else you've wanted for a long time… after all, it's your money! And we would be happy to make the process of selling your firearms as easy as possible.
The process of putting a Will together is never fun, but it's a necessary step if you wish to save your loved ones additional stress after your passing. Ensuring they know precisely what you want to be done with your firearms will make things easier on your executor and ensure your wishes are fully carried out. If you have any questions about how we can help with a Will that involves firearms, or you'd like to learn more about our online firearm auctions or our other services, please feel free to contact us today.