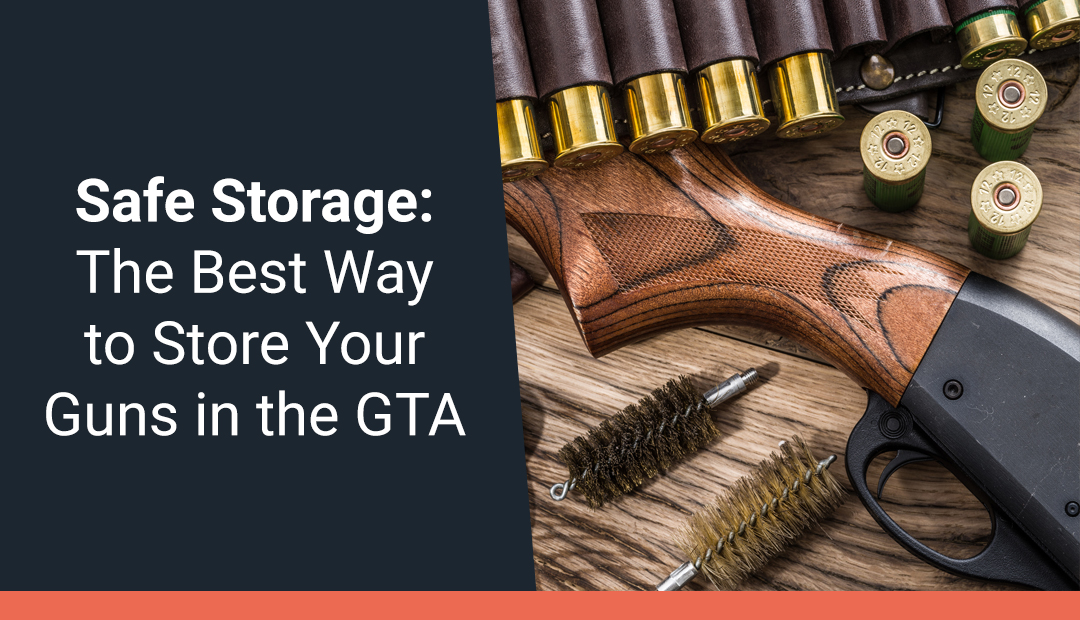 How do you store your firearms?
Firearm storage can be a hot topic of conversation with collectors, hunters, and enthusiasts. Frankly, the idea of storing firearms under a bed or in an old, musty basement is horrifying to those who know the dangers of those options. One provides a danger to your family, and the other provides a danger to the firearms!
Unless you are willing to invest in a firearm safe, storing your guns at home can be a massive headache. That's one of the reasons we created a one-of-a-kind firearm storage solution!
Our Safe Storage Facility
At GTA Guns, we are incredibly proud of our safe storage facility. It's the first of its kind in Canada!
What makes us different from other storage facilities? One of the most important differences is the environment in which we store firearms. Our facility is entirely climate-controlled and constantly dehumidified, eliminating the risk of environmental damage to your firearms. Our gunsmiths have seen countless beautiful firearms rusted from the inside out due to poor storage conditions. With our facility, you won't ever need to worry that your guns are kept in anything but the best conditions.
We also offer many sizes of storage lockers, depending on how extensive your collection is. If you have several rifles, you can pick our long locker (15″ wide, 18″ deep, and 72″ high with 2 top shelves). If you want to store your pistols, our pistol lockers will be perfect (12″x12″x18″). And if you want to store your entire collection, our long-term, non-accessible storage (where you need to call ahead to pick up or drop off your firearms) completely has you covered!
Here are a few scenarios where you might want to store your firearms with GTA Guns:
Going on Vacation
Things slowed down with travel for a while, but international flights are picking up again. Now, many people are making plans for well-deserved vacations. But what are you going to do with your firearms while you're gone?
Many people don't feel comfortable leaving their guns in the house when they're away for an extended time. They worry that there might be a break-in, resulting in someone stealing their guns. This is a nightmare for several reasons, including legal ones. So what's the solution?
Easy, you bring your guns to us! Our short-term storage solutions are perfect if you need to have a safe place for your firearms for a few weeks. Just like with our long-term and self-storage solutions, they will be stored in high-security, climate-controlled conditions. When you get back from your vacation, all you need to do is make an appointment to pick them up.
Moving into a Smaller Home
The worst part about moving into a smaller home is that you must cut down on your belongings. That could mean giving some furniture away, going through old boxes in the basement, or, worst-case scenario, getting rid of some of your firearms.
Now, if you want to sell your firearms, we have a fantastic solution for that problem, our online GTA Guns auctions. But if you'd prefer to keep your collection, you can move everything into our long-term firearm storage.
With this option, you will need to call us whenever you want to pick up or drop off your firearms. But that's barely a hassle with our outstanding customer service! No matter how big your collection is, we can house it in our storage facility. It's the perfect downsizing solution!
Going Hunting
If you enjoy hunting or going to the shooting range, you might think that our safe storage isn't ideal for you. The idea of making an appointment every time you want to take out your firearms sounds very inconvenient, right? In that case, our automated self-storage might be perfect for you.
In this case, you are provided with security protocols (including two electronic security devices and one mechanical one) to get access to your gun locker. Once you are approved, you can deposit or drop off your firearms at any time. With our automated safe storage, you have access to your guns 24 hours a day, 7 days a week. You can pick up or drop off your firearms at your leisure and convenience.
This means that if you get the urge to head out into nature, you can simply drive to our safe storage location and get your firearms out yourself. No need to call ahead! Just be sure to store your firearms in your vehicle safely! Self-storage is a reliable alternative to storing your firearms in your home, especially if you have kids or a spouse who doesn't want any guns in the house.
We obviously take the security of your guns seriously at our safe storage facility. With our ideal storage conditions and 24-hour security, we can ensure that your firearms are protected year-round.
If you are looking for a firearm storage solution, you won't find a better one anywhere in Canada! If you'd like to learn more about GTA Guns safe storage, our online firearm auctions, or any of our other services, please feel free to contact us.