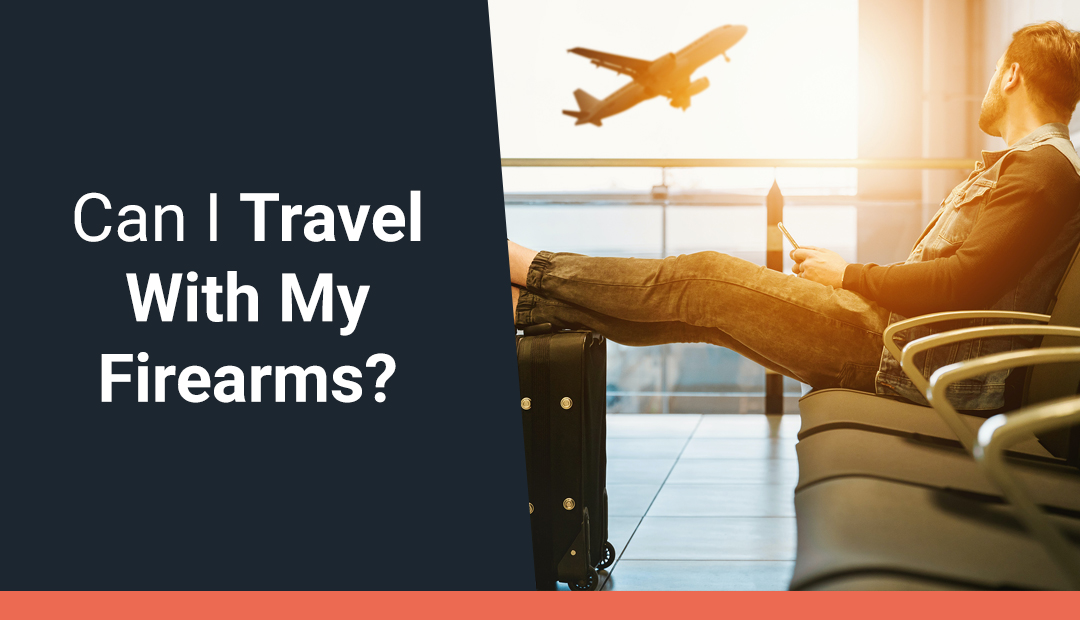 How often do you travel with your firearms?
Whether you are dropping firearms off at a secure storage facility, heading to a shooting range, or going hunting, travelling with your guns can be an involved process. Many new firearm owners are concerned about the legality of transporting their guns, but thankfully, it's easy! You only need to follow a few simple rules.
Different Classes of Firearms
In Canada, there are three classes of firearms: non-restricted, restricted, and prohibited.
Non-restricted firearms include non-automatic rifles and shotguns with an overall length of 26 or more inches and a barrel length of 18 or more inches. Restricted firearms include all guns with an overall length of less than 26 inches and barrels of less than 18 inches (all handguns, rifles, and shotguns). These cannot be used for hunting, and can only be fired on approved firing ranges. Prohibited firearms include all automatic weapons, handguns that shoot .25 or .32 ammo, handguns with barrels shorter than 4.2 inches, and military-style rifles.
Travelling Locally
The rules for transporting firearms depend on the class of gun.
If you are transporting a non-restricted firearm, you can legally take them anywhere in Ontario. They must be unloaded, with the ammo preferably stored separately from the gun. When you're transporting a non-restricted firearm, you must be in the vehicle with it at all times. If you are not, it must be stored safely in the trunk of your car or hidden out of sight with the doors locked.
If you are transporting a restricted firearm, things get a lot more complicated. First, you need to have an Authorized to Transport permit. You can get one from the Chief Firearms Officer in your province (the Ontario number is 1-800-731-4000). Like non-restricted firearms, they must be transported unloaded, with the ammo preferably stored separately. They can only be transported in a locked and secure non-transparent container, and should be secured with a trigger lock or another similar device. If you aren't in the car, they must be stored in your trunk or fully hidden from view.
If you are planning on travelling with prohibited firearms, things are incredibly strict. Not only must you follow all of the aforementioned rules for restricted firearms, but your guns also must have the bolt or bolt carrier entirely removed and stored in a separate container.
Flying with Firearms
Whether you are flying to another province or country for hunting or competitive shooting, or need a gun for self-defense, travelling in the air with a firearm can be more of a hassle than by car. However, it's probably less difficult than you might think!
You will not be allowed to bring your firearm, ammo, or gun parts onboard the aircraft as carry-on luggage under any circumstances. However, you can bring them with you as checked baggage. Your firearms must be unloaded and packed in a hard-sided, non-transparent case. You also must declare that you are travelling with a firearm to the carrier at your check-in. This applies to both domestic and international flights.
Regulations differ depending on the airline, but the following guidelines can give you an idea of their rules.
If you are using your firearms for sporting activities, you may be subject to a special fee, depending on the airline. With Air Canada, it's $50 per flight. This fee may be waived if you purchase a specific class of fare.
If you plan on taking your firearms with you to hunt, you must register all of your equipment at least 24 hours prior to your flight. It's recommended that you check in at the airport approximately a half hour before the usual check-in times to ensure there will be no difficulties. Each item within the hunting category (including firearms, ammo, and archery equipment) counts as a single piece of baggage. Similar to vehicle travel, you cannot pack your ammo and firearms in the same container. Only hunting rifles, shotguns, biathlon rifles, and certain handguns are accepted as checked bags. A maximum of three firearms is allowed per person, per flight. All firearms should be rendered inoperable with a secure locking mechanism before being checked in.
If you are travelling outside of Canada, it's up to you to be in full compliance with the destination country's firearm laws.
We are often asked about the rules governing transporting firearms because our sellers need to bring them to our brick-and-mortar location to be listed in our auctions. If you have any questions about transporting your firearms (or if you need some help because you don't have the correct equipment for travel), please don't hesitate to contact us. If you'd like to learn more about our online firearm auctions or any of our other services, please feel free to contact us.