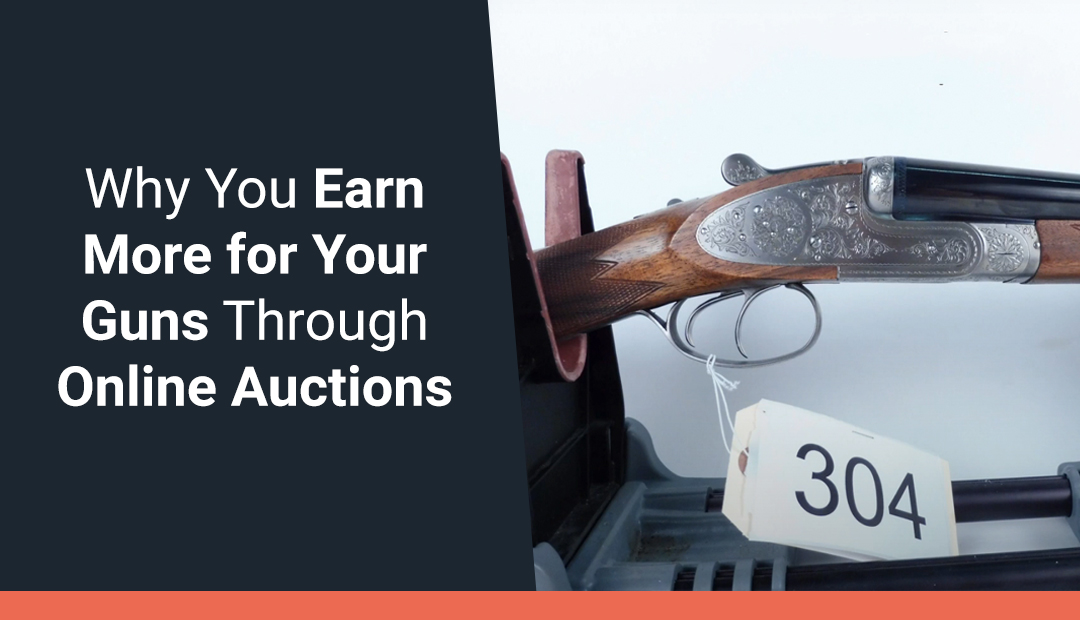 Selling items online can be surprisingly hard work.
While many firearm stores would be thrilled to purchase your firearm collection, you likely aren't going to come out ahead in such a sale.
For any store to make a profit, they need to sell items at a higher price than they buy them. When a firearm store purchases your guns, they know how much the items are really worth, and that's usually the price at which they'll sell them. As a result, you, the seller, often end up getting lowballed, selling your collection for far less than it's worth. There is no maliciousness in this; gun stores usually aren't trying to rip you off. It's simple incentives: they need to buy at a lower price than they sell.
So what's a better way to earn money for your firearms?
Selling Through Online Auctions
Knowing they'll be lowballed by gun stores, collectors tend to fall back on online auction sites as a better way to sell their items. This cuts out the middleman. Rather than sell their items to a store, they go to the buyers directly. That means they can sell their items at a much higher price!
This is where the difficulty comes in. Whether you're selling hockey cards, coins, or comics online, you're the one who needs to do all the work. You have to research the starting price, take all the photos, write the description, and pay attention to the bids.
Then, once someone wins the auction, it's up to you to ship the item to the buyer. And if something goes wrong with the item and it ends up damaged or lost in delivery? You're the one on the hook, often losing your item AND the money.
Selling Through GTA Guns Auctions
Sites like eBay don't allow firearms on their platform. But even if they did, it would likely be a logistical nightmare for sellers to manage the process of putting their guns up for sale.
At GTA Guns Auctions, we've taken all of the work out of the equation for sellers. After all, we're the professionals when it comes to selling firearms! As a seller, all you need to do is contact us, and we'll take care of the rest.
What does that mean? Well, to get the process of selling your firearms started, you simply need to take them to our brick-and-mortar location. We'll put them into our safe storage facility for the duration of the auction to ensure they are kept secure. We'll need all of the paperwork for the guns as well. After that, your job is pretty much done!
As for us, our job is just starting.
First, we put your firearms through our proprietary GUNCHECK™ and CYCLECHECK™ services. Here, we take high-resolution photos of the firearms, both inside and out, to determine their exact condition. With CYCLECHECK™, we take your semi-automatic firearms to a firing range to make sure they cycle correctly, filming the entire process. Once finished, all images and videos are put on the items' auction pages so potential buyers can see the items' conditions for themselves. We even write the descriptions for your guns!
All you need to do during this process is sit back and watch the bids roll in. We have buyers from across North America looking to purchase, and they'll bid whatever they need to win their desired items. Remember when we talked about incentives? Well, ours is for your firearms to sell at as high a price as possible!
What Happens After the Auction?
After the auction, we pay you within 6 business days and when you cash this cheque, that's when your part in the sale is finished. After that, the rest is entirely up to us. We even handle the legal work.
We take care of all the paperwork and transport the firearms to their new owners. And if there's anything wrong with the guns after they are received, we're the ones who handle complaints. In fact, we have two guarantees:
If a buyer receives a damaged item, they can return it to us—we pay the shipping both ways—and our experienced gunsmiths will repair it, free of charge (30-days max).
If a buyer receives an item and it isn't what they expected based on the description and photos, they can return it to us, and we'll list it in our next auction with no seller's fees (30-day max, +$3,000 hammer price).
These guarantees are two reasons buyers are willing to spend even more money on our auctions. They know that we'll take care of them if anything were to go wrong. That peace of mind is worth a few extra bucks!
With the trust that our buyers place in our auctions, GTA Guns is, by far, the best way to sell your guns. Not only is the process stress-free for you, but you'll also earn more money from the sale than you would by going to a gun store.
If you want to learn more about our auctions or any of our other services, please feel free to contact us today!