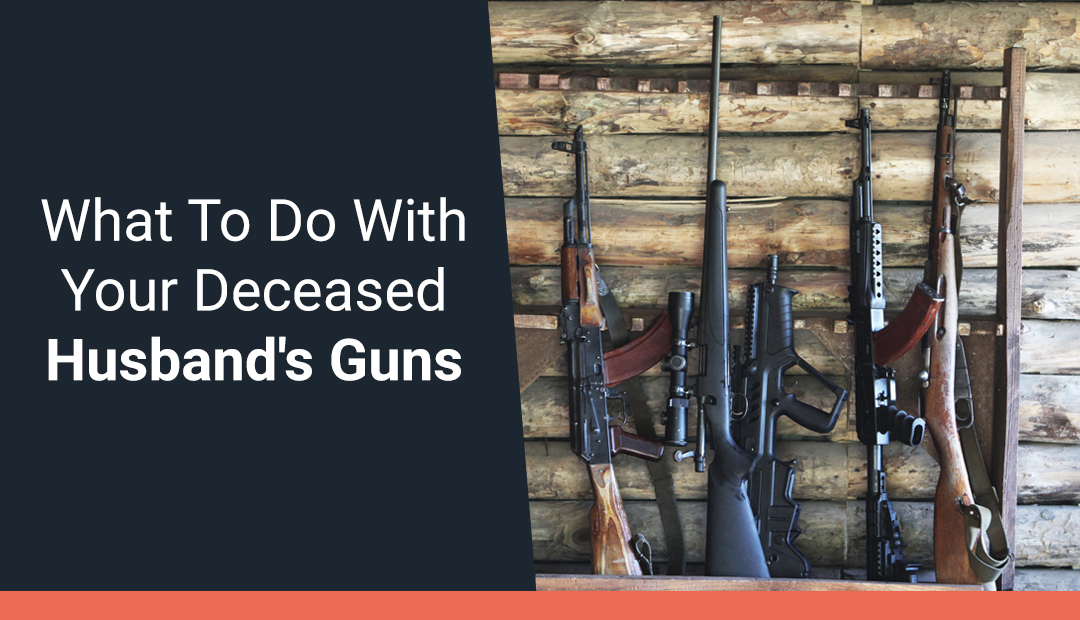 What do you do with a firearm collection built by your partner that you don't want?
It's important to remember that there are two people in a marriage, and their interests might not always line up. One could be really into travel, while the other might be a homebody. One loves cats, the other loves dogs.
Most of the time, these different passions keep things interesting. But there are times when differences in interest can become a problem, especially after one of the people in the marriage passes away.
For example, imagine a relationship where the husband absolutely loved collecting firearms. Over the years, he built up an incredibly impressive collection. The wife, however, doesn't remotely care about guns. They don't interest her, but she's happy to support her husband and his hobby.
But when her husband passes away, she is left with a massive problem: an expansive gun collection that she does not want. And if the collection is stored at home and she is downsizing, then that makes for an even bigger problem. What is she supposed to do with this gun collection?
At GTA Guns, we've heard this story dozens of times, and it's been our privilege to help many widows and executors manage this firearm problem!
Pre-Planning Is the Best Plan
Before we dive into how we can help, we would like to make a recommendation.
The best time to decide what to do with a firearm collection is before there is even a problem. If you make plans for what to do with a collection before passing, it can greatly reduce stress and anxiety for everyone.
If there is someone in your family who loves guns, you could consider gifting your collection to them prior to passing. This strategy completely eliminates the need to include the guns in a will, while also helping avoid taxes on their value. If you do want to hold onto the firearms, be sure to include them in the will so you know exactly who gets them or receives their value after they are sold.
What Are the Options?
If you want to get rid of your husband's firearm collection, there are several options.
The first is simply giving them over to a firearm reclamation program. In our opinion, this is the worst option by far. Not only will the firearms be destroyed, but you also won't receive a cent for them.
You could look into selling them to a firearm store, but there are significant drawbacks to this option as well. It's very likely that you will receive far less than they are worth. There is also the possibility that they will only accept some of the guns, leaving the rest in your care.
The best option to deal with a firearm collection is to auction it off through GTA Guns auctions. We take on all the risk and responsibility of:
Finding the top bidder from anywhere in the world,
Making sure they have the proper licensing,
Collecting the money from them,
Dealing with the authorities, and
Shipping the firearm to them.
In this scenario, the firearms are all going to other passionate collectors, which honours the reason your husband collected the firearms in the first place. Moreover, these collectors are often looking to grow their collections by any means necessary, and that means a lot more money in your pocket!
For sellers, the best part of GTA Guns auctions is how incredibly easy it is. All you need to do is transport the paperwork and firearms to our brick-and-mortar location. In the event that you can't transport them, we can potentially arrange pickup.
Once the firearms are in our care, we store them free of charge for the duration of the auction, getting them out of your hair completely. Then, we put every item through our proprietary GUNCHECK™ and CYCLECHECK™ assessments to determine their exact condition. We make that information available to all potential buyers to increase the chances that they will bid!
Once the auction is over, we give you the proceeds (less our fees), and that's it! Everything else is our responsibility, from shipping the items to the buyers to handling post-auction problems. That's the number one reason why GTA Guns auctions are the best way to deal with a firearm collection that you inherited from your husband.
Figuring out what to do with your loved ones' belongings after they pass can be incredibly stressful, especially if it's something valuable like a firearm collection. That's why we work to make the process of selling that collection as painless and stress-free as possible for all of our sellers. If you have any questions about how we can help you sell your husband's collection, or you'd like to learn more about our other services, please feel free to contact us today.