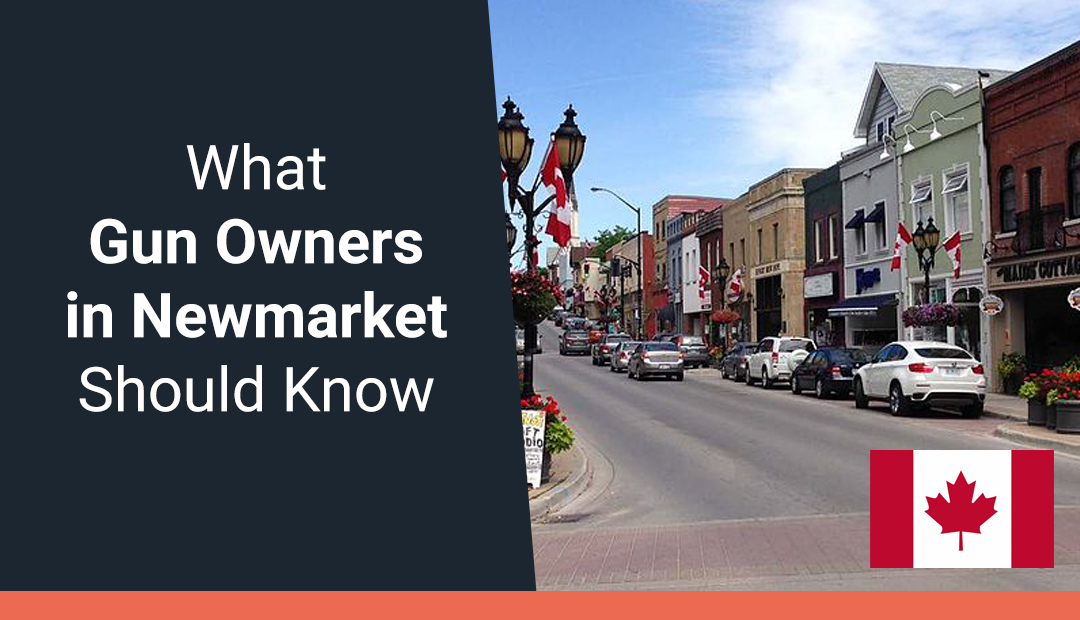 Do you store your firearms in your Newmarket home? It might be time to make a change!
Newmarket, Ontario is a pretty great place to live. Not only do we have a low crime rate, exceptional healthcare, affordable homes, and beautiful scenery, but we also have a fantastic shopping centre in the Upper Canada Mall! We are only 30 minutes away from Toronto on one side and close to cottage country on the other. It's also a fantastic place to create a business, which is one of the reasons we chose to locate GTA Guns here.
Some people wonder if Newmarket is friendly to gun owners, and the answer is absolutely! You have GTA Guns on your doorstep, as well as plenty of other firearm stores and recreational shooting facilities. And remember what we said about cottage country? That means we aren't that far away from some prime Ontario hunting locations!
But in our opinion, one of the best things about being a firearm owner in Newmarket is the incredibly easy access to our GTA Guns Safe Storage facility. It's an absolute game changer for how you store your firearm or firearm collection.
GTA Guns Safe Storage
Back when we started our GTA Guns auctions, we needed a place to safely store all of the items on sale. It was vital that all firearms be stored in an optimal environment to ensure they would remain in the condition listed on their auction page.
At the same time, we always wanted to create a safe place where everyone could store their firearms. Not all of us live in large homes, and it can be difficult to have a large firearm collection when you lack the space.
So, enter GTA Guns Safe Storage! This revolution in gun storage made it so much easier to keep your collection safe and in tip-top shape.
What Is Special about GTA Guns Safe Storage?
Please remove all references to our insuring stored guns. We insist the storer provide their own insurance.
Next is the environment in which we store your firearms. Many priceless collections are stored in musty, old basements where they come into contact with humidity and even mould. We've seen beautiful firearms that have been damaged beyond repair because of the conditions they were stored in. At GTA Guns Safe Storage, all firearms are kept in a climate-controlled and dehumidified environment. We know the perfect humidity and temperature levels for firearm storage, and ensure that every locker in the facility is maintained at those levels.
What Size Lockers Do We Offer?
Some people only have one or two firearms. Others have massive collections. Either way, we can accommodate your firearm storage needs!
First, we offer a long locker (15″ wide, 18″ deep, and 72″ high with 2 top shelves). This size is perfect for rifle storage outside of hunting season. Our pistol lockers are 12″x12″x18″, making them perfect for pistols and other handguns. And if you have a more extensive and expensive firearm collection, we also have long-term, non-accessible storage, where you need to call ahead to pick up your guns.
Can I Pick Up My Firearms Whenever I Want?
Until recently, we specialized solely in short- and long-term storage, where you needed to make an appointment to pick up and drop off your firearms. But we are delighted to now offer automated self-storage as an option.
With automated self-storage, you can come and go as you please, without needing to make a call beforehand. When you sign up for self-storage, you will be given a variety of security protocols, including two electronic security devices and one mechanical security device. This ensures that your firearms will be accessible at all times while also keeping them safe.
If you live in Newmarket, Ontario and find storing your firearm collection to be a pain, then our Safe Storage facility is the perfect solution! If you have any questions about our Safe Storage options, our online firearm auctions, or any of our other services, please feel free to contact us today.