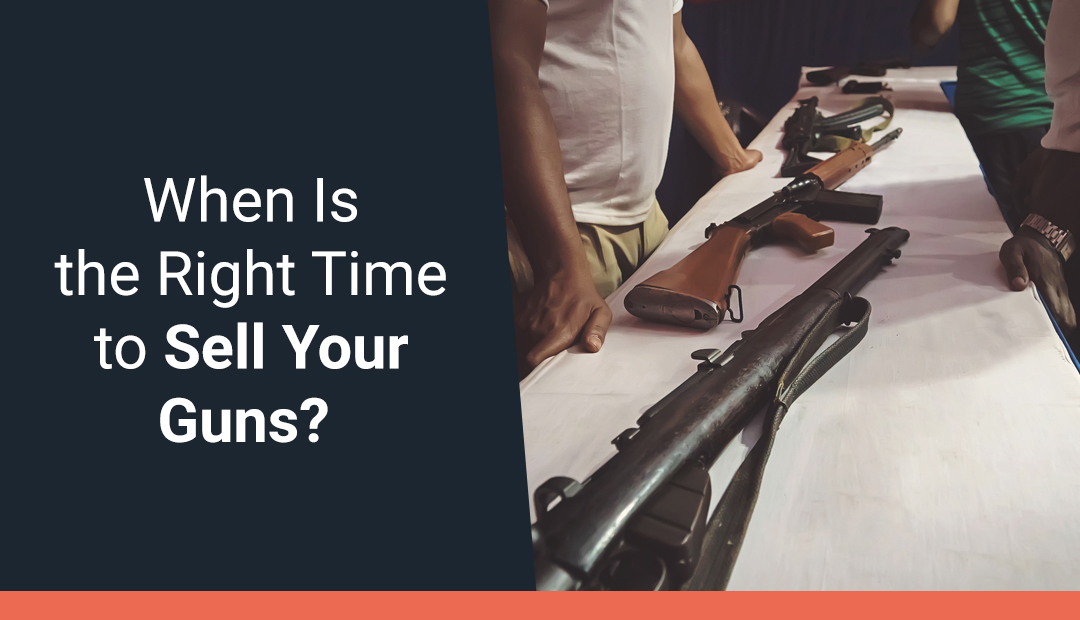 Do you invest in the stock market?
We all know the trick to making money through stocks is to buy low and sell high. The hard part is knowing when to sell. You might sell too early, only to watch the stock price keep rising. But you could sell too late, and the entire stock goes bust, along with your investment.
Thankfully, the stakes are not quite as high when it comes to selling firearms. Though there can be ideal times to sell guns, it isn't quite as boom and bust as the stock market. People are always looking to purchase new firearms for recreation, hunting, or just growing their collection. So, if you want to make the most money from your firearm, when should you sell?
Answer #1: Whenever You Need To!
Sometimes, things happen that take the choice of when to sell completely out of your hands.
For example, if someone in your family recently passed away, they might have left a sizable firearm collection behind. The executor of the will or the recipient of the inheritance might want to sell the firearm collection as soon as possible. In this situation, you can't sit around and wait for the "right" time to sell, because the right time is now!
Similarly, if you are downsizing to a smaller home, you might not have the storage space for a massive firearm collection (or even a small one). If that's the case, then you need to sell them as soon as is convenient.
Answer #2: At the Beginning of Hunting Season(s)
When it comes to getting the most money for your firearms, consider striking while the iron is hot. In the case of rifles, that's during hunting season!
But there is more than one hunting season in Ontario, Canada. For example, you can hunt turkey in the spring, and deer and moose hunting is early to late fall. As a result, the summer tends to be a very exciting time for those who are looking forward to the hunt!
That said, the early fall is still a fantastic time to put your rifles on the market through GTA Guns auctions. There are hunters all across the country (and in the United States) who are looking for a new firearm this time of year.
On the other hand, if you are in the market to buy a new rifle for hunting season, GTA Guns is still your best destination. With people across the province putting their rifles up for sale, you might just find the perfect firearm for you!
Either Way, GTA Guns Auctions Is Your Best Shot!
There are no "seasons" here at GTA Guns. We hold our auctions year-round to help firearm owners earn money.
The firearm selling process with GTA Guns is unparalleled. There is no stress, anxiety, or work. It's a very simple process!
First, you pick the items that you wish to sell through auction. Next, you contact us and transport the firearms and their paperwork to our brick-and-mortar location. In certain instances, we might even be able to arrange pickup.
And… that's it! Once the firearms are in our hands, we take over. We put your items through our proprietary GUNCHECK™ and CYCLECHECK™ assessments to confirm their exact condition. We take high-resolution photos of the firearms (both inside and out) to post on the auction listing page. We even write an informative description for the page so that potential buyers know exactly what they're bidding on.
Once the auction is live, all you need to do is sit back and watch the bids come in! Then once the auction is over, we send the proceeds to you.
But what about post-sale? Well, the money is already in your pocket, and we were the ones who sold it, so we handle that part too! If something happens to a firearm on its way to the new owner, we will pay for repair and shipping. If they decide that they don't like the firearm, we allow them to relist it with no seller's fees. Either way, your part in the sale is done!
If you're worried about figuring out the best time to sell your firearms, we highly recommend that you contact us today. We can fill you in on exactly what you need to think about when putting your firearm collection up for sale. And if you have any questions about our online firearm auctions or our other services, please don't hesitate to reach out!