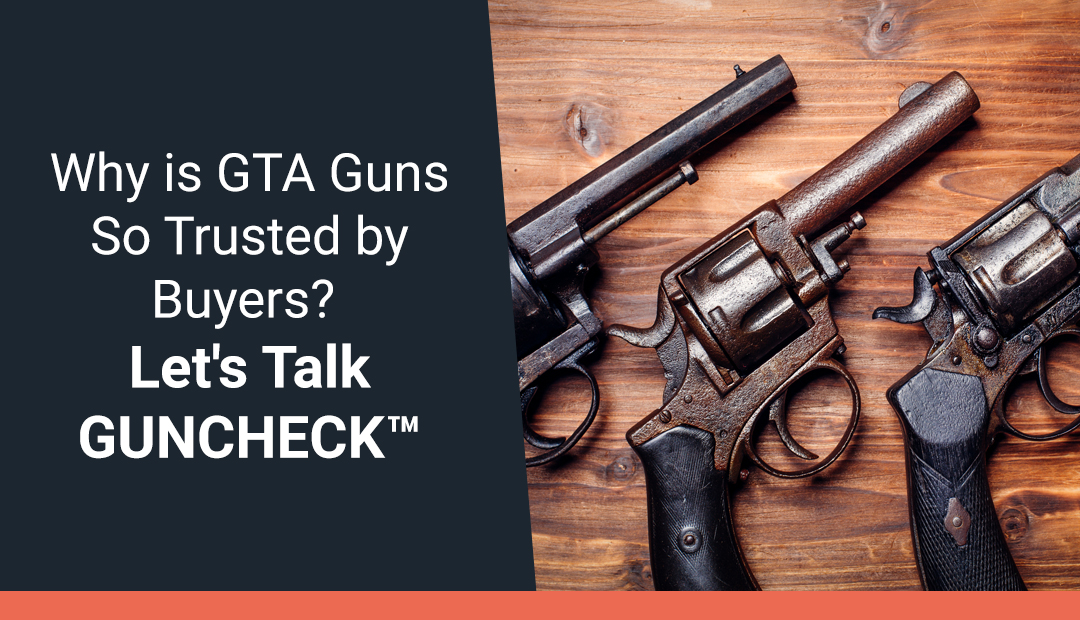 How important is trust in your relationships?
When it comes to buying and selling firearms, trust is everything. Not only are guns often expensive—meaning that you want to make sure that you're actually getting what you're paying for—but there are legal considerations as well. Buying a firearm from a stranger is not something you would ever want to do. After all, who knows how they got the firearm? If they stole it, you could end up on the hook. The same applies when it comes to selling your own firearm—if you sold it to someone who gave you false information, you could become an accessory to a crime.
These are reasons why you need to trust the folks you work with when dealing with firearms, and that's why GTA Guns has worked hard to earn the trust of buyers and sellers from across North America. Our trustworthy, exceptional service always results in more valuable firearms being brought to us for auction. Similarly, it results in higher bids!
So, why are we so trusted? Well, let's start with two proprietary programs that set us apart from many other auction services out there: GUNCHECK™ and CYCLECHECK™!
What is GUNCHECK™?
When buying a firearm, it can be tricky to ensure the condition of the gun. The piece might look perfectly fine from the outside, but if you were able to look at the state of the bore, you might discover something very different.
As we run a firearm auction site, it's vital that every gun we list is in working condition and that potential buyers know precisely what they are bidding on. Enter GUNCHECK™!
This proprietary service is essentially a "look under the hood" for your firearm. Our licensed and experienced gunsmiths do a full inspection of every firearm we sell through auction. That includes fibre-optic bore images so buyers can see the condition of the guns both inside and out!
We include all of this information, along with high-resolution photos of each firearm, in every listing. Why? Well, we want to ensure that buyers are fully informed before they start placing bids! With this service in place, we've built a reputation as one of the most reliable and trustworthy firearm auction services in North America.
But it doesn't stop with GUNCHECK™…
What is CYCLECHECK™?
In the case of semi-automatic firearms, buyers need to be sure that the firing cycle isn't faulty. That's why we do tests!
Before putting any semi-automatic guns on our auction site, we perform a full shooting range test to ensure they perform flawlessly. Please don't take our word for it, though—we always include a video of the test so potential buyers can see that the firearms are operational with their own eyes!
Both GUNCHECK™and CYCLECHECK™ are proprietary services that GTA Guns performs free of charge for every seller. Yet another reason why we're beloved by our clients!
What Are Our Guarantees?
Once a seller finally sells their firearm, the last thing they want is to be responsible for potential complaints and returns. That's why we gladly shoulder that responsibility. And to make sure that our buyers are always satisfied, we put two unparalleled guarantees into place:
If your firearm arrives in any condition other than specified in the auction listing, you can send it back to us—we pay shipping—and we'll repair it for free (30-day max).
If your firearm arrives and it isn't precisely what you expected based on the listing, you can send it back to us, and we'll relist it in our next auction with no seller's fees (30-day max, +$3000 hammer price).
As a buyer, these guarantees ensure that you'll be happy with your purchase. As a seller, these guarantees mean that once the sale is complete, your job is 100% finished!
These are only a few of the many reasons why buyers and sellers trust us and our auctions. It's essential to us that we not only always live up to our clients' expectations, but exceed them. If you want to learn more about our online firearm auctions or any other services, please feel free to contact us today!