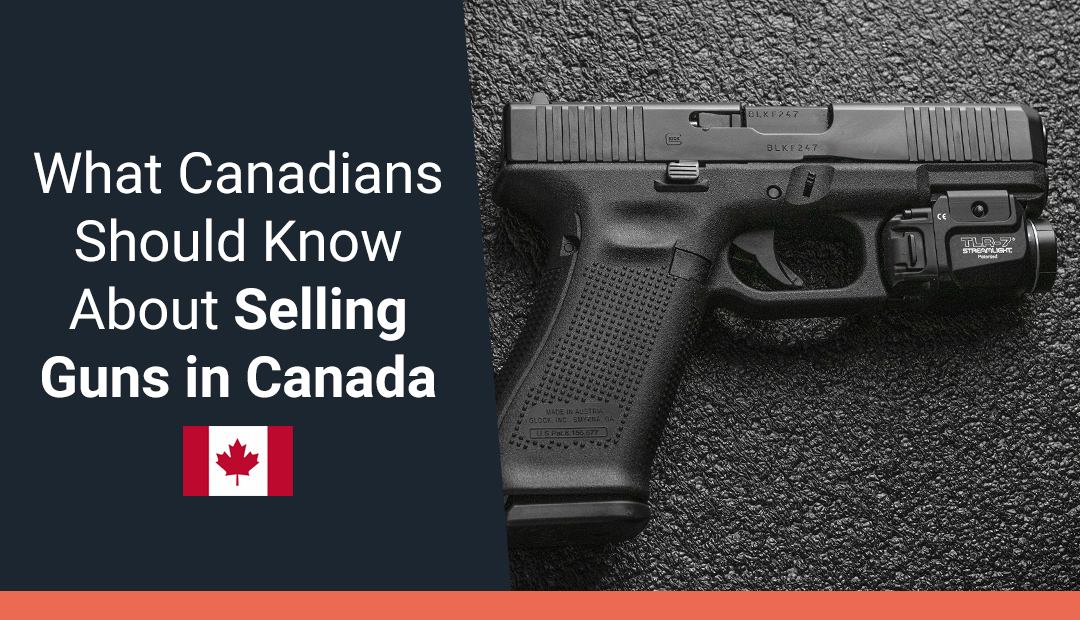 Be honest: If you wanted to get rid of your firearms in Canada, do you really know the best method of doing so?
Your first thought might be to sell them to a gun store. Or you might think to head online to a firearm forum and find a buyer. Or—heaven forbid—you might take them to a government-sponsored gun amnesty program. And yes, while these are all ways to rid yourself of unwanted firearms, they ALL have significant drawbacks.
Gun Stores
A gun store is like any other kind of business. They need to get their stock for a lower price than for which they sell it. It's the only way they can make a profit, after all. So, if you head to a gun store with the intent to sell a firearm, you're facing a reduced purchase price right off the bat.
Something that gun stores have going for them is expert knowledge. What if you walk in with something special, but you aren't sure of its full value? You could get lowballed on the price, leaving them with a valuable firearm and you with a fraction of its value in your pocket. Reputable firearm dealers would not do this, but you never know who you're dealing with when it comes to selling a gun.
Online Forums
As you can't sell firearms through most online services like eBay and Craigslist, people often head to less-traveled corners of the internet to sell their guns. Where? To where the firearm enthusiasts are: gun forums!
Here's the problem: the people you meet on forums are intentionally anonymous. You can't be sure who you're talking with. What if you meet someone interested in purchasing your firearm, but they have ulterior motives? You might get ripped off, stolen from, or worse. It can potentially be a very sketchy situation!
Transfer Your Guns
Let's say that you've found a potential buyer for your firearm. Now what?
Selling a gun to someone can be both complicated and risky. First, you need to confirm that the other person has a valid Firearm Possession and Acquisition Licence. The last thing you want to do is to sell your firearm to someone who isn't licenced to own one. If that firearm gets used in a crime, you could be held criminally responsible.
And even if the potential buyer does have a licence, you still need to transfer the firearm to the new owner. Presumably, your firearm is already registered and verified. If not, then it will need to be checked by a certified verifier. Your buyer will then need to register the gun as a part of the transfer process. To do so, they can either fill out RCMP form 5492, or contact the Canadian Firearms Program. While you aren't technically an active part of this process, you DO need to confirm that they completed it successfully. Again, if the firearm is still registered to you and is used in a crime, you could be facing significant trouble.
One of the advantages of working with GTA Guns is that we take care of all this paperwork for you. Once you've handed your unwanted firearm to us, your part in the sale is pretty much over. We're the ones who take care of the transfer process. This not only takes the burden off you but also means that you'll be sure that professionals are taking care of things. We promise, all the "t"s will be crossed and all the "i"s will be dotted!
Unpaid Firearm Amnesty Programs
We've written extensively about how Firearm Amnesty Programs are the WORST way to get rid of your guns, but here's a quick review.
Guns are valuable items. So the idea of giving them over for free to be destroyed drives us a little crazy!
Now, sure, if the firearms are no longer functional and are severely damaged, then an amnesty program might make sense. But why give perfect good firearms over for free when you can use an auction service like GTA Guns auctions to make money? It takes the exact same amount of effort, and you'll walk away with cash!
On top of that, your unwanted firearms will be in the hands of people who actually want them. To us, that sounds like a much better deal!
Go with GTA Guns!
When you bring your firearms to us, we guarantee you that our process will be the smoothest way to sell your guns. Why? Because we do just about everything!
All you need to do is safely transport your unwanted guns to our location, and that's it! We'll closely examine your firearms with our proprietary GUNCHECK™ or CYCLECHECK™ programs to ensure they're in a suitable sale condition. We'll then take high-quality photos of the firearms and write a detailed description of each for their auction pages. You don't need to lift a finger. All you need to do is sit back and watch the bids roll in! If your firearms sell, the money is sent straight to your bank account.
But what happens if a gun is delivered to a buyer damaged or if the buyer isn't happy with their purchase? Don't worry, the responsibility isn't yours—it's ours! If the firearm was damaged in transit, the buyer can send it back to us—we pay—and we'll repair it for free (30-day max). If the buyer doesn't care for the firearm and wants to return it, they can send it back to us, and we'll list it for them without any seller's fees in our next auction (30-day max, hammer price $3,000+). These are two guarantees that most buyers won't find anywhere else, making GTA Guns one of the most trusted names in gun auctions in North America!
If you're looking to sell your firearms in Canada, the best way to do it is with GTA Guns. We take care of all the paperwork and sell the guns for you, meaning that you can be sure everything will be done both safely and legally! If you have any questions about our firearm auctions, and our other services, we would love to hear them, so contact us today!