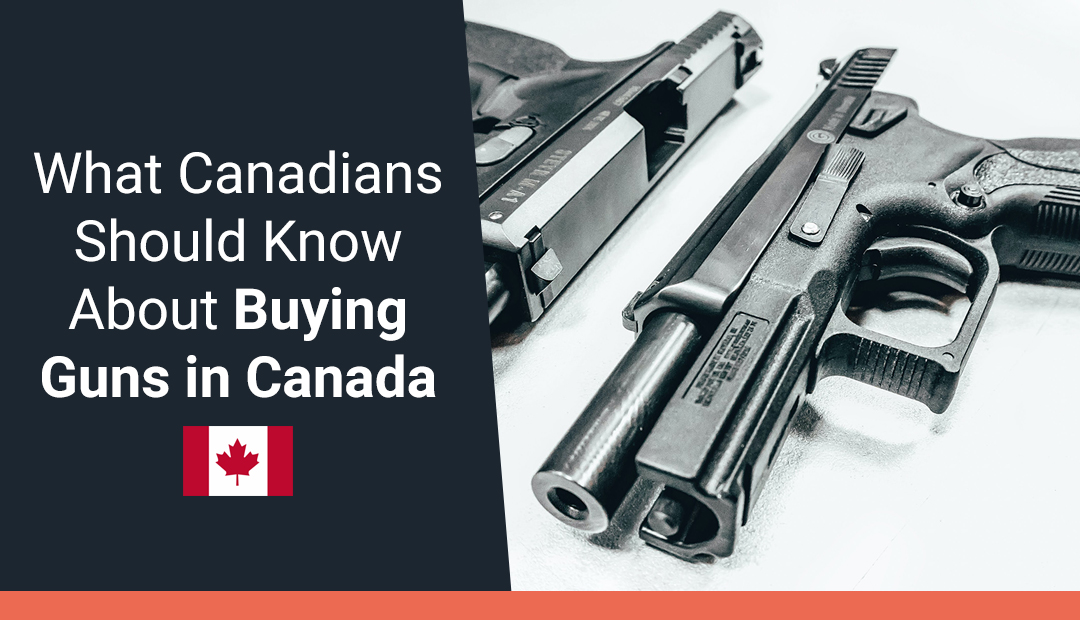 How do you usually buy firearms?
In Canada, purchasing a gun isn't as easy for us as it is for our American neighbours in their own country. The right to buy, sell, and own firearms is enshrined in the United States' Constitution, and gun laws are a hotly contested topic every election. Here in Canada, things are a little more regulated.
With our tighter gun laws, you can't just walk into a Canadian Walmart and purchase a firearm. You need to go to a gun store, arrange a private sale, or—and this is the best method by far—purchase your firearm from a gun auction.
Your First Step: Get Your Licence
If you're in Canada and you've never owned a firearm before, you can't just go out and purchase one. You need to get your firearm licence and take a gun safety course before you can even think about building a firearm collection.
But don't worry, it isn't too difficult to get everything figured out!
First, you need to get your Firearm Possession and Acquisition Licence. To do so, you'll need to take the Canadian Firearm Safety Course. It covers topics like basic safety practices, ammunition, firearm care, responsible firearm use, transportation of firearms, and much more. Thankfully, the course only takes one day and costs about $125. After this course, you'll need to write a brief test to demonstrate everything you've learned.
If you pass the test, you can apply for your firearm licence! Just fill out the RCMP form 5592/CAFC 921E, print it, pay the standard fee, and mail it in. After the 28-day waiting period, you'll receive your Firearm Possession and Acquisition Licence in the mail. This licence is valid in every province and territory in Canada, so once you have it, you will not need to reapply if you move across the country. You must, however, renew your licence every five years. The licence also gives you the right to possess a firearm, even if you do not own it. Whenever you have a firearm in your possession, you need to carry this licence with you. If you can't produce it when asked by a law enforcement officer, they can seize your firearm.
Your Second Step: Register Your Firearms
In Canada, firearms are divided into three categories: non-restricted, restricted, and prohibited. You must have a valid registration certificate for each firearm you own, regardless of the category.
If the firearm has never been registered before, you'll need to have it verified by a certified verifier. If the firearm has already been verified, it doesn't need to be verified again.
If you acquire a firearm for the first time, either by inheritance or purchase, it will need to be registered to you as part of the transfer process. To do this, you can either fill out RCMP form 5492, or contact the Canadian Firearms Program.
If all of this sounds complicated, well… it is! Fortunately, it's not something you need to worry about when purchasing your firearms through GTA Guns auctions. We take care of all the paperwork for you. You only need to sign on the dotted line, and we'll transport your newly-purchased item straight to you!
Your Third Step: Where to Purchase Your Firearms
Like we stated above, purchasing firearms in Canada can be a bit of an involved process, and there are many potential pitfalls along the way.
For example, gun stores might be limited in their selection. If you want a specific firearm model, chances are that you'll need to do an extensive search for it. As we're still in a pandemic, this process might be incredibly challenging, as travel between provinces is restricted.
You might be able to find someone online—in a firearm forum, for example—who claims to have the gun you're looking for. Unfortunately, this can be a risky method of purchasing guns as the potential for being ripped off is HUGE. Unless you are an experienced gunsmith, you might not be able to immediately recognize any damage to the firearm—especially if the damage is internal. Also, the process transfer might not be 100% legitimate in these situations. What would happen if you purchased a gun, only to discover that the person who sold it to you wasn't the legitimate owner?
There's one place where you can be 100% sure that you'll find a varied selection and verified-safe sellers, and that's GTA Guns auctions!
Why Auctions Are Your Best Bet for Firearm Purchases
First off, you're not the one who is handling the sale.
We've facilitated countless firearm sales over the years, allowing buyers to reach the sellers who are looking for them. As a buyer, all you need to do is head to GTA Guns auction website and look at the listings. If you find one that catches your interest, you can bid on it. With some luck, your bid will be the winning bid, but don't forget: other buyers are looking for firearms as well! If you do make the winning bid, the item will be yours!
At that point, we handle all of the paperwork with the seller. The firearm registration is passed to you, and we then transport the item to your door. It's that easy!
But what if you end up with a broken firearm? Well, we work hard to prevent that with our proprietary GUNCHECK™ or CYCLECHECK™ programs. Everything we sell is thoroughly examined to make sure it works properly. And if the firearm somehow ends up damaged when it is being transported, you can ship it right back to us—we pay—and we'll fix it free of charge (30-day max).
As a buyer, you might be worried about purchasing a firearm you've never seen in-person. If you win the auction and the gun is not what you expected, we have you covered there too! Ship the item back to us, and we will relist it on our next auction for you with NO seller's fees (30-day max, hammer price $3,000+).
Buying a gun in Canada can be a "headache," but GTA Guns is the best "painkiller" you can imagine! With our auctions, you can avoid all the usual hassles and buy the firearm you've been looking for! Feel free to contact us to learn more about our firearm auctions. And if you have any questions about our auctions or other services, we would love to hear them!