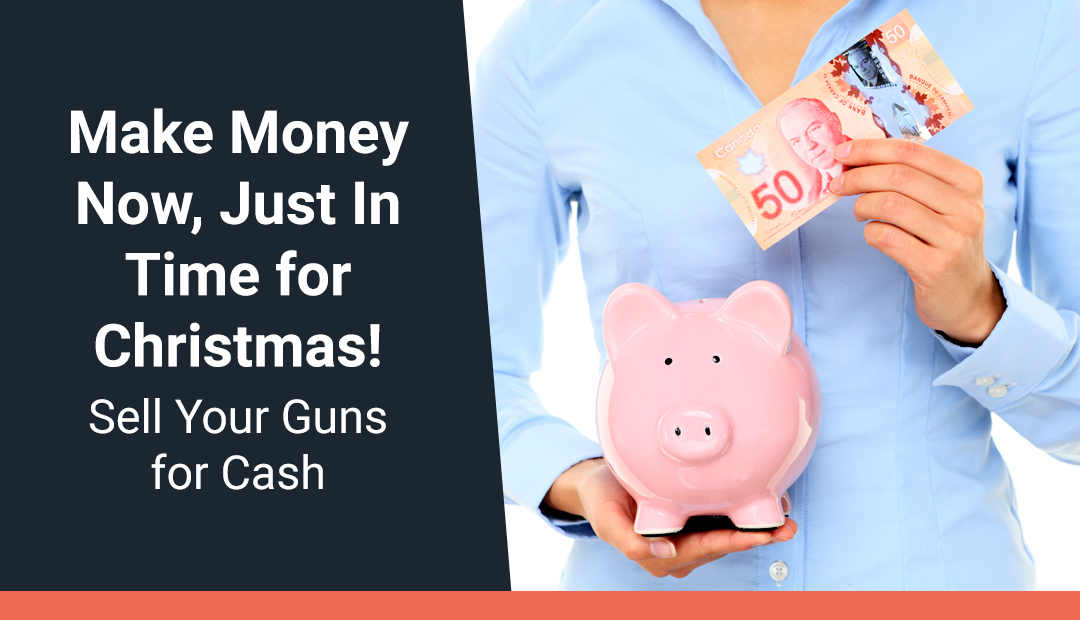 It's hard to believe, but Christmas will be here before we know it!
Buying gifts, cards, wrapping paper, and more will be a little different this year, given physical distancing restrictions, which means most of your Christmas prep will likely be online. Break out those credit cards!
But what if you could also use the internet to earn some additional funds for the holidays, helping you purchase presents and handle all the other expenses of the holiday season? Well, one of the best ways to earn money online is to sell some of your old firearms with GTA Guns auctions!
Embrace the Spirit of Giving!
There are dozens of reasons why you might want to sell your firearms. Perhaps you're downsizing to a smaller place and don't have room for your firearm collection. Or maybe you inherited some firearms from a family member, but don't want to keep them. Or it could be that you just need a little bit of extra money because things are especially tight this year.
No matter what your reason, GTA Guns can help you find an excellent new home for your firearms. We cater to a wide pool of firearm collectors and enthusiasts across North America, and they're always looking for a new piece to add to their collection. These buyers go through every listing on our online auction with a fine-toothed comb, often leading to high-stakes bidding wars with other potential buyers. They'll pay whatever they need to win their desired items!
So, when you sell your firearms with us, you can bet they'll end up in the hands of passionate collectors who will treasure and appreciate them. Who knows, if you list the right firearm, you might just make someone's Christmas!
GTA Guns: Your Helpful Elves!
Selling your firearms by yourself can be a truly tedious endeavour. You'll likely get lowballed at gun stores, and selling through firearm forums online can be dangerous. But don't worry, because here at GTA Guns, we're your helpful holiday elves, getting you the most money for your firearms with the least amount of effort needed from you. After all, it's the holiday season, and you already have enough on your plate!
All you have to do is take the firearms you want to sell to our brick-and-mortar location (we observe all social distancing rules). And after that, your job is done!
From there, we'll immediately start prepping your firearms for the auction. First, we'll put them through our proprietary GUNCHECK™ or CYCLECHECK™ services to confirm the firearms' condition, inside and out. Then, we take high-quality images—including fiber-optic bore pictures—so potential bidders can see the firearms' condition for themselves. We then put the guns on the site with detailed listings so the auction can begin!
Holiday Guarantees
One of the worst parts of the holidays is returning gifts that you don't want. It's a huge inconvenience. When you sell a firearm, the last thing you want is for the buyer to contact you saying that they want you to take the gun back and give them a full refund.
Here's the great news about listing your firearms with GTA Guns: you aren't responsible for dealing with unsatisfied customers. Once the initial sale is complete, we send the money straight to your bank account, and your job is over.
If a buyer finds something wrong with their firearm, they can send it back to us—we pay—and we'll repair it free of charge (30-day max). If they're simply unsatisfied with the firearm, they can send it back to us, and we'll relist it in our next auction with no sellers' fees (30-day max, +$3000 list price).
These guarantees are two reasons why buyers and sellers love to work with GTA Guns. If you're a buyer, you're fully taken care of. If you're a seller, none of the responsibility is yours! Win-win!
So, if you're looking to raise some additional funds to make this holiday season a little brighter, contact us to list your unwanted firearms today! And if you have any questions about our auctions and our other services, we would love to answer them!