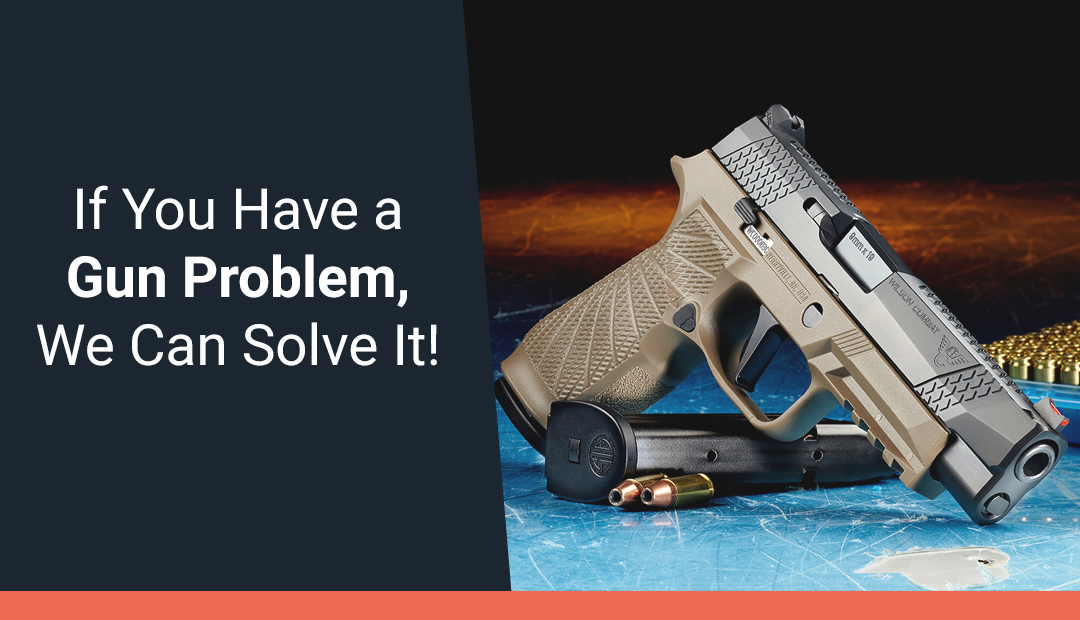 "If you have five unwanted firearms that you want to sell to the gun store, but they'll only pay you 46% of the guns' actual value, how much money can you expect to earn?"
Chances are that you got thrown back to elementary school when you read that word problem.
As an adult, your problem-solving skills are likely much better than they were back when you were a preteen. But at the same time, who wants to solve problems like that when they aren't necessary? If you've got a problem when it comes to selling your firearms, why not avoid dealing with gun stores and let GTA Guns solve the problem for you instead?
What Are Your Gun Selling Options
When it comes to selling your firearms and gear, your options are limited.
You can't put them up on eBay or Amazon, as that's illegal. Sure, you can sell your firearms to a gun store, but you're only going to get a fraction of their actual value. And selling your guns to anonymous strangers that you meet in a firearm forum can be incredibly dangerous. So, how do you get rid of your firearms?
Unfortunately, the "solution" to this problem for many people is leaving their firearms forgotten in their basements. Those guns, which have genuine value and could earn their owners real money, sit and decay. Moisture, mould, and rust can destroy a firearm in a matter of years. We've seen it countless times.
The best solution for selling your firearms is to put them up for auction with GTA Guns. Why? Because we're the most trusted source for buying and selling firearms in Ontario!
How Auctions Are Different from Gun Stores
It's all a matter of incentive.
Gun stores need to sell firearms at a higher price than they bought them. That's basic business sense. Unfortunately, this means that you get short-changed and earn less than the guns are worth. In rare cases, you might even run into an unscrupulous dealer who uses their expertise to acquire rare firearms for a fraction of their cost.
With GTA Guns, our only incentive is to make you as much money as possible! That's why we go the extra kilometer to ensure that potential buyers have all the information they need to make an informed purchase. Detailed information, high-quality photos and videos, and prompt responses to questions are what our buyers get from us. But what do you get from them?
Money. And with almost no effort!
The Process
Here's how it works:
If you have firearms that you no longer want, you give us a call, then transport the guns safely down to our brick-and-mortar location. And that's a wrap!
No kidding! We take it from there, starting with a detailed inspection. Using our proprietary GUNCHECK™ or CYCLECHECK™ programs, we check inside and outside of the firearms to determine their exact condition. We then take high-quality photos of the firearms—even fibre-optic bore pictures—so potential buyers can see what they're bidding on. Using all of that information, we write a detailed description for the firearms' online auction pages.
Note that WE are doing all the problem solving here. Your firearms are now OUR problem. You only need to sit back and watch the auction. With a little luck, a bidding war will break out on your items, resulting in more money for you!
After the auction, you just relax and let us do all of the legal paperwork to transfer the firearm registration to its new owner. Once that's completed, we safely transport the gun to the lucky winner, and send the proceeds of the sale directly to your bank account.
Our Guarantees
But what if the firearm arrives damaged or the buyer wants to return the item?
Again, not your problem to solve! We were the ones who shipped the gun and provided the description, so handling it is our responsibility. That's why we offer two unparalleled guarantees to our buyers.
If the buyer's firearm arrives in a damaged state, they can ship it back to us—we pay—and we'll repair it free-of-charge (30-day max). If the buyer is not satisfied with the firearm for any reason, they can return it to us, and we'll list it for them in our next auction without any seller's fees (30-day max, +$3000).
Keep in mind that we have already made the payment to you, so you don't even need to know there was a problem. These are just some of the great reasons why both buyers and sellers trust GTA Guns!
Of course, our online auctions aren't the only gun-related services we offer. Let's say that you have a problem with limited storage. We can solve that with our high-security safe storage facility. What if you have no idea about the value of your firearm collection? Try our gun appraisal services. And if you need repairs, our gunsmithing services are some of the best in the entire province!
So, if you're sick of trying to solve your gun problems, contact us today. We'll do whatever we can to solve your problems so you can walk away stress-free—and hopefully, a bit richer too!