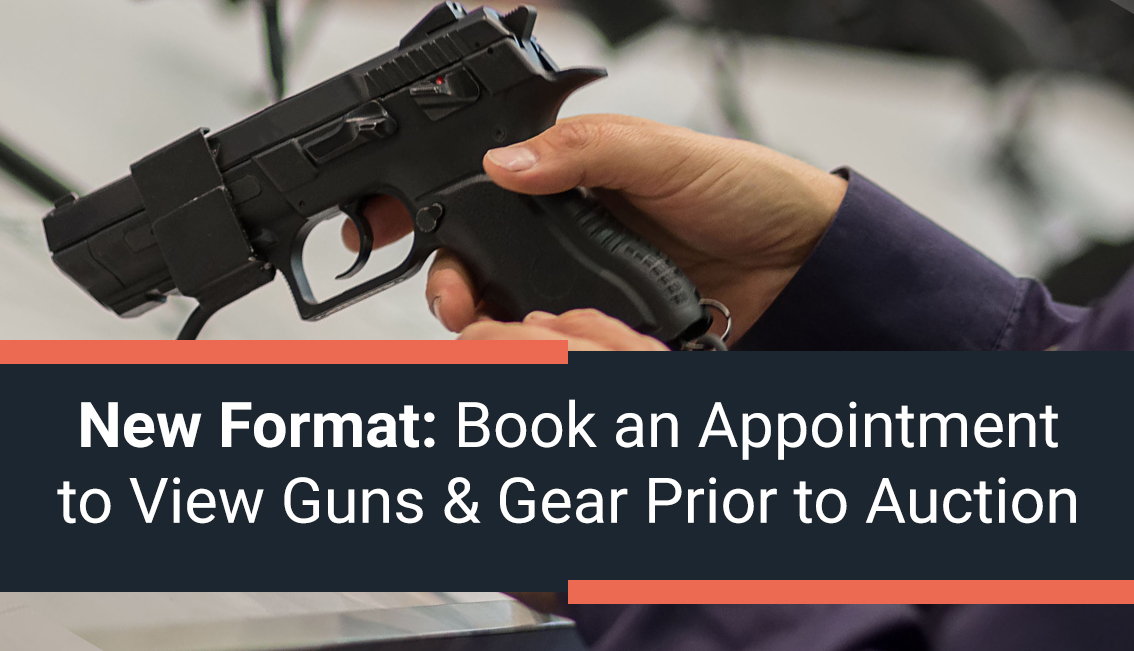 It's time for a change!
With every single gun auction we hold at GTA Guns, we aim to improve our services. Over the last few years, we've worked to refine our auctions and make them as user-friendly as possible for both sellers and buyers. At our auctions, we take care of all the details, like firearms appraisals, safe gun storage, firearm transportation, and even the paperwork. With our adoption of online auctioneering, we've opened our sellers up to a vast market of potential buyers that they never had access to before. Now, we are about to announce a new innovation which will make your gun auctioning experience with us better and smoother than ever before.
There are few things as visceral as physical holding a firearm. When you're buying a gun (or a gun-related product) you understandably want to hold it in your hands, feel its weight, and see exactly what it looks like in-person. You want to get a feel for it! In the past, we accommodated this need holding a one-time viewing so people could come in and check out the items up for auction for that month.
…It wasn't a perfect solution, of course—folks would have to book that day off work, or otherwise clear their schedule, in order to make the time to come in and view the firearms. Not everyone could do it, leading many people to skip that month's auction as they weren't able to personally inspect the items on sale. So, we are now taking steps to make viewing the auction offerings easier than ever before.
Introducing: Viewing appointments, made at your convenience!
Starting now, all you have to do to inspect the firearms is give us a call at GTA Guns to schedule a time for a viewing of any auction item you wish to see. That's it. Within a two-week period, all viewings will be personalized, offering you complete flexibility! You no longer have to worry about fitting the viewing into your schedule, or the pressure of other bidders looking over your shoulder. Your time is YOUR time.
So, how does it work exactly?
Step One: Take a look at all of the items being sold online that month and take note of the items you are interested in.
Step Two: Give us a call to book your appointment, and let us know what items you're interested in.
Step Three: Come to our offices in Newmarket at your scheduled time, and check out the guns at your leisure. That's it!
With this innovation, along with GUNCHECK™ and CYCLECHECK™, you will be able to place your bids online with absolute confidence in the quality of the items.
This innovation is also leading to another big change in our auctions that we are putting into place in the near future. We are going to be discontinuing in-person auctioning.
At first, we thought, "We can't do that!", but then we took a closer look at bidding numbers and the winners of our prior gun auctions. It quickly became obvious that the huge pool of online bidders were the ones really driving the sales. The vast majority of the people who came to the physical auctions were only there to inspect the guns and other items in-person. With the new gun inspection appointment system that we are putting into place, this will no longer be a necessity. We expect that this will end up being a huge improvement to our auctions, and a far more comfortable system for everyone, as you will be able to simply bid online at your convenience.
So remember, starting this month, if you want to check out all of the items on sale, you simply need to call GTA Guns at (844) 482-4644 with a list of the items you wish to see. We will be able to offer you a time that will perfectly fit into your schedule. No more worrying about booking a day off for an inspection or for the physical auction. With these innovations, we expect that our gun auctions will be more successful than ever!
If you'd like to learn more about GTA Guns Auctions, or any of our other services, you can simply visit our website or contact us about any questions you may have. And be sure to follow us on Facebook and Twitter!