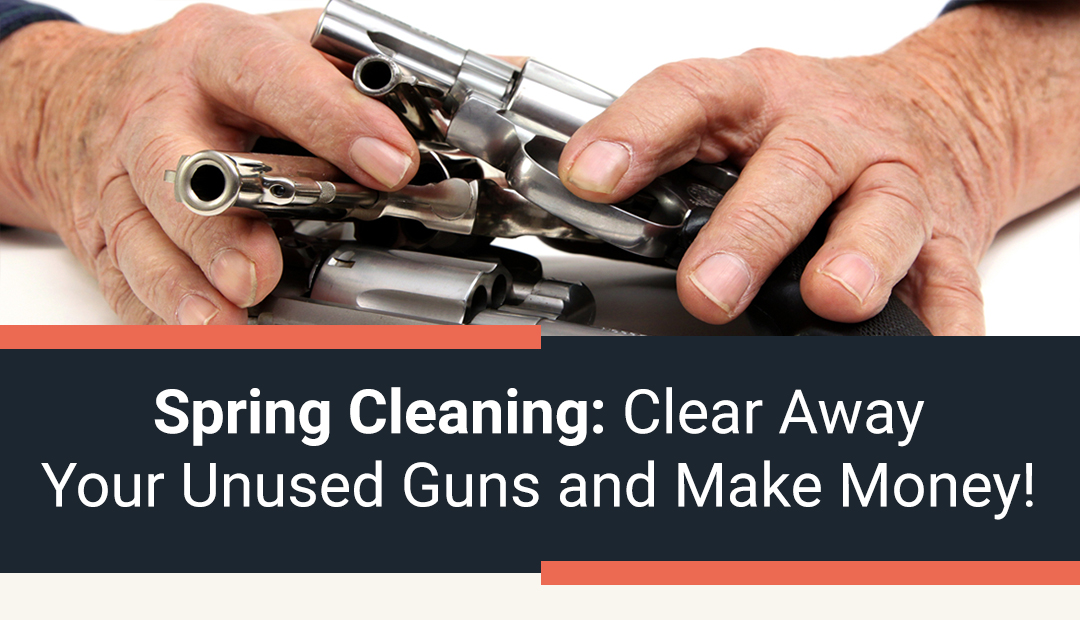 There are two words that put dread into the hearts of collectors all over Canada: Spring Cleaning.
Spring cleaning is more than just tidying up. It's the time to go through your life and figure out what you need and what you don't. For firearms collectors, could there be anything worse than going through their entire firearms collection and cutting it down to a more manageable level?
One of the major reasons why many collectors don't do this is because of the hassle of getting rid of their guns. Unlike the boxes of old magazines in the garage, you can't just take your firearms to the dump. And besides, why would you want to destroy perfectly good guns that others could use and enjoy?
Most people believe that in order to get rid of their guns, they'll have to jump through a ton of hoops, dealing with transferring gun licenses and transportation. It just doesn't seem worth the trouble! But what if you could not only clear away some of the clutter of your collection, but also make a profit off the firearms that you are getting rid of? That's what GTA Guns offers with our Gun Auction Services!
Why Should I Bother With A Gun Auction?
The first thing that many people might think is, "why bother with a gun auction when I could sell my firearms myself?" You might think that you could make a bigger profit if you sell the firearms or firearm accessories directly without having to worry about a third-party taking a percentage of the profits. But there are a number of things you might not be considering:
GUNCHECK™
How do you know how much your guns are worth or what condition they are in? Since you originally acquired them, their value might have risen, or alternatively, wear and tear may have devalued them. When you bring your guns to GTA Guns to be auctioned, the very first thing we do is grade and appraise their value. Our professional gunsmiths put them through our unique, proprietary GUNCHECK™ verification process, where we confirm the condition of your firearms. Potential buyers will be more likely to bid higher on a firearm that has a good condition as confirmed by professionals.
The Logistics of the Sale
If you were to attempt to sell your firearms yourself, you would have to deal with a ton of paperwork and headaches. From transporting the gun to its new owner, to making sure that the new owner has a legal gun license, to simply not getting ripped off through online payment scams or counterfeit currency, you need to be very, very careful!

When you work with GTA Guns to sell your firearms, all you have to do is transport the guns to us. From there, we take care of everything. After appraisal, we store the firearms in our safe storage facility. We'll show them off to interested buyers, and we'll handle all of the paperwork once a sale has been completed.  You don't have to worry about any scams or other financial dangers. You just need to wait for your money to come in!
The Auction Itself
Our online auctions are attended by gun collectors from all over North America. This is a huge market of passionate gun enthusiasts who know exactly what they want and will pay what they need to get it. As bidding wars break out, the auctioning processes can often drive prices up higher than their actual appraised value. It would be almost impossible for you to get access to this vast market without the auction platform and reputation that we've developed over the years at GTA Guns.
See? Spring cleaning doesn't have to be such a chore! Once you've figure out which guns you want to keep and which you want to get rid of, you only need to call us. We will take care of all of the difficult parts, leaving you with more room in your home and more money in your wallet!
Of course, if you want even MORE room in your home, you could always look into our Safe Storage for firearms…
If you'd like to learn more about GTA Guns Auctions, or any of our other services, you can simply visit our website or contact us about any questions you may have. And be sure to follow us on Facebook and Twitter!