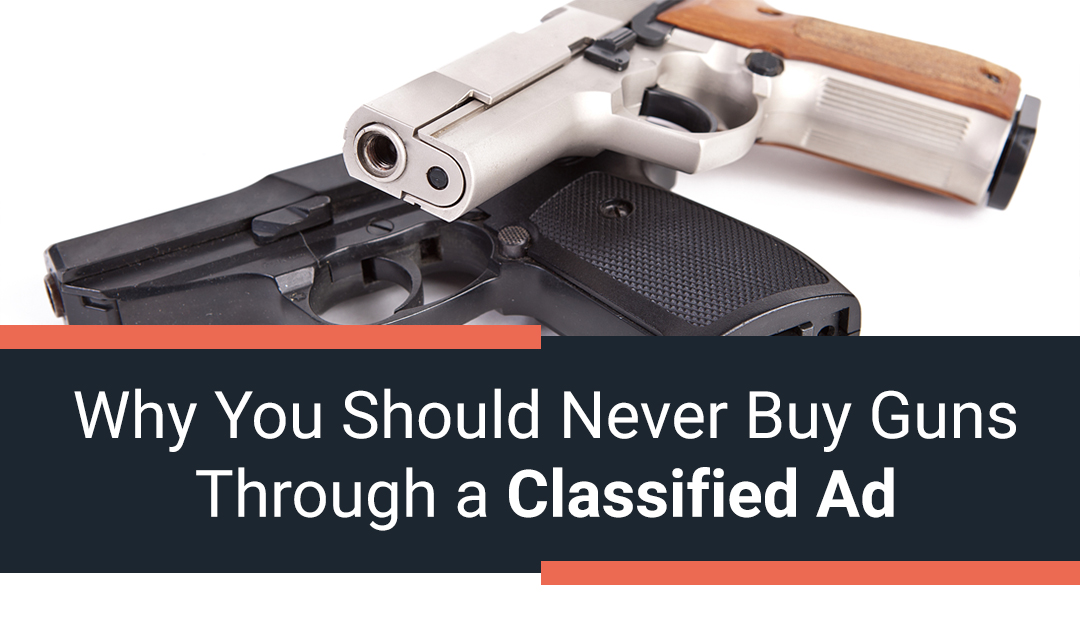 Where did you purchase your last firearm?
When you ask serious gun collectors where they got their most valuable pieces, their answers can vary. Some may have purchased them at gun stores. Others might have won them on an auction site like GTA Guns auctions. But do you know where serious collectors seldom look for their new guns (for good reasons)? Classified ads.
But why is this? After all, there are many people who want to sell their firearms, and the classifieds seem like a logical place to do so. If you can sell an IKEA bookshelf on Kijiji, surely you could do the same with your shotgun, right? Not so fast…
Online Classifieds
First off, you can't just go on Kijiji and buy or sell a firearm. That particular site has rules against selling guns, ammo, and other firearm-related equipment. So do other online classifieds sites like Craigslist.
It mostly boils down to legal liability. There's little danger for these sites in facilitating the sale of a used couch, but a used firearm? That gets much tricker, legally speaking. The vast majority of online classifieds sites would prefer to avoid this market entirely, so putting up an online classified ad for firearms is strictly prohibited, especially in Canada.
What About in the U.S.?
The United States is a slightly different story, as they have a somewhat different gun culture than we do.
While some specialized classified sites allow their users to sell firearms, there are many legal pitfalls that can be involved. Moreover, to use the majority of these sites, you need to be a U.S. citizen. So if you live in Canada, you're out of luck.
That said, even if you do live in the United States, there are still reasons to give online classifieds for firearms a wide berth, whether you are buying or selling. First off, most of these sites lack the polish and functionality of larger, more mainstream sites like Craigslist. Trying to put up a listing can be a very tedious endeavour, and that doesn't even include the headache of having to take high-resolution and well-lit photos of the firearms you want to sell.
But the main reason why you don't want to buy or sell firearms on classified sites almost entirely has to do with your own legal liability.
Legal Troubles
There are so many horror stories out there about the legal liability of gun sellers on online classifieds sites.
Imagine that you sell a handgun to someone in good faith. You see their apparently legitimate PAL info, and everything seems to be in order. They send you the money, and you send them the firearm. Great deal, right?
…But wait. What if you send the firearm, but the buyer doesn't send you the money? Or you buy a firearm that they say is in excellent condition but it turns out to be rusted and unusable? There are no buyer or seller protections in either case when you are using the classifieds. Everything is on you.
And what happens if the gun you sold is used in a crime, and it turns out that the buyer's PAL and other papers were fake? Well then, it could be YOU who is held partially responsible.
There can be significant legal repercussions for those who sell their guns through the classifieds, even if they believe they are taking appropriate steps to protect themselves. The problem is that it's almost impossible for an inexperienced gun seller to make sure everything is entirely legal in the sale. That is true even if you are purchasing, rather than selling, a firearm on one of these sites. In those cases, you might discover later that the firearm you bought was stolen or used in a crime before the sale. Again, you end up in a legal nightmare, all because of classifieds.
These kinds of situations are exactly why you see stories like this in the news.
What Are the Alternatives?
Well, you could buy and sell your firearms through a responsible party like a gun store, but you'll likely end up paying more for your purchases and get less for your sales. That's simply how they make up their profit margins.
The best way to buy and sell firearms is through GTA Guns auctions. With us, you get all of the benefits of classified ads, but with none of the potential legal downsides.
First off, it's so much easier! You take the firearms you want to sell to our brick-and-mortar location, and we take care of the rest. We'll assess the condition of your firearms with proprietary GUNCHECK™ or CYCLECHECK™ programs. We take all of the high-quality photos of the gun for the auction listing. And we'll even write the description so bidders will have a detailed idea of what they're going to bid on.
All of this makes it much easier for buyers too. You can browse our auction listings to find the firearm you want, just like you would the classifieds. The big difference is that there is no risk on your part.
There are many more advantages to GTA Guns auctions over classified ads, but one of the biggest is our buyer protections. If your purchased firearm fails to fire or cycle, you can ship it back to us, and we will repair it for you, paying for the shipping both ways (30-day max). If you're unsatisfied with your purchase for any reason, you can return it to us, and we will relist it in our next auction without any seller's fees (again, 30-day max).
So, the next time you want to buy or sell a gun, forget about the classifieds. You'll get a much better selection without the personal legal liability through GTA Guns auctions! If you'd like to learn more about GTA Guns auctions, or any of our other services, please feel free to contact us. Please feel free to check out the auction listings. And heck, if you see something you want, make a bid. It's much more exciting than the classifieds!